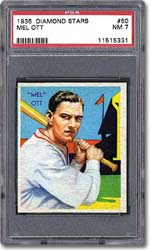 In the pre-war era, there are a host of wonderful sportscard sets that feature legends from the game of baseball. The 1933 Goudeys and T206's usually steal most of the spotlight but different sets are starting to receive more attention. The T205 Gold Border and M116 Sporting Life cards have been receiving more attention in recent times with some outstanding prices realized for these tough issues. It is certain, once some PSA graded T3 Turkey Red Cabinets make their way into the marketplace, there will be some tremendous prices realized.
What about the Diamond Star issues of the mid-1930s?
Well, the first thing that comes to mind is the fact that this issue is so overlooked, but it makes sense considering that there is no Babe Ruth or Lou Gehrig card in the set. Without those two giants of the game, it's very hard for any set to find major acceptance from the hobbyists out there. Despite their absence, however, the set is still filled with many desirable star players from the era like Jimmie Foxx, Mel Ott, Hank Greenberg and Lefty Grove to name a few. When you couple the solid star selection with the fact that the cards are very eye-appealing and tough, you have a winner.
One of our PSA Set Registry collectors, Paul Gould, has written this brief story about his experience collecting these gorgeous gems.
I just love this colorful pre-war set. It contains one of the largest percentages of Hall of Famers of any set ever produced. Diamond Stars were made by the National Chicle Company, which was started after Goudey Gum had made their mark and National Chicle intended to give Goudey competition in the gum and card business. The set does not have Babe Ruth and Lou Gehrig who were apparently under contract with Goudey Gum at the time. It seems that they were to be added later in what was supposed to be a 240-card set, but the set only made it to 108 total cards in the end.
By 1935, Goudey was winding down with a small set of 4 in 1 cards and National Chicle's Diamond Stars were the hottest thing out there for 1935 and 1936. Unfortunately, National Chicle went out of business in the middle of production and the cards stopped at 108. There is a very interesting story on how these cards were produced. It goes from card #1-#108 over a 3-year period and some players have three different cards and some have just one card, making the total three-year set 170 cards.
Here's a breakdown on how and when the amazing Diamond Stars were made. In 1934, the first cards #1-#24 were produced. Only these first 24 cards were made and the paper stock then tended to be a bit dirty. These cards have green backs with stats and tips for the 1933 season. In addition, they are very tough to locate in high-grade. In 1935, they produced card #1-#84, with a somewhat limited printing of #1-#24 (which were made in 1934), still leaving these low number cards hard to come by in high-grade. At the same time, cards #25-#84 are the most common cards out there today. These cards have green backs and exhibit stats for 1934.
One card to watch out for is #7 Lew Fonseca whose card shows stats for 1933 on both his 1934 and 1935 cards as he was out for the 1934 season, and you have to go by the very slight printing style to figure if it's a 1934 or a 1935 version of the card. There were two spelling errors -- Greenberg spelled wrongly with a U (Greenburg) and Ernie Lombarbi spelled wrongly as "Earnie." The Greenburg error is very tough in high-grade. Later, in 1935, they produced cards #73-#84 for a second time with the first blue backs and 1934 stats. These 1935 blue backs seem pretty scarce in high-grade today.
In 1936, cards #73-#84 were made for a third time with blue backs and stats from 1935. Then cards #85-#96 were made with blue backs and stats from 1935. These semi-high numbers were limited and elusive in PSA NM 7 or better. Then they produced cards #97-#108 of players already in the set with blue backs, '35 stats and a few minor changes. These coveted high numbers (#97-#108) were very limited and are the toughest cards in the set. They were made from a thinner paper stock. Try finding these in high-grade: it's ultra-tough.
Also, in 1936, they produced a select run of 12 cards for a third time (#'s 2, 4, 5, 8, 9, 10, 12, 16, 22, 26, 30 and 31). They were made with blue backs and there are some team changes. Other small changes also exist. Some have 1935 stats and others just have the biography tips. Several of these cards are the finest looking in the set with amazing colors and white borders. By the way, they are also really scarce!
Listed on the PSA Set Registry, as Paul's Diamond Stars, is my complete set of all 170 cards with the year, grade and a B if a card is a blue back. E-mail me any time to discuss this set.