By Bob Pace
n New England, the name "Nomar" is as famous as "Yaz", "The Kid", "Larry", or even "The Babe". If you looked up the word 'Nomar' in the hypothetical Boston dictionary, you would find that it means respect, courteous, generous, modest, professional and every other honorable adjective that you can think of. On and off the field, he has been nothing short of any and all of these descriptions since he has been in Boston.
Most New England fans know all about Nomar Garciaparra. They know all about his fantastic feats on the field as well as the two batting titles, the Rookie of the Year Award, and his .383 batting average in post season play. This season, he continues to show great offensive skill at the plate in driving the Red Sox into contention. He is as important to Boston as any player in Red Sox history. What most fans don't know about Nomar is his great feats off the field.
In 2000, he started his own charitable organization, the Nomar 5 Fund. His mission is to support community-based organizations that instill the importance of family, education, sportsmanship, citizenship and teamwork. This initiative provides Nomar with an opportunity to have an impact on the lives of children by promoting the values that he attributes to much of his success.
As far as acknowledging his fans, you would never see him shun an autograph seeker. I have seen him sign autographs before games, after games and during rain delays. Just recently, I attended one of the Nomar 5 fund-raising events. Not only was he kind enough to sign a game-used bat for me, but he must have signed over a thousand autographs for the happy fans in attendance. There had to be over thirty Louisville Slugger bats, maybe, 20 Red Sox jerseys and 50 official balls all autographed by Nomar, to be auctioned off or given away.
This event was the Fourth Annual Nomar Bowl, May 22, 2003 in Malden, Mass. In the past, this event has already made it possible to distribute more than $500,000 to an array of programs aimed at bettering the lives of children, particularly the needy.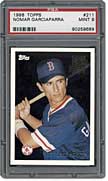 In attendance, were Nomar's teammates, Shea Hillenbrand, Jason Varitek, Trot Nixon, Johnny Damon, Kevin Millar and Todd Walker. From other sports, Lawyer Milloy, Ray Bourque, Cam Neeley, Paul Pierce, Antoine Walker, Walter McCarty, Mia Hamm, Willie McGinnest as well as other players on the Boston Red Sox, New England Patriots, and Boston Bruins. All there to assist Nomar's effort to raise funds to launch the Adopt-A-Classroom program in the Boston schools. "Guys who play in Boston have a unique bond," said Nomar, looking around at his guests. "We support each other, on and off the field."
Others in attendance praised the efforts of Boston's popular shortstop and the cause. "The Red Sox need players who are willing to be leaders in the community, and Nomar continues to do that." It helps that Nomar attains the vast popularity necessary to succeed. "It's amazing", Red Sox owner, John W. Henry said. "He's not a New Englander, but he's the quintessential icon of New England."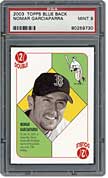 Nomar gave every indication that he is very grateful, especially for the teammates who sacrificed their time for his cause. "Day's off are like gold to us," Nomar said, "and the fact that my teammates took time on their day off to come here, I can't tell you how big a deal that really is. It really means a lot."
"I imagine he attacks his charitable endeavors the same way as his baseball job, with an intensity and a businesslike approach", said Sox CEO Larry Lucchino. "It's great to see how he has channeled his star power for a cause like Adopt-A-Classroom. It's very admirable."
Part of Nomar's mission, he said, is trying to put a smile on the youth out there. "Every year, this event gets bigger and bigger and bigger," said Nomar. "It's taken on a life of its own." Last year's event raised more than $250,000, and this year the over $300,000 will surpass it. This year, Nomar hopes to wipe out the practice of teachers shelling out their own money on school supplies with the Adopt-A-Classroom project in the Boston Public Schools.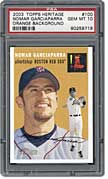 Since it's inception, the Nomar 5 Fund has made significant contributions to the Boston Centers for Youth and Family. The Nomar 5 Fund has also provided contributions to the Safe Neighborhood Youth Fund, (created to support organizations dedicated to working with young people) also, the City of Boston Summer Jobs Program (this program supports the placement of teens in organizations throughout the city). The "Fund", also plays a significant role in supporting the Department of Social Services (DSS) Kids' Fund.
The "Fund" is also involved in The Placement Package Project. This provides essential items such as infant formula, clothing, toiletries, diapers, toys, etc to make the transition to foster care as comfortable as possible. The Home for Little Wanderers, benefited from the Nomar 5 Fund with donations to the holiday gift drive program, which provide gifts and necessities to needy children.
There are countless other charities in which the Nomar 5 Fund has provided for. The list include: Children's Aids Programs House (CAP House), Boston Housing Authority, United Way, Salvation Army, Massachusetts Sports Partnership, Nantucket Ice, The New England Sports Museum.

One of the slugger's favorites is Nomar's Reading Diamonds. Each year, an elementary school or community-based organization within the City of Boston, receive dedicated reading spaces/diamonds, books and furnishings provided by the Nomar 5 Fund. This program was established to encourage independent and small group reading to young children. Each Reading Diamond will be designed to incorporate elements of baseball and Fenway Park.
Nomar does all of this during his valued spare time. Ben Franklin once said, "When it is all said and done, we will not be judged by how many friends we had or how nice we were. We will be judged by how we have helped our fellow man." I think we all know how Nomar will be judged.
You too can feel a little extra good about yourself. You can make a donation to the Nomar 5 Fund by logging on to his website, www.nomar5fund.org, or you can send any size donation to: Nomar 5 Fund, 200 Clarendon Street, 2nd Floor, Boston, MA 02116. Every little bit helps.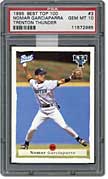 The sports memorabilia auction was a big hit at the Nomar Bowl.
Here are some of the items from that live auction:
Batting Practice & Watch the Game in Nomar's Seats
Pedro Martinez Signed Jersey (Won by Celtic star, Antoine Walker)
Manny Ramirez Signed Jersey
Nomar Garciaparra Signed Jersey
Farrelly Brothers Movie Cameo
Doug Flutie Signed Flutie Flakes Box
Nomar Garciaparra Bat, Signed as 99 & 00 Batting Champ
Jason Varitek Signed Baseball
Mia Hamm Game Worn Jersey (Won by Sox Outfielder, Trot Nixon)
Antoine Walker Signed Jersey
Adam Vinitieri Signed Jersey
Shea Hillenbrand Signed Baseball
Sox Game in the Green Monster Seats
Fenway Park Blueprint Signed by Nomar Garciaparra
Tickets to Sox Game-Front Row
Anna Kournikova Dress
Nomar Hitting Camp Free
Jason Giambi Signed Bat
Kobe Bryant Signed Jersey
Nomar Garciaparra Signed Lithograph
Cam Neely Signed Jersey (Won by Sox 3rd Baseman, Bill Mueller)
Paul Pierce Signed Jersey
Johnny Damon Signed Baseball
Lawyer Milloy Signed Jersey
Carlton Fisk Signed Boston Globe Cover
Bird, McHale and Parrish Picture, Signed by All 3
Red Sox Signed Team Bat
Ted Williams Signed Picture
Erik Williams Signed Jersey
Nomar also made an official announcement on the release of his new video game "The Inside Pitch", which is currently only available for the X-Box game. The cover of the game features Nomar pivoting for a double play. "The game is the most life-like that I have seen and is the closest to a real game", said Nomar. "It even has special games for a player's birth date."
Overall, the event turned out great for the children and adults alike. They raised a considerable sum for the Adopt-A-Classroom program and everyone had a memorable evening in the process.
---
Bob Pace is a guest writer for this month's SMR. Bob also has a website. For more information, please visit www.BostonRedSoxCollectibles.com or email him at [email protected]