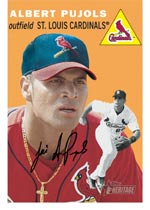 "We've only just begun..." goes the old Carpenters hit song, and it's true for the 2003 baseball season as the eight finalists for the big prize begin their postseason exploits today. It's also true that the regular season is over, most of the teams have gone home and the various batting/offense crowns have been decided. Who ended up winning what?
Batting average - Albert Pujols had the highest average in the majors with .359, edging out the fast-closing Todd Helton at .358. Bill Mueller (rhymes with "thriller") led the American League with a .326 average, barely beating his teammate Manny Ramirez at .325.
Home runs - Alex Rodriguez has a contract for $250,000,000, and that doesn't include what he makes at his off-season job. His 47 home runs led the American League while Jim Thome paced the National with the same number of round-trippers. Barry Bonds? He hit 45 when he wasn't walking on four wide ones.
Runs batted in - Carlos Delgado was the RBI champ with 145 while Preston Wilson led the National League with 141. Gary Sheffield and Jim Thome also had big years in the RBI department.
Runs - It was Albert Pujols leading the majors once again with 137 runs while the $250,000,000 man was tops in the American with 124.
Hits - Vernon Wells pounded out 215 hits to lead the majors while Mr. Pujols was the National League champ with 212 safeties. Ichiro Suzuki was also high on the list with 212 hits, second in the American behind Wells.
Stolen bases - Who else besides the speedster Juan Pierre, who stole 66 bases to lead all pretenders to the throne. Carl Crawford led the American with his 55 thefts.
Doubles - Hey, hey, hey, it's Albert once again with his 51 two-baggers to lead the majors. In a statistical oddity, six players tied for second with 49, including the American League leaders Garret Anderson and Vernon Wells.
Triples - Maybe you aren't familiar with Cristian Guzman of Minnesota, but he led the American League and the majors with 14 triples. Rafael Furcal and Steve Finley tied for the National League title with ten each.
Slugging percentage - Albert Pujols had a monster year and his .667 slugging percentage had to lead the majors... right? Wrong! Barry Bonds was the king once again with the almost unbelievable number of .749! Alex (A-Rod) Rodriguez slugged .600 to lead the American League.