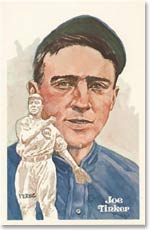 Undoubtedly, the most famous double play combination in the history of baseball was the Chicago Cubs legend of Tinker to Evers to Chance. The 1910 Franklin P. Adams poem will ever immortalize the three infielders. Joe Tinker actually capitalized on his popularity in the off-season (starting in 1907), and enjoyed a highly successful vaudeville career which caused him to nearly quit baseball for good in 1913. Surprisingly, the trio turned few double plays in comparison to today's standards. Although official statistics were not recorded on their combined fieldwork, research done years later gives them credit for only 54 double plays during their heyday - the 1906 to 1909 seasons. Some of this can be attributed to the style of play at the time when bunting and hit and run were put into use more frequently, thus, lessening the opportunities to turn two in the field. Joe Tinker was an excellent base runner, one of the best defensive shortstops of his era and a mediocre batter who hit from the right side. His aggressiveness, speed, intelligence and spirited attitude were the right blend for the four-time pennant winning Cubs during his eleven seasons with the club.
Joseph Bert Tinker was born on July 27, 1880 in the small, northeastern Kansas town of Muscotah, in Jackson County. His family moved to Kansas City and as a fourteen-year-old apprentice paper hanger, Joe played for the local semi-professional baseball team. He signed his first pro contract before he turned nineteen with the independent team of Coffeyville in 1899. The following year, he was dealt to Denver of the Western League but finished the season with Great Falls of the Montana State League. In 1901, the 5'9", 135 pound infielder found himself in Portland of the Pacific Northwest League and then was sold to Chicago. Manager Frank Selee gave him the nod as the starting shortstop (after 8 games at third) at the beginning of the 1902 season along with another recruited rookie, second baseman Johnny Evers.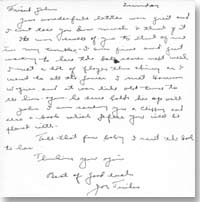 Tinker was known for his exceptional nerve and was quick to lose his temper. He engaged in fist fights with fans, one resulting in an assault charge that was later dropped. This happened at Tinker's Saloon in the middle of the pennant race on September 9, 1908. The fleet-footed Tinker had increased his stocky frame to 175 pounds, was considered the best hit-and-run man of his time and often led the National League in many defensive categories. Although not remembered for a potent bat (.263 lifetime batting average), he hit Christy Mathewson consistently well in World Series play. His differences with his keystone partner Evers were infamous; however, they were able to put aside their aversions for each other to perform with excellence on the field. An argument over a cab ride to the ballpark before a 1908 Bedford, Indiana exhibition game resulted in the two not speaking to each other for years. A radio broadcast that scheduled the two before the 1938 World Series later brought the two into a tearful embrace.
At the end of the 1912 season, Tinker orchestrated his own trade to Cincinnati and became the Reds' player/manager for the 1913 campaign. He enjoyed his best year (hitting .317) and even though they finished in seventh place, the fans appreciated his efforts by honoring him with a "Joe Tinker Day" testimonial at Redland Field. In July 1913, Tinker had to return to Chicago to give blood to his wife who was seriously ill and needed a transfusion. He missed a month of the season because the medical procedures at the time were lengthy and a very serious matter. Ongoing arguments with owner Garry Herrmann showed he had little confidence in Tinker's decision-making abilities, especially when it came to offering input on trades and running the club on the road. Joe resigned amidst trade rumors to Brooklyn accompanied by empty promises of a signing bonus which prompted him to jump to the Chicago Whales of the newly formed Federal League. Tinker was the first key player to join the outlaw league and was able to convince other teammates including Mordecai Brown to follow. In the new Weeghman Field (now Wrigley), Tinker piloted the 1914 club to a second place finish. In the next year his playing time was limited because of a ruptured side muscle, although he concentrated on leading the club to a first place finish. The Federal League folded in 1916 and Joe returned to manage the Cubs, but played in only seven games that season and left the team when the major stockholder, William Wrigley, took more of an active interest and opted for a new manager, Fred Mitchell.
The following year in December, after his retirement from the majors, he purchased (along with partner Tom Wilson) the Columbus franchise of the American Association. He managed and played briefly in 1917. Joe elected to hire all women as employees of the ballpark. This was a patriotic gesture, allowing the town men to work in jobs related to the war effort.
Through 1919, he also assumed the reigns of president of the club. It was there that he played a significant role in the abolishment of the spitball. Disgusted that his hitters weren't able to hit the doctored pitch from their opponents, he sent his pitcher to the mound with a large file to conspicuously hack away at the ball, causing an obvious controversy. At the end of the season, the pitch was made illegal, banished from the league, and a short time later the senior circuit adopted the ruling.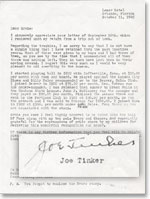 After a poor gate turnout and lackluster team finish at the end of the 1919 season, he sold his interest in the club. He then moved his family to Florida, which benefited his wife's continuing health problems. There he built a small ballpark on a plot of land he owned, and named it Tinker Field. The Reds leased it for several years during spring training and, in 1928, Hermann bought the park outright. Tinker bought the controlling interest in the Orlando Gulls of the Florida State League. In 1921, he became the manager and vice president by 1923. His wife suffered a nervous breakdown in the fall of 1923, but was able to accompany him at the winter meetings in Chicago. On Christmas Day, the 41-year-old mother of four committed suicide with the use of a small revolver. In October of that year, Joe Tinker was arrested with nine others for operating an illegal bolita (lottery game) gambling house.
Joe also served as a Cubs scout for several years. In the early 1920s, the Tinker-McCracken Realty Company was formed and sold extensive, yet inexpensive sub-divisions from their 33 South Orange Avenue office in Orlando. Seminole Track, Longwood Dog Track, The Tinker Building in Orlando and four subdivisions were amongst his real estate ventures. He also worked for Harlow G. Fredrick Realtors on the same street years later. Tinker took advantage of the Florida land boom in the early 1920s but lost his fortune when a devastating hurricane hit the coastline, and then he was financially destroyed by The Depression of 1929. Scrambling for work, he coached for Buffalo and midway through the season managed in Jersey City, both of the International League. Tinker returned to Orlando and with the help of old friends, invested in a billiards parlor and bowling alley. Tinker's second marriage ended in divorce following the failures of these businesses. He also had to work as a boiler inspector to make ends meet. When Prohibition was repealed in 1933, he opened the city's first bar.
Former Cincinnati Reds third baseman Joe Stripp forged a close friendship with the down-and-out Tinker and hired him as an instructor at his baseball school in Orlando. Joe remained at that position for the rest of his life amid declining health problems. In 1936, he suffered from a serious illness that left his life in question. His strong constitution was beneficial in pulling him through but for the balance of his life he experienced several serious health setbacks. In 1944, he landed in the hospital with influenza and later that year had to return due to nasal hemorrhages. Suffering from diabetes, he developed a blister on his leg which worsened, resulting in an amputation in 1947. Despite his many ailments that inflicted him in the later years, Tinker, taking up residence at the Lamar Hotel, was upbeat to the end. He entered Orange Memorial Hospital in Orlando for a respiratory discomfort and was placed in an oxygen tent and had his diet altered. Although his condition was not considered serious, Joe died ten days later on his 68th birthday on July 27, 1948. He was buried in Greenwood Cemetery in his adopted Florida hometown. Joe Stripp lamented at the funeral that he had just lost a father figure. Surviving Tinker were three sons: Joe Jr., William and Rowland, and a daughter, Mrs. Charles Clapp.
On June 13, 1946, Joe Tinker was selected by the Old Timers Committee for enshrinement into the Baseball Hall of Fame (#47). Although there was no formal ceremony that year for him and the ten other electives, he wrote his feelings in a letter to director Ernie Lanigan: "…you know I feel highly honored to be voted into the Hall of Fame along with my two pals Evers and Chance. And especially grateful for the expressions of pride shown by my children for receiving this wonderful recognition and honor." He went on to regret that he did not save any memorabilia from his career for donation to the Hall and what he had given to his children was lost in their constant moving.
He commonly signed "Joe Tinker" and on occasions wrote "Cubs" beneath his right-handed autograph. In the 1920s, his signature style was more rounded and less jagged which can be attributed to his declining health. His "J" had a small upright ascender loop and the larger descender was angled more acutely. In his final years, the loop below the baseline skipped the bottom bellied portion completely into a two-stroke fashion. His pen would lift before forming the initial downstroke of the "o" that would circle upward, close just below the top and angle 10 degrees horizontally to create a reversed "3" slightly tilted backwards. At times he would place a well-spaced, single-stroke, modest "B" with punctuation. His trademark "T" is an example of an individualized characteristic. A simple vertical stroke served as the stem covered, but not touching the hooked sweep that tilted upward. At times the stem may have had an initial stoke that angled or curled downward to the right, still remaining a two-stroke formation. Another break would occur allowing an upright or obtusely-angled garland style of writing that made the "ie" appear like two "u"s. A more deliberate "k" tended to have a closed top loop and with an open arc that was followed by a neighboring "e" and a distant blurred "r" that would fall downward and back in earlier times. A scratchier version of his inscription evolved in the 1940s.
| | |
| --- | --- |
| A photo of Tinkers, Evers and Chance signed by two of the players -- but not all three. | |
Don't expect to find a signature example of Joe Tinker from his playing days. Few examples from this period exist, or of most players for that fact. Sure, he was more than willing to sign when asked in person, but these times were few and even rarer requests came through the mail. His illnesses narrowed the access of his availability but he could be found around his ballpark watching the games for those who had the interest.
The Sporting News
would print ballplayers' home addresses but I can assure you he did not get bombarded for his autograph. What I do see in the marketplace is an occasional index card ($900), an even more desirable U.S. Government postcard ($1100) and, "once in a blue moon," a photograph of varying sizes ($1800 plus).
A single signed ball would be highly scarce in any condition. Pick a high number for the value. Every time a signed black and white Albertype plaque postcard surfaces, it comes in the version of a bad forgery. Due to his poor health and the few pioneers that were savvy enough to buy the postcards from the Cooperstown museum in 1947, I highly doubt if a real one will ever surface or even exists. I do know of one personal cancelled check that is sunk deep into an established collection. Some of the best items are in the form of typewritten ($1800) or handwritten ($2000 plus) letters on stationery (Cincinnati Reds Ball Club, Realty, Hotel or nondescript). Of course the content of the composition will alter these values. Stay away from signed bats, gloves, hats and don't be lured into buying a "Tinker to Evers to Chance" signed anything. I've yet to authenticate the trio on the same item.