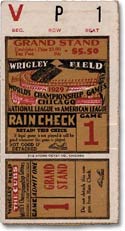 The 2003 World Series is coming soon to a television near you! This will be the 99th renewal of the annual National vs. American League rivalry and there are some new faces still alive as the regular season enters its final two weeks. Oddly, readers of the PSA Insider eZine chose a Boston Red Sox - Chicago Cubs World Series as their number one fantasy for the 2003 season and that magic matchup is still a strong possibility in mid-September.
Which team has won the most World Series titles? The New York Yankees, of course, with an amazing 26. The Bronx Bombers captured their first title in 1923, won again in 1927 with one of the greatest teams (if not the greatest) in history and have continued their winning ways ever since. From 1936-39 they reeled off four consecutive championships and followed that with five in a row from 1949-53. Because of the Yankees' domination the American League holds an overall edge of 58-40 over the National in total World Series wins.
St. Louis has won it all nine times.
Think about Grover Cleveland Alexander coming out of the bullpen in the 1926 Series. Remember Dizzy Dean and the Gashouse Gang in the 1930s and the great Bob Gibson in the 1960s? Put them all together and you have nine world titles for the St. Louis Cardinals, the second most of any team.
The Athletics also have nine world championships, but those crowns are spread over two cities 3,000 miles apart with a non-title stop in the middle. As the Philadelphia Athletics they won it in 1910, 1911, 1913, 1929 and 1930. They then became the Kansas City Athletics, then jumped to Oakland for four more titles in the 1970s and '80s. There are some strong arguments that the '30 Athletics and not the '27 Yankees were the greatest team of all time.
The Dodgers have the fourth-most wins as a franchise. Johnny Podres' masterful shutout in game seven of the 1955 World Series brought the only title to Brooklyn but the move to LA proved to their liking and the Dodgers have captured five more since 1959.
Five is the lucky number.
The Giants have won it five times, but not since moving to San Francisco. As the New York Giants they ruled the world in 1905, 1921, 1922, 1933 and (remember Mays's catch?) 1954.
The Boston Red Sox have won it five times, too, but not since 1918. The Pittsburgh Pirates have five titles and so do the Cincinnati Reds.
The Detroit Tigers captured the trophy four times and the Baltimore Orioles three. The Braves have also won three times, with one title coming in Boston (1914), one in Milwaukee (1957) and one in Atlanta (1995). All of the other victors have won twice or less:
| | |
| --- | --- |
| Chicago White Sox | 1906, '17 |
| Chicago Cubs | 1907, '08 |
| Cleveland Indians | 1920, '48 |
| Minnesota Twins | 1987, '91 |
| New York Mets | 1969, '86 |
| Toronto Blue Jays | 1992, '93 |
| Anaheim Angels | 2002 |
| Arizona Diamondbacks | 2001 |
| Florida Marlins | 1997 |
| Philadelphia Phillies | 1980 |
| Kansas City Royals | 1985 |
| Washington Senators | 1924 |