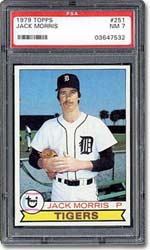 No one could decide who deserved the 1981 MVP award in the World Series so it was divided among three Los Angeles Dodgers. Steve Yeager hit .286 with two key homers and four RBI, Pedro Guerrero hit .333 with seven RBI and Ron Cey hit .350 with six RBI.
Darrell Porter was the 1982 MVP as the Cardinals catcher hit .286 with five RBI. Rick Dempsey sparked the Orioles in 1983 with his .385 batting average to go with four doubles and a homer while the 1984 winner was Detroit's Alan Trammell, who posted monster numbers with his .450 average, two round-trippers and six RBI.
Remember Bret Saberhagen's performance in 1985? The Kansas City hurler posted a 2-0 record with an ERA of 0.50 as the Royals won their only world championship. It was another year of tears for the Red Sox in 1986 as the New York Mets won a wild-and-woolly seven-game series and Ray Knight was the MVP with his .391 average and key homer in Game Seven.
Pitchers won it the next five years, with Frank Viola going 2-1 for Minnesota in 1987 while Orel Hershiser was sparkling for the Dodgers in 1988 with a 2-0 record and a 1.00 ERA. Dave Stewart was masterful on the mound for Oakland in 1989 and Jose Rijo was shockingly good for Cincinnati in 1990 with his 0.59 ERA and 2-0 record.
Jack Morris pitches a game for the ages.
The 1991 winner was Jack Morris of Minnesota. He posted a 2-0 record with a 1.17 ERA in 23 innings of work and pitched one of the great games of all time in the decisive Game Seven as he hurled a ten-inning shutout for a 1-0 win.
Pat Borders starred for Toronto in 1992 with his .450 average and Paul Molitor was a superstar for the Blue Jays in 1993 as he hit .500 with two doubles, two triples, two homers and eight RBI.
May we hear some booing, please?
Who was the MVP in 1994? No one! There was no World Series due to squabbling between players and owners. Tom Glavine took home the prize in 1995 as he led Atlanta with a 2-0 record and a 1.29 ERA. John Wetteland posted four saves in 1996 for the Yankees and Livan Hernandez was the man for Florida in 1997 as he won two crucial games.
Scott Brosius became a household name in 1998 as the Yankees star hit .471 with two homers and six RBI. Mariano Rivera came out of the bullpen for the Yanks in 1999 with a win and two saves and won the MVP award. The Yankees won it again in 2000 and Derek Jeter was the star with his .409 average and two homers.
You've got to learn to share.
Pitching was the name of the game in 2001 as Randy Johnson and Curt Schilling shared the MVP award for the Arizona Diamondbacks. Troy Glaus was the big stick for the Anaheim Angels in 2002 with his .385 average, three homers and eight RBI.
Who will win in 2003? Whoever it is, he (or they) will be joining an illustrious group of great players who proved that they had what it took in the clutch in the biggest series of the year.
Click here to read Part I of this article.