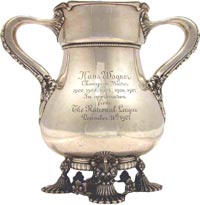 Laguna Niguel, CA - One glance at some of the jaw-dropping final numbers from SportsCards Plus's recently concluded August 14th auction provides further evidence that the company has firmly established itself among the premier auctioneers of high-end sports cards and memorabilia. The results leave little doubt that SCP has come up with a formula that works. The 454-lot auction reached an impressive total of over $1.2 million, with an incredible average price per lot of $2,677.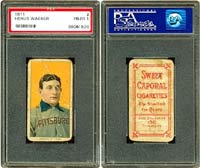 Headlining the event was none other than Honus Wagner, a name often associated with big numbers in hobby circles. "The Flying Dutchman" was represented by a collection of material originating directly from his estate, as well as an example of his legendary T206 tobacco card. The top lot in the sale was Wagner's 1907 Tiffany Sterling Silver "Loving Cup" presented to him by the National League, which sold for $93,240. According to the Wagner family, this cup, recognizing Honus's five previous batting titles, was among his most prized possessions.
Other items from the Wagner Estate that saw vigorous competition were; the Pittsburgh Baseball Club logo from his 1909 Uniform ($16,808), his Personal Floor Safe ($15,280), his 1926 Personal National League Pass ($6,587), a 1908 Gold Watch Fob From the Carnegie Elks Lodge ($7,794), his 1969 MLB 100th Anniversary "Greatest Player" Award ($9,488), and a Pair of Rare 1917 Honus Wagner Day Pinbacks ($4,689). Several other Wagner related items, from different sources, generated record prices, led by a PSA graded 1 T206 Honus Wagner card. The final sale price of $92,255 is the largest sum ever paid for an example of the "Holy Grail" of sports cards in its respective PSA grade. A single signed Honus Wagner Baseball, considered by SCP representatives to be "among the finest known," also set a record with its final price of $29,900, and a Phenomenal Honus Wagner Tobacco Label ca. 1910 reached $9,200.
The card portion of the auction was highlighted by a stunning array of high quality complete sets that are at or near the top of PSA's Set Registry. Collectors of 1955 Topps were treated to the contents of the second finest PSA registered set of all-time.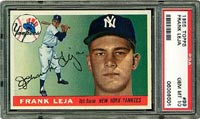 The cards from this remarkable set were broken up and sold on an individual basis leading to some unprecedented prices, most notably for "low pop" commons. Some of the more impressive results include; a 1955 Topps #19 Billy Herman PSA 9 MINT ($2,530), #99 Frank Leja PSA 10 GEM MINT ($2,680), #125 Ken Boyer PSA 9 MINT ($2,780), #143 Dick Schofield PSA 9 MINT ($1,392), #161 Chuck Tanner PSA 9 MINT ($1,670), #168 Duane Pillette PSA 9 MINT ($1,531), #188 Charlie Silvera PSA 9 MINT ($2,087), #193 Johnny Sain PSA 9 MINT ($2,021), #199 Bert Hamric PSA 9 MINT ($1,392), #200 Jack Jensen PSA 9 MINT ($1,725), #208 Ray Moore PSA 9 MINT ($2,297), #14 Jim Finigan PSA 8 NM-MT ($1,115), #26 Dick Groat PSA 8 NM-MT ($1,133), #162 Joe Coleman PSA 8 NM-MT ($875), #192 Jim Delsing PSA 8 NM-MT ($949), and #207 Bill Consolo PSA 8 NM-MT ($1,346).
Some highly significant Registry Sets sold in complete form performed exceptionally well including The Finest 1888 (N29) Allen & Ginter PSA Graded Set ($66,345), The Finest 1909 (E95) Philadelphia Caramel PSA Graded Set ($26,802), The Finest 1912 Imperial Tobacco C46 PSA Graded Set ($18,400), and the second finest 1972 Topps Football PSA Graded Set ($15,883). Notable sets not on the PSA Registry included a fully graded 1952 Topps Set ($34,044), and an ultra rare 1930 Rogers Peet Complete Set in Original Album ($6,722).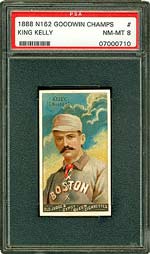 The consistently strong prices realized throughout the auction also included a fine selection of graded singles such a 1888 N162 Goodwin Champions Mike "King" Kelly PSA 8 ($18,975), 1909 E90-1 American Caramel Joe Jackson Rookie PSA 2 GD ($3,728), T206 White Border Sherry 'Magie' Error PSA 2 GD ($4,175), 1951 Bowman #253 Mickey Mantle Rookie PSA 8 ($17,680), 1957 Topps #302 Sandy Koufax PSA 8 NM-MT ($1,044), 1959 Topps #180 Yogi Berra PSA 9 MINT ($1,973), and a pair of 1961 Fleer Basketball Commons (#7 & #31) PSA 9 MINT ($2,677).
Quality memorabilia never seems to be lacking in SportsCards Plus auctions of late, and this sale was no exception. Outstanding prices were realized on a broad range of memorabilia, including Al Campanis's 1981 Los Angeles Dodgers World Series Trophy ($10,848), a Babe Ruth & Ty Cobb Autographed Baseball ($12,203), a Babe Ruth Single Signed Baseball ($20,338), a Spectacular Baseball Signed by Babe Ruth & Lou Gehrig ($18,047), Eddie Mathews's 1965 Game Worn Braves Home Jersey ($18,047), Nolan Ryan's late 1980s Game Worn Astros Warm-up Jacket ($3,608), Barry Bonds's 2001 Game Worn Giants Road Jersey ($6,780), Derek Jeter's First Pro Model Game Used Bat ($6,123), Wilt Chamberlain's 1971-72 Game Worn Lakers Home Jersey ($28,424), Jerry West's 1973-74 Game Worn Lakers Road Jersey ($16,406), and Wayne Gretzky's 1984-85 Game Worn Edmonton Oilers Jersey ($19,450).
The entire list of prices realized is available on the company's web site at www.sportscardsplus.com. SportsCards Plus Auction Director Dan Imler summarized the event by stating, "We are thrilled with the overall results of this auction. The participation and enthusiasm was tremendous and is reflected in the final prices across the board."
SportsCards Plus will follow up this highly successful auction event with another major auction scheduled for November 20th, 2003. The company is actively seeking consignments for this sale. For more information on SportsCards Plus and their auctions please visit www.sportscardsplus.com or call 1-800-350-2273.
NAXCOM.com announces lowest prices on "Vintage Sundays" & $10 Sign-Up Bonus
THIS SUNDAY! August 24 Vintage Sundays listings will be going to their lowest prices. Over 400 Pre-1980 Items have already been listed on the NEW Vintage Sundays Program including: a '55 Topps Roberto Clemente RC (PSA 8), a '68 Topps Mickey Mantle (PSA 8), a '52 Bowman Stan Musial (PSA 5), a '48 Bowman Warren Spahn (PSA 6) and a '67 Topps L.A. Dodgers Team card (PSA 8). Many more incredible vintage items are listed as well. Click hereClick here to view all Vintage Sundays listings.
Special Introductory Offer: Sign Up at NAXCOM.com and Receive $10
As a special incentive to PSA members, NAXCOM.com will give you $10 to try out their site and buy something on them. Signing up is free, fast and easy and doesn't require a credit card. Just source "PSA" when you complete the 2-minute registration process before August 31 and NAXCOM will put $10 in your account within 72 hours. It's that simple. Click here to sign up online.