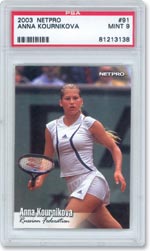 (Newport Beach, CA) - Andre Agassi, Pete Sampras, Serena and Venus Williams and Anna Kournikova will be appearing in greater numbers in Professional Sports Authenticator (PSA) holders. And, three tennis card-collecting fans have a chance to meet Kournikova in person.
The Maven Group, LLC of Dallas, Texas has signed an agreement with PSA of Newport Beach, California for certification of NetPro tennis trading cards.
PSA (www.psacard.com), the world's largest sports card and sports memorabilia certification service, is a division of Collectors Universe, Inc. (NASDAQ: CLCT).
"We want to expose Maven's line of quality tennis collectibles to the hobby at large," said Joe Orlando, PSA President.
"Under terms of the agreement, PSA will certify the grade of NetPro cards using our standard ten-point grading scale, and encapsulate them in our tamper-evident holders. This independent, third-party certification will let collectors know they can buy cards with the confidence that they are accurately graded and preserved for the future."
David Feil, Vice President of The Maven Group (www.mavenauthentic.com), is optimistic about the tennis card market.
"I was at the recent Wimbledon tournament, and there is tremendous excitement about the sport. The players are younger, stronger, sexier, and there's much more marketing appeal to the game. Our partnership with PSA will help bring the tennis and hobby fan into the tennis collecting/grading market."
Three fans and their guests have a chance to win a personal photo and autograph session with Anna Kournikova in New York City on August 22nd sponsored by The Maven Group.
"Anyone who purchases a box of 2003 NetPro Premier Edition Trading cards between now and August 20, 2003 from The Maven Group will automatically be entered into the contest. Three randomly-drawn lucky winners and their guest will have the opportunity to meet Kournikova, and one of the three winners will also receive a bonus prize of two tickets to the Women's Final tennis match on Saturday, September 6th," explained Feil.
No purchase is necessary to enter. For complete contest rules, go to www.MavenAuthentic.com/annacontest.
For additional information about Professional Sports Authenticator, write to PSA, P.O. Box 6180, Newport Beach, CA 92658. Phone: (800) 325-1121.
For additional information about The Maven Group, write to P.O. Box 2121, McKinney, TX 75070. E-mail: [email protected].
About Collectors Universe:
Collectors Universe, Inc. is the leading provider of products and essential services to the high-end collectibles market. The Collectors Universe brands are among the strongest and best known in their respective markets. The company grades and authenticates collectible coins, sports cards, stamps, and autographs. The company engages in collectibles commerce, selling coins, currency, sportscards and sports memorabilia, and entertainment memorabilia through direct sales, auctions, catalogs, and the Internet. The company also compiles and publishes authoritative information about collectible sportscards and sports memorabilia, United States and world coins, and entertainment memorabilia. Its divisions include Bowers and Merena Galleries; David Hall Rare Coins; Lyn Knight Currency Auctions; Odyssey Publications; Professional Coin Grading Service; Professional Stamp Experts; Professional Sports Authenticator; and Superior Sports. This information is accessible to collectors and dealers at the company's web site, www.collectors.com, and is also published in print.