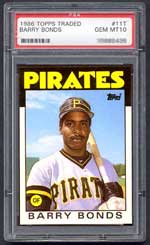 Last night [June 23] Barry Bonds became a member of the 500-500 club as he stole the 500th base of his career to go with his 500+ home runs. Can you name the other members of this club? That's right, there aren't any!
Not only is Barry Bonds the first to accomplish this feat, he is also the only member of the 400-400 club! In fact, there are only three other members of the 300-300 club. One is his father, Bobby Bonds. One is his godfather, Willie Mays. One is the power-hitting base-swiping coin collector Andre Dawson. Rickey Henderson needs five more homers to become the fifth member of the 300-300 club, but first he has to get back to the majors.
Hall-of-Fame star Larry Doby passes.
He drove in more than 100 runs in five different seasons and hit 20+ home runs in eight different years. He was a star for the Cleveland Indians when they won the World Series in 1948, and they haven't won it since. In 1998 he was elected to the Baseball Hall of Fame.
Even with all of those accomplishments Larry Doby is best remembered for something else. He was the first black man to play in the American League. He played in 29 games in 1947, then became a full-time star in the championship year of 1948, hitting .301. He led the American League in home runs in 1952 and again in 1954, and led the league in RBI in 1954 as well.
Last week Larry Doby passed away at the age of 79. Baseball greats and other friends from around the country attended the funeral, including Yogi Berra, Phil Rizzuto, Ralph Branca and Joe Morgan.
Whirlybird is out of action.
For the first time in his 17-year major league career Fred McGriff is on the disabled list. The slugging left-handed first baseman of the Dodgers is only twelve home runs away from joining the 500-homer club.
McGriff is nicknamed "The Crime Dog" because of the similarity of his name to McGruff, the animated crime fighter. He is also nicknamed "Whirlybird" because when he swings at a high pitch he looks like a helicopter that is taking off.
Rice wins it all!
The Rice Owls have won the NCAA championship of baseball. This was the first NCAA crown in any sport for the Houston-based university.
The annual College World Series was held in Omaha (as always) but with a new format. For the first time the championship was decided in a three-game playoff rather than in a single game. After splitting the first two games Rice dominated the decisive third contest yesterday, winning 14-2.