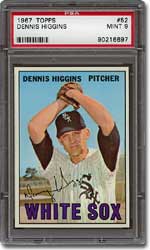 In virtually every collectible field, a cycle exists. There are cycles based in values, cycles on collector focus, cycles on sports and cycles on eras. Right now, in the graded card market, there is another cycle occurring and this cycle is a product of a few different factors, all hitting at the same time. Cycles are a natural part of the sports collectibles field but it is important that collectors are informed about the changing times.
The Cycle Breakdown:
Stars versus Commons
I think it is probably very apparent to many of you that commons are simply on fire right now. The renewed interest in set collecting has been fun to watch and it certainly is not a fad. In the meantime, key star cards are somewhat overlooked right now. There are some major keys that continue to break records if the population numbers are low enough. In other words, the truly tougher cards continue to sell for very strong prices but there are some general rules that seem to apply as the hobby feels the effects of the cycle. As the economy wanes, so do the high-dollar star cards. As the economy improves, so do the values of the power cards.
The Result = Key stars seem to be a bargain right now overall.
Baseball versus the Rest
There is no question about it, baseball is king and baseball will always be king by a long, long way but a cycle can often shift the focus for some collectors -- at least to some minor degree. Right now, some of the non-baseball sportscards are starting to spark. Vintage boxing, basketball, hockey and especially football have all started to perk up in recent times. It is due in part to, perhaps, the feeling that some of these great cards have been overlooked over the past few years. Even non-sports cards are starting to come in by the hundreds.
The Result = Non-Baseball Cards are getting hot; don't overlook them.
Lower Grade versus Higher Grade
We have touched on this phenomenon before. The high-grade cards will always receive most of the attention because of the record prices and extreme rarity in many cases. Finally, and it has been long overdue, people are realizing that grading makes sense on ALL types of cards. At one point in time, people were only grading the extreme high-end material. Today, it's evident that people realize the value in having a T206 card authenticated and graded even if it's only a VG 3. Lately, I have received more reports about strong prices in this area than any other area of sportscards.
The Result = The PSA EX-MT 6 market and below offers a strong value.
Those are the three main cycles most prevalent in the sportscard hobby right now, at least in the graded card hobby. It's important that collectors become aware of the trends or cycles in the hobby so they can prepare for surges or declines in certain areas of the market. Often times, bargains or great opportunities may be within reach but our busy lives hinder our ability to capitalize. For those in the know, it's all about making adjustments.
Be flexible, be ready and be smart.