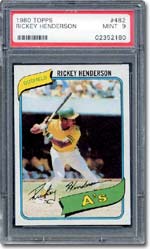 He holds some of the most impressive records in the history of baseball, including the most runs scored and the most stolen bases. He was recently voted one of the top 100 players in the history of the game. His lifetime on-base percentage is over .400 and yet he swung hard enough to crack 295 homers. He played in four different decades (1979-2002) and he isn't through yet. Today Rickey Henderson is toiling away in the minor leagues, looking for a major league team that will give him one more shot.
When Rickey Henderson broke in with the Oakland Athletics in 1979 it was obvious that he was a future star, but no one had any idea that he would blaze so brightly so early or for so long. In his second year in the majors he stole 100 bases, earned 117 walks, banged out 179 hits and scored 111 times. In his fourth year in 1982 the stolen base numbers swelled to a record 130 for the season.
After six years in Oakland Henderson became a member of the New York Yankees and continued to burn up the base paths, even though he never broke the 100 mark again. He swiped 80 bases in 1985, 87 in 1986 and 93 more in 1988. Meanwhile, his power numbers were growing quickly, as he smacked 24 home runs in 1986 and followed it with 28 in 1987.
In mid-1989 he was back with the Athletics, adding to the already impressive lifetime stolen base stats and posting a second 28-homer year. Then, in mid-1993, he began to jump around the leagues as demand for his services ebbed and flowed. Follow this bouncing ball:
1993 - Oakland Athletics
1993 - Toronto Blue Jays
1994 - Oakland Athletics
1995 - Oakland Athletics
1996 - San Diego Padres
1997 - Anaheim Angels
1997 - San Diego Padres
1998 - Oakland Athletics
1999 - New York Mets
2000 - New York Mets
2000 - Seattle Mariners
2001 - San Diego Padres
2002 - Boston Red Sox
This peripatetic path had led to 3,051 games played; 2,288 runs; 3,040 hits; 1,110 RBI; 2,179 walks and the most impressive record of all, 1,403 stolen bases.
Will we see Rickey Henderson in a major league uniform once more? As the season moves on and injuries to key players happen, it's almost certain that there will be a place on someone's roster for the great Rickey come July or August or September.