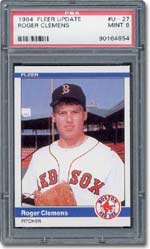 Roger Clemens, quite simply one of the greatest pitchers in the history of baseball, is on the threshold of his 300th career victory. The six-time Cy Young Award winner has notched 297 wins (as this is being written) including a 4-0 start in the 2003 campaign.
When the fireballing right-hander reaches the 300-win milestone he will be the 21st major leaguer to join this exclusive club. Here are the other members that make up this roll call of pitching greatness and endurance.
Cy Young - This is the man that they named the annual award after, and when you look at his stats it's easy to see why. He's the only hurler in history to post more than 500 wins and he pitched an amazing 749 complete games!
Walter Johnson - "The Big Train" is second on the all-time wins list with 417. He was a 30-game winner twice in his career, led the league in strikeouts twelve times and his lifetime ERA was a minuscule 2.17.
Grover Cleveland Alexander - "Pete" is tied for third on the all-time wins list with 373. He put together three consecutive 30-win seasons and saved the day for the Cardinals in the 1926 World Series with an incredible (and indelible) relief appearance against the mighty Yankees.
Christy Mathewson - "The Big Six" also posted 373 wins, although some historians insist that 372 is the correct number. Either way, this man was a marvel, and he could have won many more games except that he refused to pitch on Sunday. In the 1905 World Series he pitched three shutouts in six days!
Pud Galvin - Jim "Pud" Galvin won 365 games between 1875 and 1892. Although he was only 5'8" in height, his weight ballooned to over 300 pounds at times. He won 46 games in a season twice and also pitched two no-hitters.
Warren Spahn - Here is the number-one winning lefty of all time, with 363 career wins. Because of World War II Spahn didn't win his first game until he 25, but then he rolled off 13 20-win seasons. He pitched his first no-hitter at age 39 and a second one at age 40.
Kid Nichols - Charles "Kid" Nichols won 30 or more games in seven different seasons and 20 or more games in ten consecutive years. He won 361 games in his career that spanned the late 19th and early 20th centuries.
Tim Keefe - Number eight on the all-time wins list, Keefe won 32 or more games for six consecutive seasons during the 1880s. He once won 19 games in a row and won a July 4 double-header in 1883 with a one-hitter and a two-hitter. He won 342 games in his career.
Steve Carlton - "Lefty" won 329 games to place ninth on the all-time list. He won four Cy Young awards, including one for the last-place Phillies as he went 27-10 in 1972.
John Clarkson - Clarkson had a 53-win season in 1884 and won 49 more in 1890. His 328 career wins rank him at #10 on the all-time list.
Other 300-game winners include Eddie Plank (326), Nolan Ryan (324), Don Sutton (324), Phil Niekro (318), Gaylord Perry (314), Tom Seaver (311), Hoss Radbourn (309), Mickey Welch (307), Lefty Grove (300) and Early Wynn (300).