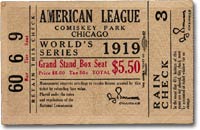 (Newport Beach, CA) -- Responding to the growing popularity of collecting sporting event tickets, Professional Sports Authenticator (PSA) will start authenticating and grading tickets this summer.
PSA (www.psacard.com), a division of Collectors Universe (NASDAQ: CLCT), is the world's largest sportscard and sports memorabilia certification company.
"Offering a service for authentication and grading will help ticket collectors feel more comfortable about participating in the market, giving them peace of mind, whether it is a ticket from the 1919 World Series or last year's Super Bowl," said Joe Orlando, PSA President. "It will also encourage new participants to join the ticket collecting hobby."
"This service fits perfectly with PSA's expertise and with what the market is demanding. Many people already are collecting tickets by theme and by condition and have asked us to take this natural next step in expanding our grading services."
PSA will certify both full tickets and stubs, and will be publishing a comprehensive price guide in the Sports Market Report covering a wide range of sporting events. Plans are in place to create a PSA Ticket Set RegistryTM, similar to the company's popular, interactive sportscard registry.
The registry is an online forum for collectors to list and build their collections. It ranks sets in order of grade point average, completion, and overall rating. Attesting to the popularity of PSA's set registry concept, almost 5000 sportscard sets are currently registered (www.psacard.com).
"Ticket collecting and the PSA Set Registry concept should compliment each other quite well, said Orlando. "Potential sets would include, but are not limited to, Super Bowl, All-Star and World Series ticket runs, 3000th career hit games, championship boxing matches and all seven of Nolan Ryan's no-hitters. The list of potential sets for the registry is virtually limitless and collectors will have a lot of fun competing."
PSA is finalizing grading standards for tickets and will use a ten-point scale similar to sportscards. Each ticket will be carefully examined for possible defects such as chips, creases tears, and stains. In addition, the tickets will be placed in custom designed, tamper-evident holders.
PSA will start accepting submissions of tickets this summer. An announcement will be released shortly providing more details on the program and identifying the exact submission acceptance date.
About Collectors Universe:
Collectors Universe, Inc. is the leading provider of products and essential services to the high-end collectibles market. The Collectors Universe brands are among the strongest and best known in their respective markets. The company grades and authenticates collectible coins, sports cards, stamps, and autographs. The company engages in collectibles commerce, selling coins, currency, sportscards and sports memorabilia, and entertainment memorabilia through direct sales, auctions, catalogs, and the Internet. The company also compiles and publishes authoritative information about collectible sportscards and sports memorabilia, United States and world coins, and entertainment memorabilia. Its divisions include Bowers and Merena Galleries; David Hall Rare Coins; Lyn Knight Currency Auctions; Odyssey Publications; Professional Coin Grading Service; Professional Stamp Experts; Professional Sports Authenticator; and Superior Sports. This information is accessible to collectors and dealers at the company's web site, www.collectors.com, and is also published in print.