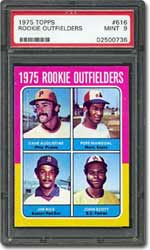 The 1975 Topps baseball set was produced in two different formats. The original set contained 660 cards in a standard-size while a second "Mini-set" was issued that was 20% smaller. The 1975 Mini was a test issue that was released primarily in Michigan and on the Pacific coast. It was a smashing success.
The four-in-one rookie cards of the '75 set contained some major stars-to-be, including Jim Rice, Gary Carter and Fred Lynn. The first 132 cards of the set were printed in smaller quantities than the rest of the set.
In 1976 Topps issued another 660-card set in the standard 2½" by 3½" design. They also returned to the Topps Traded issues, releasing 44 cards of players who were traded after the printing deadline for the regular set. There were also prototypes made of cloth stickers in four different materials, including silk, thin felt, textured felt and thick felt.
Once again the number was 660 as Topps issued its 1977 baseball set. Cards included the Batting Leaders (George Brett and Bill Madlock), Strikeout Leaders (Nolan Ryan and Tom Seaver) and Home Run leaders (Graig Nettles and Mike Schmidt). The Rookie Outfielders card #473 contains four hopefuls, with Andre Dawson leading the way. Key cards include #580 George Brett and #650 Nolan Ryan.
Other 1977 issues were the Topps Cloth Stickers and puzzle cards. The 1977 Dale Murphy rookie card (as a catcher!) was reissued in aluminum (!) in 1984 as a fund raiser for medical research.
The 1978 Topps baseball set ballooned to 726 cards, the largest issue since 1972. The cards featured a baseball problem (situation, play) on the reverse that made a baseball game possible. The 2½" by 3½" cards included the Eddie Murray rookie card and Rookie Shortstops #707 featuring Paul Molitor. There was also a Topps Team/Checklist Uncut Sheet that was available on a mail-in redemption.
The decade of the 1970s was rounded out by the 1979 Topps baseball set of 726 cards, the same size as 1978. The set includes the rookie card of Ozzie Smith (#116) and a series of 26 "Prospects" cards, featuring some of the top rookies from each team. Topps also issued a test-market release called 1979 Topps Comics, with 33 players on wax wrappers for bubble gum.
Click here to read Part I of this article.