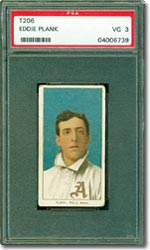 Laguna Niguel, CA - The competition was fierce for the majority of the 368 lots of top quality Sports Cards and Memorabilia offered in SportsCards Plus's recently concluded auction. When the dust finally settled, some very strong prices were realized across the board reaching an impressive total of $873,971. As usual, some significant rarities in many different categories reached levels that far exceeded the company's highest expectations. The most notable of which was a unique Folk Art Baseball Bench made from game used bats and autographed baseballs from the 1920s-1940s that brought a remarkable $38,073.
At the forefront of the card portion of the sale was a supremely rare 1888 WG1 Baseball Playing Card Complete Set. The 72-card set, one of only four or five known, sold for $36,694. A fully PSA graded 1909-11 T206 set (minus the "Big 3" and Doyle variation) in about Vg/Ex condition brought $37,146. Other important 19th Century, Pre- & Post-War Sets that found new homes included 1887 N28 Allen & Ginter -- Gd/Vg ($5,423), 1911 T205 Gold Borders -- Gd/Vg ($7,132), 1952 Topps -- Gd/Vg ($18,688), and 1953 Topps -- Nm ($11,214).
A slew of high-end singles got a lot of attention including: W600 Napoleon Lajoie Sporting Life Cabinet ($3,597), 1909-11 T206 Eddie Plank PSA 3 VG ($12,245), 1909-11 T206 John McGraw w/ Cap PSA 8 NM-MT ($2,669), 1933 Goudey #5 Babe Herman PSA 8 NM-MT ($5,106), 1933 Goudey #160 Lou Gehrig PSA 8 NM-MT ($14,816), 1934 Goudey #37 Lou Gehrig PSA 8 NM-MT ($16,447), 1941 Play Ball #18 Hank Greenberg PSA 9 MINT ($12,816), and a 1951 Bowman #253 Mickey Mantle PSA 7 NM ($7,394).
In addition to enhancing their longstanding reputation as a premier seller of high-end sports cards, SportsCards Plus has quickly established themselves as a leading auctioneer of quality memorabilia. The results speak for themselves, including: a 1911 Christy Mathewson Tuxedo Tobacco Advertising Sign ($8,133), 1928 New York Yankees Team Signed Ball Signed by Gehrig Twice ($9,937), Hank Greenberg Single Signed Baseball ($3,745), 1945 Joseph Paul DiMaggio Jr. Signed Life Insurance Documents ($5,423), Rare 1955 Dodgers/Yankees World Series Pennant ($5,750), Roberto Clemente Bobbin' Head Doll ($2,745), 1976 Cincinnati Reds Team Signed Baseball ($2,981), Walter Payton c. 1985 Chicago Bears Game Used Home Jersey ($12,325), and a Michael Jordan 2001 Washington Wizards Game Used Road Jersey ($7,458).
SportsCards Plus Auction Director Dan Imler summarized the event by stating, "We are very pleased with the overall results of the auction. It confirms our belief that the health of the market is generally strong. Quality material continues to perform well when properly presented in a balanced, reasonably proportioned auction."
SportsCards Plus will follow up this highly successful auction event with another major auction scheduled for August 14, 2003. The company is actively seeking consignments for this sale. For more information on SportsCards Plus and their auctions please visit www.sportscardsplus.com or call 1-800-350-2273.