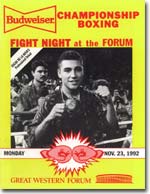 The most highly sought-after of all collectible sports cards are the rookie cards of the superstars. A Mickey Mantle rookie card sold for over $300,000 in PSA Gem Mint 10 in recent years. Even newer star rookie cards command big bucks.
Though there are collectible boxing cards, the "rookie cards" of boxing collectibles are the items from a fighter's professional debut. There are three main collectibles in the boxing field: fight posters, tickets and program scorebooks. Pro-debut posters and tickets are very valuable and highly sought-after, but it is the pro-debut programs that most collectors seek.
Even the programs from a champion's first championship are among the most desirable. Programs from the Tyson/Berbick, Dempsey/Willard, Leonard/Benitez, Louis/Braddock and so on and so on, go for big bucks. Then there are the scorebooks from the very important historical fights like the Dempsey/Tunney II Long Count and the Louis/Schmelling II. These are also among the most sought-after. But the pro-debut program -- the very first from a champ's career -- those are quite possibly the hardest to obtain.
Some of the greatest fighters of all time have made their pro debut with items available from those fights. Programs from Joe Louis and Sugar Ray Robinson's pro-debut are among some of the scorebooks that are known to exist in some collections. Though I have not seen or heard of many programs from the great champions of the past, I'm sure there are some pro debut programs in private collections. Most of the time, non-Olympic champions or lesser known young fighters appear on the undercard of big fights like Sugar Ray Robinson.
With the exception of Mike Tyson, who was the product of a brilliant marketing plan, most of the non-Olympic medal winners are not featured on the cover of their first pro fight programs. Some fighters have great amateur careers and develop a following in their local area. Their pro debuts are in their local home town and they are the main attraction like Tyson and Boom Boom Mancini. They both are the cover feature on their debut program books.
Most of the time, the Olympic medal winners are anticipated as champions and are the main feature on a fight card. Therefore, they are the star attraction on the program book, poster and ticket. Lennox, Lewis, Sugar Ray Leonard, Roy Jones Jr., Oscar de la Hoya and Evander Holyfield are all featured on the cover of their pro debut programs.
Amateur programs of great champions are very valuable and sometimes go for a lot more money. I've seen Golden Glove and Olympic trial programs of Cassius Clay, Mike Tyson, Sugar Ray Leonard and Oscar de la Hoya sell for fantastic prices. Even though most collectors seek the pro debut programs, these amateur programs sell for a lot more money. They are very hard to come by.
Here's a question. Is a program from the night a fighter makes his pro debut, though he is not mentioned in the program, that fighter's pro debut program? I really don't know the answer. Riddick Bowe's pro debut was on the undercard of the Ray "Boom Boom" Mancini-Hector Camacho fight. He is listed on the bout sheet, but not in the program. Is that his pro debut program? I guess that is for a collector to personally decide.
Such superstars as Roberto Duran, Carlos Monson or Felix Trinidad made their pro debut in their home countries and who knows if any programs exist for them. If they did, they are probably impossible to find and worth a small fortune. Other superstars like Marvin Hagler did not have celebrated amateur careers. Therefore, programs might not exist for their pro debuts. But you never know. Someday, you may pick up a program and open it to the fight card and see a great champion's name at the bottom of the list on a four-rounder. You research his record and find that it was his first pro fight. It happens.
Always check the bout sheet in those old programs. Though it may not be a pro debut fight of a famous champ, the program is still worth a lot more with a Hall of Famer or future Hall of Famer on the undercard. On some occasions, it is the undercard that makes the value of the program. Roberto Duran fought Carlos Palomino on the undercard of the Holmes/Weaver fight making it a much more valuable program. The same is true for the Holmes/Shavers program. All three greats (Leonard, Hearns and Duran) fought on the undercard. Felix Trinidad and Julio Cesar Chavez were always on the undercard on the Don King's promotions early in their careers. He kept those champs busy every chance he got. In some older programs, I have seen Floyd Patterson, Ike Williams, and more on the undercards. Larry Holmes fought on the undercard of the "Thriller in Manila," Ali/Frazier III. So check those bout sheets and grab a program at the next fight you attend.