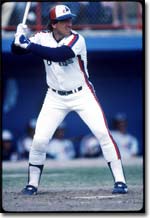 As many of you know, Eddie Murray and Gary Carter both received enough votes by the Baseball Writers' Association of America (BWAA) for induction into the Hall of Fame this year and, if you ask me, they both clearly deserve it. By now, you have probably read 50 articles pertaining to the recent Hall of Fame vote and every author had a different opinion. Well, if you read this column, make it 51!
Once again, I am left confused. Once again, I am left frustrated. Once again, I will try desperately to understand the reasoning behind the votes. While it's great that Murray and Carter both made it, there's something else to consider. Consider the fact that while Murray gained 85.3% of support, about 15% of the voters said Murray was not good enough.
What?
I have long had a problem with the definition of a Hall of Famer. Now, while I agree that a Hall of Famer needs to be someone who excelled in the game, they do not have to be Babe Ruth or Willie Mays. There was only one Babe Ruth and one Willie Mays and think how empty the Hall would look today if a player needed to have comparable credentials in order to gain entry. Eddie Murray is a Hall of Famer, Ruth and Mays are legends.
Then, I ask you, why did all of those voters NOT vote for Murray? Are they insane? Murray only reached both the 500 Home Run and 3,000 Hit plateaus; the only others to do it were Hank Aaron and Mays. To me, Murray was a no-brainer, a player who is actually closer to legendary status than a mere Hall of Fame "slider" (a PSA 8.7, not an 8.1 for you card guys). Was Murray a legend? No, but you shouldn't have to be to make it.
While I do not feel as strongly about Carter, my conclusion is still the same. Was Carter one of the greatest catchers of all-time? Yes. Then why did it take this long for him to get in and why did nearly 25% of the voters say no to him even when he did? Think about how rare it is for a catcher to stand out in the game of baseball. Game after game, as a catcher, your body is brutalized. When you come to bat in the late innings, you have been working hard behind the plate and are fatigued -- but you still have to perform just like everyone else.
Carter won Gold Gloves, hit over 300 homers, was an a11-time All-Star but yet he still, even after admission to the Hall, wasn't good enough to gain entry according to dozens of voters? Hopefully, you can see my point. I do not think that we should, in any way, "open the floodgates" so to speak but we need to bring some perspective to the table when we are talking about Hall of Famers.
Of the thousands of men who have played the game, to stand out for any length of time is an accomplishment. Is there room for someone like Jim Rice or Dale Murphy in the Hall? I think so. How about Andre Dawson or Ryne Sandberg? Even more so. Murray and Carter? They should have been no-brainers. Should the Hall open its doors to players like Wally Joyner or Bobby Bonilla? Of course not.
There are only so many players like Lou Gehrig, Mickey Mantle and Ted Williams. Those guys are legends. The Hall is for players were stood out from the rest. That's an entirely different standard and, if the voters want the Hall to have more than a handful admitted, they need to open their minds.