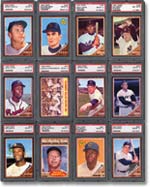 At this point, it may sound like a broken record but PSA graded set collecting is clearly a focus point in the market right now. Whether they are key, low population stars or merely pieces to the puzzle, cards needed to fill sets are hot, hot, hot! That was very clear in the latest Superior Sports Auction. One lot that clearly illustrates this point was the virtually complete 1962 Topps baseball set graded NM-MT 8 across the board.
Years ago, it would have nearly impossible to sell a compete set for a premium. Most people agreed that you needed to break the set down into individual lots in order to maximize the value. Today, that thought process has changed and it's supported by fact. The 1962 Topps set sold for $35,650. Consider this. This set is supposedly worth about $5,000-$7,000 ungraded. In addition, the final bid for this lot also shows that collectors are not only willing to pay a premium because it's a high-grade set, but also because they will avoid the hassle of piecing the set together card by card.
Set collecting is very fun but also very challenging if you want the best. If a collector can basically find a complete or virtually complete set in the quality that they desire, many collectors are choosing to buy the bulk lot and upgrade where necessary. The prices realized, over the past year, for PSA graded sets were unthinkable 5 years ago. Now, if you really think about it logically, this new thought process should remain and not simply be a short-term trend. It makes sense.
Now, back to the auction. Here's a look at some of the highlights from the Superior Sale:
| | |
| --- | --- |
| Item | Price Realized |
| 1909-11 T206 Christy Mathewson Portrait PSA Near Mint 7 | $2,570 |
| 1933 Goudey Lefty Grove PSA Mint 9 | $10,080 |
| 1940 Play Ball Frankie Frisch PSA Mint 9 | $719 |
| 1941 Double Play Ted Williams (w/Tabor) PSA NM-MT 8 | $3,220 |
| 1951 Bowman Mickey Mantle PSA Near Mint 7 | $7,763 |
| 1952 Bowman Willie Mays PSA Near Mint 7 | $1,611 |
| 1952 Topps Forest Main PSA NM-MT 8 | $2,415 |
| 1952 Topps Sid Gordon PSA Gem Mint 10 | $1,783 |
| 1954 Red Man Tobacco Duke Snider PSA NM-MT 8 | $1,380 |
| 1954 Topps The O'Briens PSA Mint 9 | $1,351 |
| 1954 Wilson Franks Ted Williams VG-EX 4 | $3,105 |
| 1955 Bowman Red Schoendienst PSA Mint 9 | $610 |
| 1956 Topps Yogi Berra PSA Mint 9 | $3,393 |
| 1956 Topps Norm Van Brocklin PSA Gem Mint 10 | $1,035 |
| 1956 Topps Bill Howton PSA Gem Mint 10 | $1,208 |
| 1958 Topps Jim Bunning PSA Mint 9 | $1,213 |
| 1958 Topps League Presidents PSA Mint 9 | $382 |
| 1958 Topps Whitey Ford PSA Mint 9 | $2,128 |
| 1958 Topps Tony Kubek PSA Mint 9 | $633 |
| 1958 Topps Carl Furillo PSA Mint 9 | $472 |
| 1958 Topps Sluggers Supreme - Klu & Williams PSA NM-MT 8 | $1,178 |
| 1958 Topps Nellie Fox PSA Mint 9 | $776 |
| 1958 Topps Bob Clemente PSA Mint 9 | $4,830 |
| 1959 Topps Sandy Koufax PSA Mint 9 | $3,335 |
| 1960 Topps Gil Hodges PSA Mint 9 | $253 |
| 1961 Fleer Willie Naulls PSA Mint 9 | $8,338 |
| 1962 Topps Willie Mays PSA Mint 9 | $7,315 |
| 1962 Topps Frank Robinson PSA Mint 9 | $3,565 |
| 1962 Topps Hank Aaron All Star PSA Mint 9 | $3,105 |
| 1963 Kahn's Wieners Johnny Unitas PSA NM-MT 8 | $719 |
| 1963 Fleer Willie Mays PSA Mint 9 | $3,462 |
| 1964 Topps Mickey Mantle PSA NM-MT 8 | $1,326 |
| 1966 Topps Billy Williams PSA Mint 9 | $1,961 |
| 1967 Topps Mickey Mantle PSA NM-MT 8 | $1,208 |
| 1967 Topps Mickey Mantle PSA Gem Mint 10 | $10,063 |
| 1967 Topps Bob Gibson PSA Mint 9 | $719 |
| 1967 Topps Carl Yastrzemski PSA Gem Mint 10 | $4,083 |
| 1967 Topps Orlando Cepeda PSA Mint 9 | $573 |
| 1967 Topps Art Shamsky PSA Gem Mint 10 | $460 |
| 1967 Topps Lou Brock PSA Mint 9 | $713 |
| 1967 Topps Fergie Jenkins PSA Mint 9 | $472 |
| 1967 Topps Harmon Killebrew PSA Mint 9 | $696 |
| 1967 Topps Jim Palmer PSA Mint 9 | $633 |
| 1967 Topps Tony Perez PSA Mint 9 | $805 |
| 1967 Topps Bill Mazeroski PSA Mint 9 | $299 |
| 1969 Topps Willie McCovey White Letter PSA NM-MT 8 | $2,248 |
| 1969 Topps Mel Stottlemyre White Letter PSA NM-MT 8 | $347 |
| 1969 Topps Gaylord Perry White Letter PSA NM-MT 8 | $719 |
| 1970 Topps Brooks Robinson PSA Mint 9 | $805 |
| 1970 Topps Super Willie Mays PSA Mint 9 | $207 |
| 1970 Topps Johnny Bench PSA Mint 9 | $949 |
| 1971 Topps Brooks Robinson Greatest Moments NM-MT 8 | $547 |
| 1975 Topps Hank Aaron PSA Mint 9 | $898 |