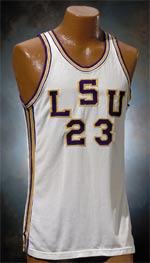 PSA/DNA Pete Maravich Jersey Sets Record at Grey Flannel Auction
Paced by incredible results from the sale of PSA/DNA authenticated items from the estate of "Pistol Pete" Maravich, Grey Flannel Auctions produced record-breaking numbers in its recently concluded Fall Classic 2002 auction. Maravich's jersey from his sophomore season as an LSU Tiger in 1967 brought in a whopping $103,500 -- by far the highest amount ever paid for a basketball uniform. "We were hoping to surpass the $63,394 we got for a Bill Russell jersey in one of our earlier auctions," commented Grey Flannel CEO Howard Rosenkrantz, "but this price went well beyond our expectations."
Other highlights from Maravich included $42,093 for the ball used to break Oscar Robertson's NCAA Career scoring record, $36,094 for his NBA All-Star jersey, and $25,300 for his 1987 Hall of Fame induction ring. Rosenkrantz added, "We want to thank the Maravich family and former LSU basketball coach Dale Brown for allowing Grey Flannel to make these one-of-a-kind items available to Pete's adoring fans. I'm sure they will cherish them along with the memory of Pete's accomplishments on the basketball court." Part of the proceeds from the sale of the Maravich and other "Bayou Basketball" items, as well as a portion of Grey Flannel's commissions, will be donated to the Dale Brown foundation for the establishment of a Boys and Girls Town in New Orleans.
In all, Grey Flannel rang up proceeds of almost $2 million on the sale of 97% of its 647 lots, an average of over $3,100 a lot, the best it has ever achieved. Basketball was Grey Flannel's focus in this auction, but it did well across the board in all sports and demonstrated its growing presence in Americana.
Other basketball items included $22,373 for a 1950s Bob Pettit St. Louis Hawks jersey, $13,891 for a Bill Russell 1969 All-Star uniform, $8,148 for a 1960s Tommy Heinsohn Celtics jersey, $11,206 for a Bill Bradley 1970s Knicks' shirt, $13,452 for a circa 1970 Bill Cunningham 76'ers road jersey, $9,300 for a jersey of one of his Philly teammates Julius Erving, and a whopping $11,388 for Meadowlark Lemon's Harlem Globetrotters shirt from the 1950s.
Baseball results produced an incredible $27,072 from NY Mets Tug McGraw's 1969 World Series shirt, $24,676 for a Robin Roberts 1951 Phillies road flannel, $22,041 for Eddie Mathews's Milwaukee Braves 1962 road tomahawk shirt, $25,300 for a 1964 Mickey Mantle bat, $40,675 for a 1920s Ty Cobb Hillerich and Bradsby bat, $37,065 for a Lou Gehrig circa 1930 piece of lumber, and one from modern day home run king Barry Bonds for $16,837. Gehrig's 1934 NY Yankees contract fetched $21,429, Bobby Richardson's 1963 Gold Glove award brought in $21,429 and a 1921 Babe Ruth "Headin' Home" lobby card hammered out at $12,326.
Other sports highlights featured an 1899 bronze statue of boxer Turkey Point Billy Smith for $10,826, and New York Rangers goalie Ed Giacomin's 1970s shirt for $13,429. Walter Payton's Chicago Bears jersey, worn on 11/20/77 when he broke the NFL single game-rushing record, garnered $12,326. NFL career-rushing leader Emmitt Smith's 1990 Cowboy jersey brought $7,285, and NY Jets Coach Weeb Ewbank's game ball from the 1968 AFL Championship attained a winning bid worth $6,563.
Rosenkrantz summed up the success of the auction by saying, "It appears to be a great time to be in the auction business. It's an opportunistic time to buy and a great time to sell, because buyers appear to be plentiful. Andy, Richie and I, as always, are thankful to our clients and customers alike for making Grey Flannel the success it is today."
Mile High Pride in Offerings
Buyers had an exciting time perusing the available lots and Brian Drent of the Mile High Card Company was flying high with excitement after his November auction closed. The auction featured many big-ticket keys; the types of cards usually reserved for the finest collections.
"Our 10th auction featured some of the best PSA authenticated treasures in existence," said Drent. "And we are very proud to be an authorized PSA dealer handling many of the most important cards in the industry."
Amongst the highlights were:
A 1911 Sporting Life Honus Wagner Pastel Background that is one of only three PSA 8s known to exist. The card sold for $6,785.
A 1948 Leaf Babe Ruth PSA NM-MT 8 sold for $5,299.
A 1948 Leaf Ted Williams PSA NM-MT 8 sold for $5,920.
A 1956 Topps Roberto Clemente PSA Mint 9 sold for $5,969.
A 1968 Topps Nolan Ryan rookie card in PSA Mint 9 sold for $6,512.
A 1968 Topps Test Oscar Robertson PSA NM-MT 8 sold for $3,183.
A 1954 Topps Gordie Howe PSA Mint 9 sold for $7,225.
A 1922 E120 American Caramel PSA NM-MT 8 sold for $2,443.
A 1952 Bowman Yogi Berra PSA NM-MT 8 sold for $3,289.
A 1952 Bowman Joe Hatten PSA NM-MT 8 sold for $885.
A 1954 Dan Dee Larry Doby PSA Mint 9 sold for $1,236.
A 1954 Ted Kluszewski PSA Mint 9 sold for $1,301.
A 1957 Topps Luis Aparicio PSA Mint 9 sold for $3,714.
A 1957 Topps Billy Martin PSA Mint 9 sold for $1,453.
A 1957 Topps Don Larson PSA Mint 9 sold for $980.
A 1957 Kansas City A's Team PSA Mint 9 sold for $877.
A 1957 Topps Rocco Colavito PSA Mint 9 sold for $974.
A 1957 Topps Enos Slaughter PSA Mint 9 sold for $533.
A 1958 Topps Roberto Clemente (Yellow Letter) PSA NM-MT 8 sold for $4,164.
A 1960 Topps Billy Martin PSA Mint 9 sold for $369.
A 1960 Topps Ernie Banks All Star PSA Mint 9 sold for $657.
A 1961 Topps Carl Yastrzemski PSA Mint 9 sold for $754.
A 1963 Fleer Warren Spahn PSA Mint 9 sold for $542.
A 1963 Fleer Joe Adcock PSA Mint 9 sold for $1,453.
A 1970 Topps Nolan Ryan PSA Mint 9 sold for $1,630.
A 1971 Topps Nolan Ryan PSA Mint 9 sold for $2789.
A 1972 Topps Nolan Ryan PSA Mint 9 sold for $564.
A 1973 Topps Mike Schmidt rookie PSA Mint 9 sold for $1,937.
A 1961 Fleer Tommy Heinsohn PSA Mint 9 sold for $1,677.
A 1961 Fleer Jack Kemp PSA Gem-Mint 10 sold for $1,091.
A 1964 Topps Bobby Hull PSA NM-MT 8 sold for $548.
A 1964 Topps Bobby Hull All Star PSA NM-MT 8 sold for $414.
The premiere autographed item offered in the auction was a spectacular ball signed by Babe Ruth, Lou Gehrig and Ty Cobb. The legendary signatures were captured on an unofficial ball by two brothers from Nebraska during a barnstorming tour. With the Ruth signature weighing in as a strong 9 and the Cobb and Gehrig markings rating as 8s, the ball found a home for $12,081.
Based on the results of this auction, it reiterated the notion that the hottest items in the market are the lower population cards from popular sets. The stiff competition in the market for these elusive items continues to take center stage. It's amazing but the cards that seem to be the biggest bargains right now are the power keys from the vintage era in high-grade.
"The" Bobby Orr Puck is a Singular Sensation in Lelands.Com December Sports Auction
Seaford, NY -- It is probably the best-remembered goal in NHL history, certainly in New England. Many say that the photograph of Bobby Orr, flying through the air in triumph, is the single most defining image in the league's history.
It is to hockey what the Bobby Thomson home run ball, the Montana to Clark football or the Michael Jordan "final shot vs. Utah" is to baseball, football and basketball. It is "The Orr Puck."
On May 10, 1970, Orr scored "The Goal" in overtime, game four sweep of St. Louis, to give the Boston Bruins their first Stanley Cup in 29 years. The puck, which has never appeared in the market before, will be available through a Lelands.com auction on Friday, December 6, the second day of a two-day auction. (Entertainment items will be offered on December 5).
"The puck has an extremely strong provenance," explained Joshua Leland Evans, the company's founder and Chairman. "For many years it resided with the late John "Frosty" Forrestall, the team's long time trainer and close confidant of Orr's. He even roomed with him on occasion." Forrestall put a piece of athletic tape from the clubhouse on the ball and marked its significance, before storing it away in his collection -- the date, the time, the score, and so forth. We have been following this item for a long time. We are now able to offer it to the public." (Reserve $10,000).
And that's not all of the major hockey finds in this auction.
Howie Morenz played 14 seasons for the Canadians, the Black Hawks and the Rangers, 1923-1937 and was one of the original inductees into the Hockey Hall of Fame. He was voted the best Canadian hockey player in the first half of the 20th century, and he won the first ever Hart Trophy. On January 28, 1937, while back with the Canadians, he broke his leg during a game when his skate blade was caught in the boards. Complications, perhaps a blood clot, set in, and he died on March 8, while still in the hospital.
Morenz's skates from that final game, along with a rare signed photograph, have been found, and are part of the December auction. ($7,500).
The auction, conducted by phone, fax and online at www.lelands.com, also includes the following highlight items:
A collection of Muhammad Ali memorabilia from his corner man Bundini Brown, including a robe ($5,000) and trunks ($5,000) made for the Foreman fight in Zaire.
An original Leroy Neiman painting from the Holmes-Cooney fight. ($10,000).
Barry Bonds' game-worn Giants jersey from the game in which he hit his 507th career home run and 13th of record-setting 2001. ($2,500).
A Babe Ruth autographed bat ($10,000).
Alfonso Soriano's uniform from his year with the Hiroshima Carp in the Japanese League. ($500).
Photo of Lou Gehrig and Joe DiMaggio, signed by both ($2,000).
The last Red Sox jersey worn by Ted Williams as a Boston hitting instructor. ($1,500).
A framed California-issued birth certificate for Ted Williams, on which Ted personally changed his name from Teddy to Theodore, and mysteriously, changed the birth date from August 20 to August 30. ($300).
A game used bat from Ted Williams, circa 1946. ($3,500).
1986 New York Giants Super Bowl Ring (Terry Kinard). ($8,000).
A 1909 Chicago Cubs jersey belonging to Hall of Famer Joe Tinker. (This is the 100th anniversary of the first Tinker-Evers-Chance double play). ($25,000).
A ball from Johnny Vander Meer's second consecutive no-hitter, (the first night game in Ebbets Field), signed by Vander Meer. ($1,000).
Gordie Howe's NHL All-Star Game jersey, circa 1966. ($5,000).
Pee Wee Reese's personal Hall of Fame plaque from his 1984 induction. ($2,500).
Silver punchbowl set presented to Pete Rose from Cincinnati Reds owner Marge Schott when he broke Ty Cobb's hit record. ( $5,000).
Michael Jordan game worn 1998 Bulls jersey with a letter of authenticity from the Bulls. ($10,000).
Sports cards include a collection of 335 Different T-206 Tobacco cards ($2,000), a 1933 Goudey Napoleon Lajoie ($15,000), a T-206 Sherry Magee error card ($2,000), 1938 Goudey #274 Joe DiMaggio PSA 8 ($5,000), a 1952 Topps Baseball 5-Cent Wax Pack ($2,000), a single owner run of 1953-1969 Topps Baseball Complete Sets (each set a different lot), a pair of 1964 Topps Baseball Vending Boxes ($1,000 each), a 1950 high grade (PSA 8) Bowman Football complete set ($5,000), a collection of 1950s-1980s unopened packs, wax boxes and cases, and a high grade (PSA 8 & 9) 1968 Topps Baseball Collection of 321 cards. ($5,000).
Three Andy Warhol silk-screens -- Pete Rose ($4,000), Wayne Gretzky ($2,000), and Muhammad Ali ($2,000).
Complete set of Team Canada's 2002 Olympic hockey jerseys from Salt Lake City. ($25,000).
1974 Oakland A's World Series team trophy, their third consecutive victory. ($7,500).
A Curly Neal game worn Harlem Globetrotters jersey. ($500).
1934 presentation album given to U.S. and Japanese players during an American tour, which featured Babe Ruth, Lou Gehrig, Jimmie Foxx, Moe Berg, et al. ($10,000).