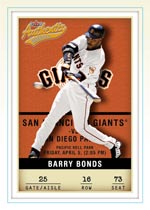 Whoever said "records were made to be broken" knew what he was talking about when it came to the just-completed baseball World Series of 2002. The San Francisco Giants and the Anaheim Angels shattered standards from almost every era as their seven-game slugfest made for an unprecedented offensive show.
The triumphant Angels and the equally-deserving Giants set a new record with 231 total bases, as the merry-go-round broke the 1960 World Series record of 225. Incredibly, 85 runners scored in those seven games, also shattering the previous standard set in 1960.
It might be, it could be... it is!
What's the new record for the most home runs in a World Series? The Giants and Angels combined for 21 (a record) and the Giants clouted 14 of them (a record for one team). The most home runs in one inning by two teams? It's only three, but the Giants and Angels tied it twice.
The most extra-base hits in a Series used to belong to the famed Yankees-Pirates battle of 1960 that keeps popping up in this story (along with two other Series of more recent vintage) but those numbers fell by the wayside as the Giants and Angels smacked 45 doubles, triples and homers. Jeff Kent tied a record for the most runs in a game (four) and Barry Bonds tied the record for the most runs scored in a seven-game Series (eight).
Ball one, ball two, ball three...
Barry Bonds set a new record by being walked intentionally seven times in one Series. This also tied the career mark of seven set by Bernie Williams over four World Series.
What about the most walks in a Series combining the intentional with the unintentional? Bonds (of course) obliterated the old mark with 13 free passes over the seven games. The previous record holder? The Babe, with eleven.
Those 13 walks helped Bonds set a record for the highest on-base percentage in a seven-game series. He reached base an almost unbelievable 70% of the time. His slugging percentage was also a record at 1.294.
Does that really count as a record?
There are hundreds of records that can be listed if you wish to be obscure (or silly) enough. For instance, tying the record for the fewest shutouts (zero) or the most putouts in an inning (three) or the most times stealing home (one). Even so, here are a few other fun records of note from 2002:
Biggest comeback to win a potentially-deciding game: Angels, five runs, game six.
Youngest pitcher to win a World Series game: "K-Rod" Rodriguez at age 20 years, 9½ months.
Most runners left on base in one game: Angels, 15 stranded in game three.
There were also dozens of other postseason records that fell when the stats from two rounds of intra-league playoffs are added in. I'll save those for another day.