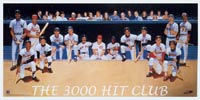 It was during the late 1960s that a gifted, young athlete broke uncharted ground on the fields and courts of Highland High School in Pocatello, Idaho. By his senior year, having been the first Highland athlete to letter in football, baseball, basketball and track, he garnered a football scholarship to Idaho State University.
At Idaho State, the agile outside linebacker ran into more than his team's opponents -- he ran into a little fate in the form of a knee injury, and subsequent surgery that put an end to his dreams of a career as a professional athlete.
Thank God Ron Lewis had another talent to fall back on!
"Believe me, (the injury) was a blessing in disguise," Lewis has said. "I had some time on my hands, and I started going into the art department, just checking things out, hanging around, and I became more interested in art."
The genesis of that interest had dawned back at Highland, where Ron had excelled in his art classes as well as he did in athletics. "I knew I had a knack for drawing," he said. "But back then in Pocatello, Idaho, you rarely met any artists who made a living at it, and I never really felt I would become a commercial artist. But, things turned out much differently."
Indeed they did turn out differently, and when Lewis turned his focus from athletics to art, he began a journey that would ultimately lead him on the road to become one of the nation's most respected sports artists. After graduation from Idaho State, that road included a stop in Seattle, where Lewis attended the New School of Visual Concepts. From there it was on to New York where Lewis continued his education at the School of Visual Arts while employed at a major advertising agency. Then fate stepped in again.
When Ron's father passed away in the late 1970s, he returned to Pocatello to be with his mother. Soon after the funeral, he realized how much his mother needed him close by and so, for the next six years, Ron became one of those Pocatello, Idaho rarities -- he made a living as a commercial artist mostly doing sign work and portraits. In 1983, Lewis decided to return to New York where he worked for Stein and Day Publishers and continued to do portraiture work. It was then that, once again, fate came knocking at Ron's door. A chance meeting with a sports trading card publisher by the name of Bill Hongach, led to Ron being commissioned to do a set of lithographs of legendary baseball players.
Doing those portraits brought Ron full circle, intertwining his passion for sports with his talent at the easel, and today, twenty years later, he is recognized as one of the nation's best known sports artists. Perhaps best known within the sports collectibles hobby for his spectacular painting, 500 Home Run Club, Ron's work appears on posters, collector plates, in sticker books, on party favors and on the "canvas" of footballs, basketballs, baseballs, home plates and basketball court hardwood. His Lewis Line of stunning portraits are not only beautiful, but they were specifically created with a perfect aesthetic place for an autograph to be affixed.
"Everything I do is based on autographs," Lewis said. "That's why I try to capture the likeness of living people, so fans and collectors can pursue their hobby of obtaining autographs. Included in that set are paintings of Reggie Jackson, Willie Mays, Nolan Ryan, Wade Boggs, Roger Clemens, Muhammad Ali, Joe Frazier and Joe Montana.
Another Lewis created series, Gridiron Greats, depicted four of the NFL's most legendary Hall of Famers: Johnny Unitas, Gale Sayers, Don Maynard and Len Dawson. Only 2500 of these high quality lithograph sets were ever produced, and they have become much sought after collectibles, especially if the set is signed.
Along with his famous 500 Home Run Club painting, Ron has also created similar tributes to other individual athletes and teams. Among the most sought after of those works is Ryan Express 5000 Stikeouts, The Kings of home runs, base hits, strike outs and stolen bases, The 500 Home Run Club, The 3000 Hit Club, a painting that includes the pitchers who have hurled 3000 Strikeouts and The Class of 99 which honors the four Cooperstown inductees of that year. Another highly desired Lewis work is entitled Upset of the Century. A tribute to the 1969 New York Jets, the painting includes portraits of Don Maynard, Emerson Boozer, Weeb banks, Matt Snell and Joe Namath as Super Bowl III champions.
Of all the magnificent works in the Lewis portfolio, he himself is most proud of a series of Negro League Fine Art Postcards that feature 30 different cards that he created in the early 1990s. That project came to fruition, by fate of course, when Lewis met one of the NLBPA's co-founders, Richard Berg, at a small autograph show. Doing the Negro League posed some interesting challenges for Lewis. The only photos he had to work from were in black and white and most were either in very poor condition, were from newspapers or worse, photocopies. Trying to get a handle on the uniform colors and logos, and capturing the detail of players' faces was rarely easy.
"I've got lots of baseball books," Lewis said. "Another good source, believe it or not, was a series of photographs my parents took of me when I played American Legion ball. The team played in a really old ballpark that featured a lot of the old signs that would have been around when the Negro League players were in their heyday."
As for properly capturing the uniforms, Lewis ferreted out a company in the Pacific Northwest that manufactures classic baseball uniforms, including those of the Negro Leagues. Their full-color catalogue was a godsend for Lewis. "That was very helpful," he said. "Some of the information the players themselves gave me about their uniforms was pretty sketchy, so there will be a few minor slip-ups, I'm sure. But generally, the uniforms and caps are as close to what they were at the time as I could possibly depict."
Another extraordinary Lewis creation is a set of collector plates. Issued in the 1990s, this limited edition series included tributes to Cy Young, Ty Cobb, Honus Wagner, Ted Williams, Roberto Clemente, Duke Snider, Mickey Mantle, Willie Mays, Tom Seaver, Andre Dawson and Nolan Ryan. Today, these plates are highly sought after at sports collector shows. Along with the regular series they were also issued as Gold Editions and in a mini series.
Today, Ron Lewis has returned to his roots in Pocatello where he and his wife Debbie enjoy antiquating. "After living in New York for twelve years, my wife and I decided that it was time to spend more time in our hometown, and to be near our families. As he reflects on his career, he refers to it as a journey.
"I have become nationally known in the sports collector world through the hundreds of pieces of sports art that I have completed in the past twenty years," Lewis recently told Sports Market Report. "During this time I have met many of the legendary people that I have painted. I have a nice following with the people whom enjoy and purchase my work; many who have become good friends. Mainly, my work is printed in lithographic form and used by promoters for autograph collector shows as a vehicle for people to meet and collect celebrity autographs. I return to New York a couple times a year to generate business, keep in touch with what is happening in my particular field, make new business connections and make appearances at autograph collector shows to do signings. All in all, it has been a very fascinating journey with many rewards."
For further information of the art of Ron Lewis you can write to Visual Arts Studio, 648 N. Garfield Avenue Pocatello, ID 83204