s the 2002 NFL season begins, Emmitt Smith needs just 540 yards to overtake Walter Payton's career rushing record. He has clearly been slowing down over the past few seasons, but he did come on strong in the latter part of last year's campaign to record his 11th straight 1,000-yard season (NFL record). And, unless some dastardly injury were to take him down, the handwriting is on the wall that the rushing record will move from "Sweetness" to Mr. Smith.
Breaking records is nothing new for Smith. An All-American and three-time All-SEC selection when he was at Florida University, he established, 58 school records during his three-year college stint. He became only the second freshman to finish in the Top 10 in the Heisman Trophy balloting and he earned "Freshman of the Year" honors from both The Sporting News and UPI.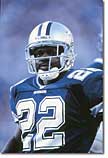 While Smith was wrapping up his junior year at Florida, the Dallas Cowboys were busy losing their first-round draft pick as compensation for choosing quarterback Steve Walsh in the 1989 supplemental draft. However, by the following year they had garnered a first-round pick when they sent Herschel Walker to Minnesota. The Cowboys went on to trade their first round pick to the Vikings and their third-round selection to Pittsburgh. That moved them up to the 17th spot in the first-round where they nabbed the young guy who, after just three season, smashed most of the school's records and had become the Gators all-time leading rusher.
And thus, Cowboy, Super Bowl and NFL record history was to be established.
Still, no matter how many records Smith established throughout his career, it is the one that now looms before him that will define him – and despite his pre-season attempts to downplay it, breaking the rushing record is never far from his thoughts.
"It's a very special thing," he told reporters when he reported to the Dallas Cowboy's training camp. "It's a special opportunity. I call it an opportunity because I haven't done it yet. And, I still have a long way to go before it actually gets done. Until that (time comes) I'm only going to look at it as an opportunity and, if things work out well, it should happen this year. I'm looking forward to it happening. It will mean a lot, it really will. I can't begin to describe in words exactly what it will mean and what it will feel like, but emotionally I know it will mean a lot more than (anyone) will probably ever know."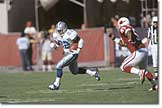 Emotionally, when Smith breaks the record, the game will come to a halt and his teammates will flood the field to slap him on the helmet and the butt. Pragmatically however, there will be an awful lot of new faces taking those slaps. Troy Aikman won't be there. Nor will Michael Irvin, Nate Newton, Daryl Johnson or Jay Novacek.
Those familiar Cowboy faces, most of whom partnered with Smith in the 1990s to lead the Cowboys to three Super Bowl victories, have moved on.
"When you look out there, you don't see Aikman, you don't see Moose (Johnson), you don't see Novacek; you don't see those familiar faces," Smith said. "You just say, 'Man, where have all the boys gone?'" The boys have gone on, on to life after football. But Smith remains. He remains for various reasons: to realize his goal of breaking Payton's record, and perhaps, with equal desire, to help his chock-full-o'-rookies team forget about last season's dismal 5-11 record and once again take on the "team-to-beat" image that Dallas held in the 1970s and 1990s.
That challenge may prove to be far more daunting than getting those 540 yards behind him. The Cowboys are coming into this season as an extremely inexperienced team. A questionable defense and a rookie quarterback are not exactly the way to get sportswriters and prognosticators excited about your chances.
Smith, however, feels that the team's chances may be better than what meets the eye. "It's exciting that there are so many different elements that you could talk about with this ball club," he said. "It's a new thing that's happening here with the Dallas Cowboys. We feel good about where we are physically as a ball club, and we feel like we're heading in the right direction. We definitely have a lot of room to grow and we can make that growth happen. If we can increase our play even one quarter of a percent over last year, and if our defense can maintain, we'll have a lot of chances of winning games. So I feel good about the direction we are headed and I'm just fortunate and glad to be here and be a part of it."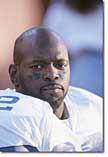 From the organization's standpoint, Smith's role is being viewed in a much more serious way than the running back states. He has emerged as the leader on a team that is vitally in need of leadership. When pushed to comment on that fact, Smith admits that his role is one that just may shape the team over both this season and the next few years. "My job is to play football the best way I know how, to practice and work as hard as I know how, and to lead by example and help out whenever I can," said Smith. "I have to have a positive attitude about it, and I've got to encourage other people because I know that they do look to me for leadership."
He goes on to say that moping around and complaining about last season's record or that the team is young is worthless. "What message does that send to the young guys," he said emphatically. "I've got a lot of young guys counting on me – guys who say, 'Emmitt, can I have your autograph? I can't believe I'm playing with you.'
Smith shakes his head. "(I tell them to) wake up because we are playing together now and we all need to be on the same page. I need you to throw the ball down here and complete it. I need you to make a catch, make a block. You're not sitting at home watching me on television now. Let's get out of the clouds and come down to Earth."
Getting back down to Earth and turning the Cowboys around is a big challenge. They are surely not causing trembling nerves with the teams who are scheduled to face them this season. In fact, the biggest concern they are causing for other teams is to even know who makes the squad for the 2002 Dallas Cowboys. Smith again turns that negative into a positive.
People don't know us now. They don't know what are capabilities are. (I know) that as a 5-11 (team) we're not scaring anybody – not a soul. When you get to that point, where no one fears you, you have a lot to build on. Smith, along with the cowboy's head coach, Dave Campo, is dedicated to being the architects of that building project. "We (have always) known Emmitt was good," Campo said during training. "But I don't know if you can ever say you expect someone to be as good as he turned out to be. Emmitt is obviously one of the best in the business."
Campo went on to say that he is excited that Smith has accepted the role as the team's leader. "He has taken some of the guys under his wing and worked harder in the offseason than he probably ever has because his foremost thought is the team." As Smith moves into what may be his most important and defining season, he maintains the physical stamina and strength of players years younger. He may not be as quick or agile as he was in seasons past, but at the age of 32 his rock-solid frame keeps going despite the years of abuse.
"I've been blessed with good physical condition and health, and I've been surrounded by a good group of guys who have been very consistent in what they've been doing up front," said Smith. "That helps. I also spent most of my career with a great quarterback and a great receiver, and that was very beneficial to a lot of things that I've been able to accomplish." One gets the immediate feeling that Smith's hesitancy to dwell on the rushing record and focus on the team's overall season, is his way of dealing with a distraction. "If I'm spending most of my time answering questions about that, I'm not focusing on what I have to get done today," he said. "(The record) is down the road, I can't deal with that. I have to deal with what I have to deal with today."
Close to the end of training camp, Smith began showing a tad bit of frustration after being pushed constantly to share his thoughts on closing in on Payton. He once told reporters that he felt that the whole record chasing thing was irrelevant. "I can't get the record today and I can't get it tomorrow," said Smith. "I have to focus on what I have to do today. Once I get closer to it, then we'll talk about it, but that's just not my focus right now." Ah, but we are a country of sports fans obsessed with records, and this particular record may just be one that he will hold for many years to come. Thus, no matter how much Smith himself tries to place his focus elsewhere, sports writers and fans will not stand for it.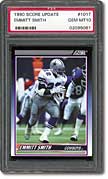 Dallas Cowboys owner Jerry Jones understands that fact, and he is more than cognizant that until the record falls, the eyes of the sports world will be on Smith rather than the team. That makes sense to him, especially because he is aware of just what an accomplishment this will be. "When I look at a record I look at (how likely) it is to be broken again," Jones recently said. "I look at the NFL and the defenses. We're not going to be changing the size of the field. The players are bigger and faster. And when I look at what Emmitt has contributed and his durability, if he can get there, it (the record) may just be his for keeps."
And so, no matter how much Smith tries to downplay his pursuit, he is only kidding himself when he says his focus is elsewhere – a fact he has admitted to.
"When (Payton) and I used to talk he would tell me that Barry Sanders and myself were the ones he thought had a chance to break his record," said Smith. "That meant a lot to me coming from him because everyone knows how I feel about Walter Payton. I have achieved about 90 percent of the goals I set for myself when I came into the league, and I'm pretty pleased with what I've accomplished. I'm looking forward to the stuff that I still can accomplish. But mostly, I'm looking forward to playing many more years in this league and helping to make this team a winner." Count on that being Smith's mantra until Payton's record falls.
When it comes to the interest and desire of collectors, quarterbacks, running backs and, to a lesser extent, receivers have been the focus. In the current NFL crop, there are few that are filling those glory positions that are truly dominating the game. That then would lead one to surmise that cards and collectibles pertaining to Emmitt Smith are the hot item.
"That's probably true," said Sports Market Report editor Joe Orlando. "When you walk into any card shop or sports memorabilia store, odds are that they will be highlighting an Emmitt Smith item," said Orlando. "Everyone wants to capitalize on it. They know that he's the hot ticket at the moment – as he closes in on Payton's record, when he breaks it, and then as the reigning rushing leader in the NFL."
Adding that he doesn't feel that Smith has generated the interest with collectors that other great rushers, such as Walter Payton, Jim Brown and the pre-1994 OJ Simpson garnered, Orlando quickly points out that the tide will most likely now turn.
"He'll be the NFL's rushing leader and he's a guaranteed Hall of Famer, demand will increase, and more importantly, will be guaranteed to remain steady." Back in 1990, all of the major card suppliers put out their version of an Emmitt Smith rookie card. However, the one that has broken out of the pack to be the big card is the 1990 Score Supplemental 101 T. Orlando has even named it as one of the top 200 sporstcards of all time.
The card is very difficult to find in high grades due to that fact that it has dark borders that are prone to chipping. Emmitt Smith autographed items are widely available through reputable dealers and conventional wisdom says they will begin to increase as he chips away at Payton's record. Game used material is out there for those who have the financial means to procure such items. At this point, we should all just sit back and watch Emmitt run.