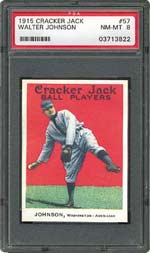 The shutout. The whitewash. The blank job. Throwing donuts. Today it is rare to see nine innings of work from a starting pitcher, and the even rarer complete-game shutout has nearly gone the way of the Nehru jacket and the eight-track tape. The late-inning fireballers that come out of the bullpen are the managers' choice in almost every game-deciding situation these days, but there was a time when the starting pitcher was usually the only pitcher that day regardless of the circumstances.
The great Walter Johnson holds the all-time record for the most shutouts with 110. He completed 531 of his 666 major-league starts (!) and posted a lifetime ERA [earned run average] of 2.17. The 110 shutouts comprise one of the most unapproachable career records in baseball, especially with the philosophy of today's managers.
In 1918 Johnson hurled a 1-0 shutout that took 20 innings to complete. When he posted a 36-7 record in 1913 it included eleven shutouts and a season-long ERA of 1.14. He won more 1-0 games than any other pitcher in major league history and was one of the five inaugural inductees into the Baseball Hall of Fame.
Grover Cleveland Alexander is second on the all-time whitewash list with 90. In his rookie year in 1911 he posted 28 wins, including four shutouts in a row. In 1916 he hurled 16 shutouts! For all of his brilliant starts in the majors he is still best remembered for a relief appearance. In game seven of the 1926 World Series he was summoned from the bullpen in the seventh inning with the bases full of Yankees. He struck out Tony Lazzeri to preserve the lead and the eventual World Championship for the Cardinals.
Christy Mathewson is third on the career shutout list with 79. He also has the same number of career wins as Alexander (373) and the lowest lifetime ERA of anyone in the top ten in shutouts with a 2.13 mark. Not bad for a pitcher who refused to take the mound on Sunday!
Mathewson was nicknamed "Big Six" after a New York fire engine. His finest hour in a career filled with finest hours? The 1905 World Series, when he put together back-to-back-to-back shutouts in a period of six days. Mathewson joined Walter Johnson in the first Hall of Fame class in 1936.
Cy Young blanked 'em 76 times!
They don't call it the Cy Young Award for nothing! Cy Young won more games than any other pitcher in major league history with 511, and in 76 of those he was doling donuts all the way. Young started 815 games in his career and was still around at the finish in 749 of them. Just for good measure he also made 89 relief appearances. One of his shutouts was a perfect game (1904) and he also pitched two other no-hitters.
Number five on the all-time shutout list is Eddie Plank, who mowed 'em down 69 times without yielding a single run. He ranks number one in shutouts by a southpaw. He also had terrible luck in World Series games, as he posted magical numbers that just weren't good enough. His lifetime ERA in World Series games was 1.32, but his record was only 2-5 because his team was blanked four times!
Spahn, Sain and pray for rain.
Warren Spahn is number six on the whitewash countdown with 63 shutouts. He's also number one on the southpaw all-time win list with 363 victories. Spahn was born in 1921 and was still pitching in the majors in 1965. He pitched a no-hitter at age 39 and another one at age 40. He couldn't get enough of baseball, and after his major league career was over he pitched in the minors for two more years.
Spahn made his major league debut in 1942 but didn't get his first win until 1946 as he lost three youthful years to the war effort. He teamed with Johnny Sain for a terrific one-two pitching punch, but the rest of the staff was so weak it spawned the lament: "Spahn, Sain and pray for rain."
Ladies and Gentlemen: We have a tie!
Two pitchers share the number seven spot in the all-time blank brigade. You may have heard of them. Nolan Ryan and Tom Seaver each hurled 61 shutouts, and Ryan jazzed his up a little with a record seven no-hitters.
The number nine spot belongs to Holland-born Bert Blyleven, who shut 'em out 60 times in his career, while the great Don Sutton rounds out the top ten with 58 whitewashings.
Who is the leader among active pitchers? Who else could it be? Roger Clemens, the six-time Cy Young award winner, is tied for number 28 on the list (with six other pitching greats!) with 45 shutouts -- and counting.