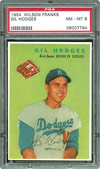 Well, we have been back from the National Sports Convention for about one week or so, and with the PSA Insider going out, we figured now would be a good time to recap the happenings at the show.
The first thing that comes to mind was the pleasant experience of meeting more and more PSA supporters at the show. Some of our most high profile set registrants were there, and we had a good time discussing PSA-related issues such as pricing, set registry weighting and future projects. It was very, very apparent that collectors love the PSA Set Registry. More and more people at the show were exposed to the concept and it was really fun to see their eyes light up at the thought that they could compete and share their sets with collectors from around the world.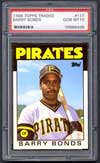 Modern cards, like this Bonds rookie, have "softened" since a year or so ago.
As far as the market is concerned, I don't think it is any surprise to say that the modern market is down and hurting a bit compared to the price levels seen a year or two ago. The threat of a baseball strike hasn't helped much either. If MLB can resolve the issues between the owners and the players -- and I have to believe that they are not going to be stupid enough to strike again -- then I think there will be a calm within the modern market. The prices might not surge upward too much, but at least the fear of a work stoppage will go away.
The vintage market has changed from a year ago but it is still very strong. Vintage commons have never been so hot -- the Set Registry has been very influential of course. While some of the so-called "Big Ticket" items have softened in the market over the past year, the commons in top grade are selling for astonishing price premiums. Once again, it is clearly easier to locate a star card in high-grade, but finding some tough commons in high-grade can be virtually impossible at times.
The vintage star cards are still strong, especially low population star cards. The cards that are selling at lower levels, in comparison to a year or so ago, are the cards that are readily available in high-grade. Many issues continue to sell at high levels like pre-war T205's, but perhaps the most noticeable movement in the market is happening at the PSA Near Mint 7 and under levels. Cards that technically grade PSA 7 or lower, but exhibit nice appeal, are selling at a brisk pace right now. Realize this. A PSA Near Mint 7 is a very nice, high-end card. You could own all four 1933 Goudey Babe Ruth cards in PSA Near Mint 7 for the price of one #53 Ruth in a PSA NM-MT 8. It seems like a strong value and many collectors are looking hard at the PSA 7 and lower grades.
PSA also graded another T206 Honus Wagner card. The card technically graded a PSA 2 but it had tremendous eye-appeal. It would probably sell in the $100,000 range. We also graded the second PSA Mint 9 1954 Bowman Ted Williams, a very tough card in NM-MT or better condition. Of course, there were many very nice, high-end cards graded but the one that probably stuck out the most was a 1979-80 O-Pee-Chee Wayne Gretzky rookie card.
You are probably asking, "What's the big deal?" Well, for those of you who are not familiar with that card, it is incredibly tough in high-grade because of centering and chipping problems. PSA graded its first Gem Mint 10 example at the show in 11 years. The card had the original rough-cut, which it should have, yet it had no chipping or corner wear and it also met the other criteria for a "10." This card is going to sell for a record price, I can assure you of that.
Besides all the wonderful cards we graded at the show, autographs were popular submissions as always. We also launched game-used bat authentication with Vince Malta and John Taube of Grey Flannel A.A.I. The two groups combined for authentication on, perhaps, the most astonishing piece to surface in the last decade -- maybe ever. A full press release on the item is featured below. If you like Babe Ruth and home runs, you are going to want to read this... amazing!
Bat used by Babe Ruth for first Yankee Stadium Home Run in 1923 Uncovered and Authenticated
(Newport Beach, CA) - The baseball bat used by Babe Ruth to hit the historic first home run in Yankee Stadium in 1923 has emerged from its "hiding place" and has been authenticated, according to experts at Professional Sports Authenticator (PSA) of Newport Beach, California, the world's largest sports memorabilia authentication company (www.psacard.com).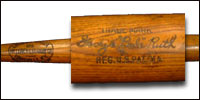 "Previously owned by a Hollywood talent agent, it had been kept hidden for the last two decades," said Joe Orlando, vice president of PSA, a division of Collectors Universe, Inc. (NASDAQ: CLCT).
"The bat was used by Babe Ruth in the inaugural game at Yankee Stadium on April 18, 1923. In the third inning, Ruth hit a three-run homer to lead the Yankees to a four-to-one victory over his former team, the Boston Red Sox. It was the first home run at 'The House That Ruth Built' -- Yankee Stadium -- and appropriately it was hit by Ruth," said Orlando.
"The bat was autographed by Ruth and awarded to teenager Victor Orsatti as the top prize in a California youth baseball home run competition by the Los Angeles Evening Herald newspaper. After Orsatti died in 1984 at the age of 78, the bat was owned by a woman who kept it hidden for nearly 20 years," Orlando explained.
The California woman's name has not been publicly released, and the current owner who recently acquired the bat from her is expected to make a formal announcement soon about plans to sell it at a public auction.
Orsatti was a talented high school and college athlete who later became a Hollywood talent agent. His clients included Betty Grable, Judy Garland, Edward G. Robinson, Olympic figure skater Sonja Henie and directors George Stevens and Frank Capra.
Ruth inscribed the bat to him: "To the Boy Home Run King of Los Angeles, 'Babe' Ruth, N.Y. May 7th, 1923."
Three of PSA's top sports memorabilia experts -- James Spence, and Vince Malta and John Taube of Grey Flannel A.A. -- personally examined the 45-ounce bat and the related documentation during the National Sports Collectors Convention in Chicago earlier this month.
"The bat had the appropriate characteristics for a Babe Ruth professional model, game-used bat from that era and we were able to determine the authenticity of the Ruth autograph. We also thoroughly looked at the historical records related to the awarding of the bat in the 1920s as a prize in a youth baseball competition, and its subsequent ownership the past 79 years," explained Orlando.
Vintage sports memorabilia expert Spence stated: "Unlike most autographed Ruth bats that have surfaced in the hobby, this one has the vintage name plate and inscription that adds to the value and provenance of this dated artifact. Especially appealing is the strength of the ink that has survived the typical fading has affected most memorabilia from that era."
"In my opinion, it just may be the most expensive item we've ever authenticated. It may sell for a million dollars or more," Spence predicted.
Last year, PSA authenticated the famous "Black Betsy" bat used by the legendary "Shoeless" Joe Jackson who was banned from baseball in the 1919 "Black Sox" scandal. That bat was sold last summer on eBay for $577,610.
There are 1923 newspaper stories quoting Ruth that he'd give a year of his life if he could hit a home run in the first game at the new ballpark.
The first game at Yankee Stadium was played on April 18, 1923. The first home run occurred in the third inning on a 2-2 curve ball thrown by Boston's Howard Ehmke to Babe Ruth who hit a three-run homer. New York won the game, 4-1.
About Collectors Universe:
Collectors Universe, Inc. is the leading provider of products and essential services to the high-end collectibles market. The Collectors Universe brands are among the strongest and best known in their respective markets. The company grades and authenticates collectible coins, sportscards, stamps, and autographs. The company engages in collectibles commerce, selling coins, currency, sportscards and sports memorabilia, and entertainment memorabilia through direct sales, auctions, catalogs, and the Internet. The company also compiles and publishes authoritative information about collectible sportscards and sports memorabilia, United States and world coins, and entertainment memorabilia. This information is accessible to collectors and dealers at the company's web site, www.collectors.com, and is also published in print.