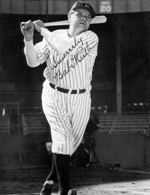 Literature is amply filled with stories of personal successes in sports, business and politics; just a few vocations, filled with names of people we admire. Some we remember posthumously, for just a while, and then their "flame of achievements flickers away." On very rare occasions, a special person possesses all the right "ingredients" to craft a legend that sustains everlasting public affection. Not all these special people experience the same events in their early years that guide their lives to greatness. There is, however, something very sacred about great people who become icons to admire, especially when there is no certain logic guiding their success.
Mickey Mantle lived a wonderful dream when as an 18-year-old high school "kid" from Commerce, Oklahoma, he became a world famous New York Yankee. Mantle had a loving family, and a father who spent his short-lived life teaching his gifted son the rest of what Mantle needed to know... to be the best, to be loved and to be a legend forever. However, Joe DiMaggio, Ted Williams, Willie Mays, Hank Aaron, Hank Greenberg, to name just a few; all had early childhood experiences that were unpleasant at times, from being faced with problems of poverty to those of prejudice.
In all these cases, these men had love from family and the freedom to excel and magnify their natural abilities. Even Ty Cobb had an important relationship with his father before his father's life ended when his mother shot him to death. Thereafter, Cobb left home and he had freedom "of the road" to make the choices that nurtured his success in baseball. George Herman "Babe" Ruth is the most special person who, in his early development, was deprived of almost everything important. For this young man to grow to manhood and achieve the love, respect and admiration of the American public forever, is beyond a leap of faith.
So the story goes, Babe Ruth was born in 1894 (some believe 1895) in a rough neighborhood in Baltimore. His mother was Irish and his father was either German or Pennsylvania Dutch. The Ruth family included four boys and four girls. Babe Ruth was the oldest and by the time he was sixteen (about 1910) his mother died of tuberculosis, and all but his younger sister were dead. In 1918, his father died of a fractured skull in a fistfight with his second wife's brother. Mixed in with all of the family tragedy was a young Ruth who, at times, was beaten with a whip at the hands of his father. Unlike Mantle, who was taught to be the best and be loved, young Ruth acquired the taste of chewing tobacco and learned the skill of stealing from the "till." Little George simply would not, on his own volition, attend school.
In 1902, a judge, at the insistence of Ruth's parents, had him declared incorrigible and beyond control. George was committed to the St. Mary's industrial school at the age of about 7 years old. The main reason for the commitment was to force young Ruth to attend school. For twelve years, off and on, Ruth was living at St. Mary's. Seven and a half years were actually spent at the institution. His mother visited him at least once a month. His father never did. After his mother died, Ruth spent two complete years at St. Mary's. Records indicate, for those two years, he had no visitors. Ruth's years at St. Mary's were part of a fate not usually gifted to unwanted kids.
Ruth, a left-handed catcher using a right-handed catcher's glove, matured by the age of 16, in 1912, to be the best catcher, pitcher and hitter at a school that fielded over 40 uniformed teams. By 1914, at the age of 18, in his last year at St. Mary's, Ruth was 6' 2" and weighed 150 pounds.
The stage was now set for the events that launched Ruth "like a rocket" into a life where Ruth would save, and then re-invent, the game of baseball. Ruth would create a love within the kids of America, "trumpet" the folklore of the roaring '20s, and all of it would result in an enduring affection for this man.
At the 1913 "big game" between St. Mary's and Mount St. Joseph's College, Bill Morrisette, the great, publicly recognized pitcher for St. Joseph's, was opposing Ruth, the pitcher for St. Mary's. Ruth struck out 14 and shutout the college team. Joe Morgan, the catcher for St. Joseph's, begged Brother Gilbert, the athletic director of St. Joseph's, to watch Ruth play the following September. Brother Gilbert did watch Ruth that September, not once but twice, to make sure he was watching what he came truly to believe was an athlete the likes of which he'd never seen before.
Thereafter, Brother Gilbert initiated the bridge for Ruth, from institutional life to his freedom to be great, by introducing him to Jack Dunn, the owner of the Baltimore team, in the year 1914. 1914 was the 18th year since the birth of George Herman Ruth.
Ruth was surely indulged in the excesses that life had to offer; but his baseball feats dictated that he was a physically powerful man, who trained hard and long to nurture his record of successes in baseball. Some say Ruth, in spite of his physical powers, was the "alone" institutionalized youngster; that he was kind to the smaller kids, that he shared what he had with others, was gregarious and enjoyed his friends, and he that he mesmerized others with his loyalty and affable, yet competitive, behavior.
Ruth was the quintessential man of our times. Truly, his greatness as an athlete, and as a loved personality, comes about in defiance of any logic. What we do know is Ruth was supposed to be special, because we simply needed this man for all he represented. What great man could say just the few words, "How ya doin' kid," and have you treasure the acknowledgment for the rest of your days?