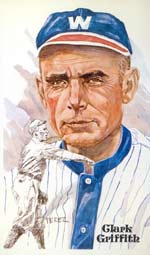 Clark Calvin Griffith was born in Clear Creek, Missouri on November 20, 1869. He claimed to be of "All-American" decent when his ancestral roots were questioned. Like his father who was a commercial hunter, Clark started trapping professionally at the age of ten while continuing his education. His family moved to Bloomington, IL where he was introduced to organized baseball. He completed a public high school education and later attended Wesleyan University in town.
Griffith began pitching professionally in the Western League (Milwaukee) in 1888, and then moved on to the American Association playing for St. Louis and Boston prior to its collapse in 1892. He then ventured to the Pacific Coast League, where he excelled for the Oakland and Tacoma squads. When the club failed to pay their players, he organized a strike, and along with several teammates, they found work in San Francisco as vaudeville performers. They returned to finish the balance of the season when the owners found enough money to lure them back.
Cap Anson signed the ambitious Griffith to play for his NL Chicago Colts (renamed Cubs) in 1893 where he developed into a crafty, resourceful hurler who often doctored his pitches. "Griff" moved cross-town to the newly formed American League White Sox and was rewarded player/manager status by his old friend Ban Johnson for persuading National League stars to jump leagues. Two years later, he retained the same duties for the inaugural Highlanders (later Yankees) until 1907. Ironically, Cincinnati brought him back to the NL to lead the Reds from 1909 to 1911. Johnson then persuaded the nervy Griffith to purchase the Washington Senators and rebuild the ailing franchise. Griffith remained manager through 1920 (renaming Washington Park after himself) and club president until the day he died when his adopted son (actually his nephew), Calvin, inherited the team in 1955. His innovations included pioneering relief pitching, importing low-cost Cuban players, being the first to use a speed measuring device for pitchers, and promotion of night baseball. Always financially strapped in the midst of The Depression and thereafter, Griffith totally relied on baseball as his sole source of income. As a pitcher, he compiled a career record of 237 wins and 146 loses in a 20 year career, although in his final five seasons only token appearances were made. The Senators won the World Series in 1925 and pennants in 1924 and 1933. His managerial career garnered 1491 wins while losing 1367 games (.522 pct.).
Standing only 5' 6", "The Old Fox" weighed 160 lbs. during the prime of his playing career. Griffith batted, threw and wrote right handed. He and his wife Ann Robertson married on Dec. 3, 1900 and went on to have children of their own and care for (not in the legal sense) others. His adopted daughter Mildred (Robertson) became the wife of future Hall of Fame player/manager and newlywed Joe Cronin. That year (1934), Griffith sold him and Lyn Lary for $225,000 to the Red Sox due to his ongoing financial constraints.
Often forgotten as a tremendous 19th century pitcher, Griffith was selected by the Baseball Veterans Committee to the Hall of Fame as an Executive in April, 1946 along with ten others (the largest class to date). Clark Griffith was an obliging signer and accessible to his fans, especially through the mail. Strangely enough, there is no record of "The Old Fox" attending his July 21, 1947 Induction in Cooperstown, NY or being present at any subsequent ceremony. He did however, appear at many Senator home games, especially opening day when the ceremonial first pitch was thrown by the President of the United States.


Griffith signature
His signature was legible throughout his life; however, it was more flamboyant, larger and rounded in the earlier years. Acute in his right slant, the faster, more flowing signature gave way to a slower, more labored upright version as age accepted the more common characteristics of ink accumulation and scratchy character formations with smaller capitalization. His double-intersecting, single line detached "C" introduced another breaking "l" which led into more diminutive "ar" connecting letters. The "k" was a two-stroke construction accepting the transition from the "c" to form the shank and allowing a high initial stroke to curl back and downward to complete his given name. On occasions, he would include his middle initial "C" which was formed alike as in his first name. His "G" was created with a long upward initial stroke that made the top loop, curling north and finally looping again (sometimes through the stem) to finish the letter. After the break three more letters ("rif") remained connected before continuing with the balance of his name ("fith"). The cross stroke of the "t" started high to the left and slanted downward encroaching the "h" in later years.
Typed signed letters or players' uniform contracts are perhaps the most common medium of autograph, generally on Senator letterhead, and retail for around $400-$500 depending on the content. U.S. Government postcards are available for $300 with index cards marked slightly less. Hall of Fame issued black and white Artvue plaque postcards start at $1000 (Albertype sell for a premium) and are generally signed along the contouring of the image's top arc. Single signed baseballs are occasionally offered starting around $2000 in good condition. Expect to pay a grand for a personal cancelled check. Programs, album pages and less frequent photographs are among the other types of items signed and their values are highly subjective.
For years, his chronically struggling, economically challenged Washington club was a perennial cellar dweller and the butt of the common joke "Where is Washington?" Answer: "First in War, First in Peace, and Last in the American League." Clark Griffith died on October 27, 1955 at the age of 85 in Washington, DC.