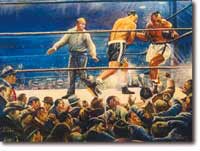 In our July issue of the Sports Market Report, we ran the following article as our feature piece. Shortly after its release, we learned that Gabe Perillo, Sr. had passed away due to congestive heart failure. It happened the day after he completed this interview. As a small memoriam, are reprinting the article in its entirety for you now. To Gabe Senior: you will be greatly missed! To Gabe Junior and all of the Perillo family: our deepest sympathy and condolences.
For aficionados of the arts, there are few things as stirring as a Van Gogh skyscape, a Baryshnikov grand lete or a Shakespearean sonnet. The magical beauty of Mozart's Eine Kleine Nachtmusik and the majesty of a Caruso aria have emotionally moved millions. Brando's riveting portrayal of a working class Polish immigrant and Leigh's stunning interpretation of a tempestuous Southern belle are masterful achievements that have left a profound impact on the world's artistic stage.
Equally, the arena of athletics has also provided feats of mastery that have emotionally stirred, moved and profoundly impacted those who have borne witness. Ali's choreographed movements on canvas, Gretzky's pure greatness on ice and Jordan's defiance of gravity on hardwood have left us in awe. The fury of Ryan's changeup from the mound, the precision grace of Montana's bomb from the pocket and the majestic wonder of Fleming, executing a perfect salchow on French ice, have left indelible images on the pages of sports history.
There is no doubting the fact that there is a great deal of the artist in the athlete, and conversely, there is a sizable factor of the athlete within the artist. Both must commit themselves to years of practice to enhance their natural talent. Both must be able to clearly visualize their ultimate goal by possessing a fine-tuned level of creativity, and both must constantly push themselves further than even they may have believed possible to reach that goal.
The goal of the legendary sports artist, Gabe Perillo, is, and always has been, to create paintings that were as exciting as the men, women and competitions that served as his inspirations. "I always try to give my paintings movement and I focus in on details," Perillo explains. "My work is detailed and realistic as opposed to most of today's prominent sports artists who are not working in such detail."
Recognized worldwide as one of the premiere sports artists, Perillo has painted the greatest athletes of all time, including Rocky Marciano, Joe Montana, Babe Ruth, Wayne Gretzky, Michael Jordan and Secretariat to name just a few.
A World War II veteran, Perillo followed his stint in the service by studying art, under the GI Bill, at the Cartoonists and Illustrators School in New York City. Among the guest instructors who taught at the Cartoonists and Illustrators School, was a lanky, pipe-smoking artist, who not only shared his technical knowledge with Perillo, but also inspired him to see things that others may have overlooked, and to create paintings in his mind. That artist's name was Norman Rockwell.
"When I was a young artist in school, Rockwell had a huge influence on me," says Perillo. "I was fascinated with the way he created and composed in his mind. He worked from photographs. He would use a variety of photos of different subjects and then he would compose those photos into a painting in his mind. That's where the creative genius comes in. Doing a sitting for a portrait is easy for an artist. I can pose you and light you just the way I want you. The creative process comes in when I capture different elements and bring them together to tell a story."
Perillo went on to use his natural born talent and training to become a professional artist doing extensive comic book work and illustrations for various advertising agencies and newspapers. In 1969, he became a staff artist for Ring magazine where, during his decade-long career, he did hundreds of illustrations and created eighteen covers.
Today, Perillo is the official artist of the Downtown Athletic Club, which is the home of the Heisman Trophy. He has also been commissioned by ESPN to create works of art for The Fifty Greatest Athletes of the Century and Classic Sports Moments in History and is currently doing a project for the cable sports network called Sports Century Series.
A devout sports fan, Perillo's brush has captured the greatest names from football, baseball and basketball, to hockey, golf, horse racing and Olympic competition. While he is clearly an all-around sports fan, he freely admits that boxing has always been his first love.
That love affair began when he attended a fight in Philadelphia on September 23, 1952 that pitted Rocky Marciano against Jersey Joe Walcott for the World Heavyweight Championship title. Marciano walked away from that fight as the new Heavyweight Champion of the World, and Perillo walked away inspired to do one of his greatest paintings, Making of a Legend.
"If you look at that painting you clearly see the Rockwell influence," says Perillo. "In the foreground you see the commotion in the expressive faces of the crowd. You can feel their excitement. I remember being there and looking out past the ring and seeing the flickering lights of cigarettes in the background and the bright white light on the ring and I said to myself, 'What a great painting this would make.'"
Twenty-three years after the Marciano/Walcott fight, Perillo was again inspired to capture two gladiators of the ring's canvas on the stretched canvas on his easel. That painting, which captured the October 1, 1975 World Heavyweight Championship bout between Muhammad Ali and Joe Frazier, Perillo simply titled, The Thriller in Manila.
"I place the Marciano/Walcott bout, along with The Thriller in Manila, as two of my favorite heavyweight fights of all time," says Perillo. "That's why I'm excited to be able to offer two limited edition lithographs which capture the magic of two of my favorite fights, and an important part of boxing history."
Making of a Legend and The Thriller in Manila are just two of the many signed and numbered, limited edition lithographs that Perillo makes available at his online gallery. They each measure 22 x 28 and are available unframed for $95 or framed for $180. Other great moments in the ring that have been immortalized on Perillo's canvas include matchups between Rocky Marciano and Joe Lewis, Carmen Basilio and Sugar Ray Robinson and the 1997 WBC Super Lightweight Title fight between Oscar De la Hoya and Pernell Whittaker.
Perillo has also had inspiring moments from venues other than the fight ring. One of those unforgettable moments took place in Miami's Orange Bowl on January 12, 1969 when a cocky young quarterback named Joe Willie Namath guaranteed a Super Bowl III win over the heavily favored Baltimore Colts. Another came in 1973 when a big red beauty named Secretariat won the Belmont Stakes by 31 lengths, becoming the first Triple Crown winner in a quarter of a century.
Throughout the online Perillo gallery, sports fans can also admire and purchase lithos and originals of such baseball luminaries as Babe Ruth, Ted Williams, Joe DiMaggio, Mickey Mantle and Lou Gherig. The gridiron stars that are offered in the Perillo collection include Joe Montana, Vince Lombardi, Joe Namath, Lawrence Taylor and Johnny Unitas.
Among the hockey greats that have been immortalized in oil on Perillo canvas are Gordie Howe, Maurice Richard, Wayne Gretzky and Bobby Orr. Legendary kings of the court whom Perillo has painted are Larry Bird, Michael Jordan, Bill Russell, Wilt Chamberlain, Jerry West and Red Auerbach.
As for his favorite subjects, the pugilists, Perillo offers both his magnificent oil paintings and pen and ink drawings of the ring's biggest names such as Rocky Marciano, Sugar Ray Leonard, Jersey Joe Walcott, Joe Lewis, Joe Frazier, Jack Dempsey, Oscar De la Hoya, Primo Carnera and Muhammad Ali.
Prolifically turning out masterpieces from the studio of his New Jersey home, Perillo, now in his '70s, says he has no intention on backing away from the easel.
"I'll keep going until I can no longer dip the brush in the paint," he says with a laugh.
Gable Perillo's one-of-a-kind original paintings and drawings, along with his limited edition lithographs, may be viewed by visiting his web site at www.gabeperriloart.com.
If you are interested in purchasing a Perillo original or print, you can contact a representative at (718) 720-6035.