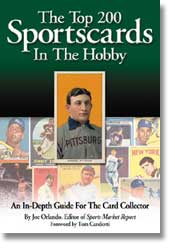 Finally, this much-anticipated book is here!
The Top 200 Sportscards In The Hobby
, written by Joe Orlando, Vice President of PSA, is available for sale. This comprehensive guide, nearly 500 pages in length, is filled with information and photos of the most important cards in the hobby today. Every card that made the
Top 200
list is discussed in detail and photos of some of the finest examples in our hobby were selected to illustrate the beauty of these gems. You will find historical information about the cards and athletes. If you are an advanced collector or an entry-level novice, this guide will provide the reader with vital information about the top cards in each sport, from the T206 Honus Wagner to the 1986 Fleer Michael Jordan rookie. This book should provide fun reading about your favorite stars and their finest cards. This book even features a foreword written by big league pitcher and knuckleball specialist Tom Candiotti, one of the premier collectors in the hobby. Due to the overwhelming interest in this book, early orders are encouraged. Did any of your cards make the
Top 200
? Click
here
for more information.