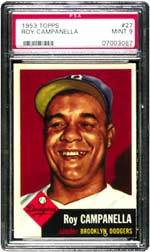 When you think about baseball history, you'll realize that there are several notable players that had their careers either cut short or hampered by a variety of problems. For some, it was an injury that prevented them from reaching their potential and for others it may be an accident that deprived them of their life. There's Mickey Mantle and his nagging injuries that never allowed him to run the way he was capable of, Ralph Kiner and his bad back that cut his home run barrage short and Roberto Clemente that who perished in a plane crash.
What about all of those players who served during wartime? The most notable case might be that of Ted Williams. Williams lost approximately 5 years from his prime serving in the military as a fighter pilot. Just imagine the numbers Ted would have amassed if he didn't miss so much time. Joe DiMaggio, Yogi Berra and a host of others also served in one capacity or another. Lost time is their common bond.
Others had to deal with the inequities of a segregated game. While some players eventually got the chance to play in the big leagues like Satchel Paige and Jackie Robinson, others never had the opportunity to show their skill and wear the New York Yankee pinstripes. Can you imagine how good Josh Gibson was? You hear of the legendary stories but it is a shame that he never had the opportunity to compete with Babe Ruth, Jimmie Foxx and Lou Gehrig for the home run title.
One player who suffered at the hands of both dilemmas was a legendary catcher by the name of Roy Campanella. This barrel-chested backstop, who followed Robinson over from the Negro Leagues, made an immediate impact on the game. Along with Robinson, Duke Snider, Gil Hodges and Pee Wee Reese, Campanella helped lead the Brooklyn Dodgers to victory many times during the late-1940s through the 1950s. In fact, "Campy" would win three MVP Awards (1951, 1953 and 1955) along the way.
In 1953, Campanella would have what many consider the best offensive year for a catcher in baseball history. He hit .312 with 41 homers and 142 RBI's. During the 1950s, Campanella would injure his left hand and that injury would continue to worsen as the decade moved on. As the injury worsened, so did Campy's performance. Unfortunately, the hand injury would be placed into perspective by 1958. In January of that year, Campy was paralyzed in a horrific car crash and his career came to an abrupt end. During a spring exhibition game in 1959, nearly 100,000 fans showed up to honor Campanella. He was truly one of the most beloved players in the game.
When it comes to collecting the cards of this Hall of Famer, there are not too many choices because of his short career, but there are some true gems amongst the limited amount in existence. Here's a quick checklist of some of Campy's more popular cards:
1949 Bowman #84
1950 Bowman #75
1950 Drake #6
1951 Bowman #31
1952 Berk Ross
1952 Bowman #44
1952 Topps #314
1953 Bowman #46
1953 Red Man #5N
1953 Topps #27
1954 Bowman #90
1954 Red Man #13N
1954 Wilson Franks
1955 Bowman #22
1956 Topps #101
1957 Topps #210
1957 Topps Dodgers Sluggers
1958 Bell Brand #1
1959 Topps #550
Keep in mind that this is not a complete checklist but it does include most of Campy's most sought-after cards. His 1949 Bowman rookie card is when it all began. The card, which is susceptible to toning along the edges and poor centering, is featured along with teammate Duke Snider's rookie card in the same set. Campy's 1950-1952 Bowman cards, while more colorful and attractive, do suffer from similar condition obstacles.
There are a few more obscure or regional cards that were produced along the way like the condition-sensitive Drake issue from 1950 and the seldom offered Berk Ross card. Campy's 1952 Topps card is certainly one of the hobby's favorites. With a beautiful yellow background, this great card can have tons of eye-appeal. It's also part of the most celebrated post-war set in the hobby; it's a winner.
Bowman, Red Man and Topps produced cards for Campy in 1953. The Bowman color Campy, in this case, is considered by many to be the most desirable card of the three. The simple design of the 1953 Bowman Color set has long been an attractive asset to this issue. The Topps Campy card is no slouch and the tough colored border is very susceptible to chipping along the bottom edge. The Red Man card, while not mainstream, is gaining in popularity due to the colorful design and difficulty.
In 1954, Campy appeared in three noteworthy sets (Bowman, Red Man and Wilson Franks). This time, the regional card might take priority. Many of you might not be familiar with the Wilson Franks set. Placed inside of hot dog packages, these cards are some of the ultimate post-war condition rarities. Whether it is terrible centering, general wear or staining, these cards are virtually impossible in high-grade. Campy's power-hitting teammate Gil Hodges can also be found in the set.
During the next few years, Campy appeared in the 1955 Bowman, 1956 and 1957 Topps and 1958 Bell Brand Potato Chips sets. The 1955 Bowmans are tough with those brown borders which are easily chipped. The 1956 Topps Campy, while not extraordinarily tough, is part of a very popular set. In 1957, Campy appeared on two different cards in the Topps set, one regular card and one multi-player card entitled Dodgers Sluggers featuring other Brooklyn stars like Snider and Hodges. This popular combo card does reside in the high-number series, but that is not the toughest series in the set. The 1958 Bell Brand issue is very tough to find in high-grade and, really, to find at all. It features other current Dodger players like Sandy Koufax along with the retired Campanella.
Finally, in 1959, Campy was featured post-accident on a Topps card. Sitting in his wheelchair, Campy graces the front of this popular card. For whatever reason, I almost never see the card offered in high-grade. While the card is somewhat tough, the popularity of the card prevents those choice examples from reaching public sale or auction most of the time. They are often quickly taken off the market by collectors. It's really not a card that most people would consider rare; you just never seem to see it for sale in top grades.
Roy Campanella, despite his short time in the game, left a permanent mark on baseball and the fans who watched him play. The combination of his genial personality, his awesome skill and as a part of the Brooklyn Dodgers will always keep Campy in the minds of collectors. Campy was hindered by racism, injury and an accident but his cards, which include some outstanding issues, should remain at the top of want lists for years to come.