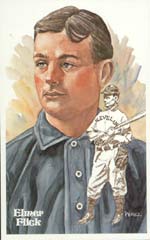 Elmer Harrison Flick was born on January 11, 1876 in Bedford, Ohio. "The Bedford Sheriff" stood 5' 9" and weighed 165 pounds during the prime of his playing career. He batted left-handed, although he threw and signed with his right hand. His professional baseball career started in 1896 when he hit .438 in 31 games for Youngstown (OH). When the Phillies replaced Sam Thompson as the starting right fielder for the 1898 season, the result was one future Hall of Famer replacing another. Using a thick-handled bat, Flick had a .315 lifetime batting average with 1,755 hits in 13 major league seasons.
In an effort to legitimize their stature as a competitive league, the Athletics raided the National League for some of their prominent ballplayers. As one of the original stars jumping to the newly formed American League, Flick accepted an offer from Connie Mack of the A's. Upset with their loss, the Philadelphia Phillies obtained a Pennsylvania Supreme Court injunction against him, and two others, whereas they were no longer permitted to play for a team within the state. Hence, Elmer was assigned to the Cleveland Bronchos (later the Naps and eventually the Indians) where he played for the duration of his career. The speedster stole 330 bases and collected 164 triples and is recognized as one of the greatest all around performers of the "Dead Ball" Era.
Nap Lajoie suffered a broken hand in a fist fight with the amiable Flick in May of 1900. Elmer ended up playing the balance of his major league career as a teammate of Lajoie without further incident. Following the 1907 season, Cleveland was offered a deal that would have traded Flick to Detroit for Ty Cobb even up. Rumors of Cobb's hated reputation amongst teammates had already spread to Cleveland which in turn declined the proposed transaction. In retrospect, this was a huge blunder by the Indians because in 1908, Flick developed a mysterious stomach ailment that plagued him for his final three years in Cleveland. His weight dropped into the 130's which made him unproductive and he was played sparingly. The next two seasons, he played for Toledo in the American Association. After his retirement he was a part-time scout for the Indians.
In 1963, at the age of 87, he was elected to the Baseball Hall of Fame by the Committee on Baseball Veterans. Previously, the virtually forgotten Flick had received only a single vote from the Baseball Writers Association in 1938 for induction selection. Perhaps no other Hall of Fame member was more proud of his enshrinement than Elmer. Flick would answer all of his fan mail often citing his current age (i.e. "now 87, now 88, etc.") and add the year just above. It was not uncommon for Flick to write the association "Base Ball" citing the nineteenth century two word spelling that later evolved into a single word format. Just about all of the signature examples in existence today are from that eight year period up until his death at the age of 94 on January 9, 1971 in his lifelong hometown of Bedford. His wife Rosella apparently did not sign his mail. Due to his age and ailing health, his autograph was slow, labored and would often drift downward to the right. Always legible, his consistent capital "E" was formed with three curls and became more upright with age. Hesitations, stops, ink accumulation and retraces were common as well. His earlier smoother signature may include the middle initial H and have better flow and continuity. His capital "F" was three strokes in formation unattached from the balance of his surname as with his given name. He preferred to use an overlap curl in the letter "c" followed by a full cursive single line "k" with a downward terminal stroke that would dip below the baseline.
Autograph prices vary depending on the item. 3x5 index cards are generally $65-75 with U.S. Government postcards commanding a 25% premium. Black and white Hall of Fame plaque postcards retail for $450-$500. Flick was the last year (1963) inductees were featured on the black and white versions were he would typically sign the bottom front with the year and his age. He enjoyed six years (1965-70) when autographing the top front of his gold postcards. Single signed baseballs are uncommon and can fetch over $2500 when found. Items that one should not expect to uncover are signed bats or jerseys. To date, I have yet to see a personal cancelled check surface in the hobby. I occasionally spot his autograph on Hall of Fame multi-signed baseballs on the side panel. Surprisingly, one might have a difficult time locating a photo signed by him. The few pictures I have authenticated over the years have been out of focus, and have been signed within years after his Hall of Fame Election.
Jimmy Spence is the President of James Spence Autographs and the lead autograph authenticator at PSA/DNA. Visit Jimmy online at www.jspence.com