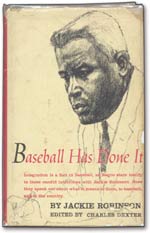 Following the success of the entertainment portion of its May auction, Lelands.com continued with the sports portion and raised the bar to over $4.1 million, making this one of the company's most successful auctions ever.
Leading the charge on Day Two was lot 1254, a book written by Jackie Robinson and autographed to Martin Luther King Jr. The book, "Baseball Has Done It" (published in 1964), was auctioned for $42,288, including the buyer's premium. The inscription said, "To Dr. Martin Luther King with the deepest of admiration. Your dedication and sincerity has been an inspiration to millions of Americans. You have added to the lives of most of us and we appreciate it so very much. May God continue to guide and bless you and may your devotion to the principles under which this country was founded. I hope you enjoy Baseball has done it. You inspired much of it. Sincerely, Jackie Robinson."
Other big items on Day Two included lot 2450, the 1928 Hart Memorial Trophy presented to Howie Morenz ($35,165), lot 1903, Bob Feller's 1956 Indians jersey ($29,827), lot 1274, a large Babe Ruth signed photo to fellow ballplayer Larry Doyle ($27,830), lot 1301, Lou Gehrig's signed 1934 Yankees contract ($27,115), lot 1697, Jackie Robinson's Personal Rookie Card PSA 3 ($2,981), lot 1579, a 1938 Horrors of War Boxed Set ($12,324), lot 1556, a 1952 Topps Five Cent Wax Pack ($5,965), lot 1396, a 25" 1996 New York Yankees World Series Trophy ($26,844), and lot 1985, Newt Allen's 1930s Kansas City Monarchs uniform ($25, 530).
Other highlights:
1068 - Cy Young single signed baseball - $18,520
1293 - 1930 Babe Ruth signed payroll check - $7939
2110 - 2001 Barry Bonds' first home run bat of the season - $18,612
2303 - 1971 Ali-Frazier I fight poster - $8291