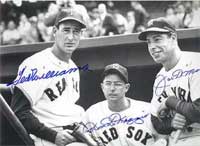 Like Mickey Mantle and Joe DiMaggio, Ted Williams's signature was bold, unmistakable, much in demand, and too-often forged. The subject of Williams autographs surfaced as the Splendid Splinter, the greatest hitter of modern times, made an appearance recently at his Hitters Hall of Fame in Florida.
Williams was once such a strong figure physically, with an equally booming voice, that it was wonderful, in a painful kind of way, to see his frail self rolled through the museum for television and other cameras.
Interest in Ted Williams autographed memorabilia has never waned since he decided, in the early '90s, to stop doing autograph shows. Enter John Henry Williams, son of the legend, who joined him in Florida with the notion of managing his father's fame and guarding against numerous excellent forgeries. Through what would become the Green Diamond Family Enterprises, and later Ted Williams Family Enterprises, dealers confidently added genuine articles to their inventories.
The younger Williams also would exploit his father's famous name in many enterprises -- a number of them stoutly funded -- which ultimately would fail. Yet, they afforded John Henry one handsome lifestyle; however, those are stories outside the focus of sports autographs.
There is reason to believe that Green Diamond's inventory may not be as flush as one might suspect, some dealers still contend that John Henry may be stockpiling bats and photos in a temperature-controlled warehouse in Florida.
In terms of supply, let's be clear. The Red Sox slugger, baseball's last .400 hitter, has signed very few items in recent years because of his failing eyesight and otherwise poor health. Before he reached the current state of deteriorating health, John Henry had Dad on a demanding, even taxing regimen for signing items -- balls, photos, prints and bats. Oh sure, it was for the fans, thus it was justified.
Others close to Williams said the process was almost abusive, given how quickly Williams tired, and given how diligent personal caregivers carried out their duties in pushing to get inventory signed. They reported on how John Henry was adamant that no autograph requests get past the cash register without payment.
Ted reportedly would fight with his son about the money aspect of this. He would do anything for a former ball player, especially one who could use the cash, and particularly one who had served his country as Ted had.
Williams would ultimately win his share of these battles. A few cynics, and even former teammates who saw No. 9 on television, however, figure John Henry pulled off this publicity stunt to support exorbitant prices on his signed inventory, all of which is available through a new website, www.tedwilliams.com.
On balance, though, and in the face of a turbulent family life, John Henry has proven to be a superior caretaker, even in times when his father simply is unable to sign any more.
All of which takes us to the marketplace. Ted Williams-signed baseballs typically go for $350 per ball. Green Diamond is selling balls signed in 1994 and 1997 for $699 apiece. Photos, such as those showing him in the cockpit of a World War II fighter plane; or torquing for his classic swing; and hitting a home run hit in his last at bat sell for $525. A signed photo showing him as a rookie, playing in an exhibition between the Red Sox and Holy Cross College, is offered at $1,200.
Prices, of course, are subject to change. These are also very high, probably double the market value.
Rich Altman of Hollywood Collectibles said Green Diamond is looking to its customers, including himself, to buy back items. He said Williams is a hot seller, hotter than Mantle and DiMaggio. "I sell three Ted Williams balls for every Mantle and DiMaggio," he said. Altman calls the $699 price "insane" and figures that will just send more customers his way.
Of course, when Altman and others are out of their inventory, collectors will be left with paying the "insane" prices over at the website, www.tedwilliams.com.
Altman also sold a signed replica jersey recently for $2,000. The jersey was a product signed exclusively in the early 1990s for Upper Deck. The Hollywood, FL., dealer has been Green Diamond's customer for quite a number of years. Altman said he once had a few hundred signed baseballs. He said he's now down to about a dozen.
Altman also recalls a time when John Henry was making the rounds at a show and approached his booth. He believed the Williams-signed baseballs on his table were questionable. Altman reminded the lad that that would be impossible since the items were purchased from him. John Henry shied away from the table and continued his search in the hall for bogus autographs.
Altman is still disheartened by the number of Ted Williams forgeries that fill Internet auction listings. "Most of the time the autographs are pretty bad," he said. "Some that are borderline are still very questionable. I believe we're seeing problems still coming out of California and the Northeast (where the FBI's Operation Bullpen took them a couple of years ago)."
Dealer Rich Albersheim, out of New York, is seeing a "ton of fake stuff" with regard to Williams items. "People don't want to pay what the family is selling the items for. Unsuspecting shoppers will see fake ones on the Internet for $100 and $150 and think they're getting a bargain."
Dealer Bill Diebold, of Everything Baseball in Oakland, N.J., confirmed that inventory is not forthcoming at this time from Green Diamond. The wholesaler he used to get Green Diamond bats from told Diebold that the Williams enterprise wouldn't sell him any more bats. "I had some bats four years ago and sold them," Diebold said. "I should have held onto them. The registered dealer said that all that was available were signed photographs. You can't get a ball or a bat."
Bill Nowlin of the Boston area, perhaps the most extensive Ted Williams collector in the country, said he has about 100 Williams-signed items, though that is likely a conservative figure. He's not looking for signed items, but in his quest for the rare Williams item that is missing from his collection, he's spotted "some really obvious" forgeries.
"I've been more concerned about them than I used to be," Nowlin said. "Once upon a time, I was too trusting. With his son's well-publicized campaign against forgeries, the forgeries seemed to die down. John Henry made himself a few enemies, but in the last year and half he's been by his father's side every day. A lot of people respect the way he has devoted his attention to that."
Dealer John Brigandi resists acquiring balls signed in recent decades. His focus is on vintage items, and the number of Williams-signed vintage items is small. A vintage Ted Williams signature on a ball from the years he played are in great demand. "That stuff is significantly under-priced," he said. He said a single-signed vintage piece would cost between $1,000 and $1,500. "That's reasonable considering how many there are," he said.
Brigandi added that he recently bought vintage-signed Ted Williams photos and put them away for a future sale. He'll gladly acquire team-signed balls bearing Williams's signature for less than $1,000. "He almost always signed on the sweet spot and always had a nice, dark signature," he said. Williams also was known to allow clubhouse attendants sign his name.
Anyway, "there's always someone looking for vintage items," he added. "That stuff is not around."