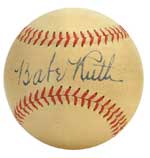 Southern California-based SportsCards Plus will offer, for the first time, two of the finest autographed Babe Ruth related items to surface in many years. A pristine single signed Babe Ruth baseball will be offered on behalf of the family of the gentleman who obtained the ball as a 15 year-old boy. According to Dan Imler of SportsCards Plus, the young boy's fondest wish was to obtain a ball signed by his hero, Babe Ruth. As a reward for making good grades, his mother took him to buy a new Spaulding official baseball to send to the Bambino in hopes of having it returned with his signature. After months had passed and just as his hopes were fading, a box arrived in the mail with a handwritten return address reading "G.H.R. 14A, Riverside Dr. NYC, N.Y." The ball bore a bold and beautiful Babe Ruth signature on the sweet spot. The postmark on the box, "June 12, 1948" was two months before the Babe would succumb to throat cancer.
Imler states, "What makes this ball truly exceptional is not only its pristine condition, but the completeness of the package. Its immaculate state of preservation, original ball box, mailing box, and provenance puts this Ruth ball in a class by itself. This is the ultimate Ruth single and a poignant symbol of Ruth's steadfast dedication to his young fans, even in the last days of his life."
SportsCards Plus has made another recent discovery that is sure to have the collecting community buzzing. The company extended its reach to Tokyo, Japan, to unearth an autographed 1934 Tour of Japan photo featuring Babe Ruth, Lou Gehrig, and Jimmie Foxx. The 5"x7" photo features the three sluggers on the field in their All Americans uniforms. Ruth, Gehrig, and Foxx headlined the famous tour, which invited American major league players to Japan to play against Japanese college all-stars. Not surprisingly, the Americans won all seventeen games they played. Matsutara Shoriki, an influential owner of a popular Japanese newspaper, was largely responsible for bringing the tour to Japan. Shoriki, who later became known as "the great genius-father figure of Japanese baseball", was amazed by the interest of Japanese fans, and established Japan's first professional team in December, 1934. The photo, set to be offered in SportsCards Plus' April 4th auction, was originally obtained by an employee of the Imperial Hotel in Tokyo where the American ball players stayed during the tour. The company cites that the condition of the photo is impeccable. Imler says, "The image is one that we have never seen before and the overall quality of this photo is simply stunning. In terms of aesthetics and historical significance, it has very few peers. It is incredibly exciting to discover a photo of this magnitude and bring it to market for the first time."
Fresh memorabilia discoveries aside, SportsCards Plus will also feature the quartet of 1933 Goudey Babe Ruth cards all in PSA 8 NM-MT. Leading the group is the ever-popular #53 Yellow Background followed by a super sharp #149 Red Background that will surely please the most discriminating collectors. Fresh examples of the #181 Green Background and the double printed #144 Full Body Pose round out the foursome. Says Imler "It is not often that all four Goudey Ruth's in high grade are offered together in one sale and we expect the action to be frantic."
An Incredible Selection of Topps Test Rarities Surface in Recent SportsCards Plus "Find"
Even the most experienced collectors who thought they'd seen it all will marvel at some of the items included in a recent discovery made by SportsCards Plus. Most would agree that the term "rare" is often overused in the hobby. However, there can be little debate when the term is applied to an item such as a 1968 Topps Plaks unopened wax pack or a complete set of 1968 Topps Test Basketball (yes, that's right, a complete set!). Not rare enough? How about a near set of 1967 Topps Giant Stand-Ups or an unopened 1969 Topps Super wax pack?
These are just some of the items from the "find" that SportsCards Plus will offer as part of their April 24th auction. The collection originates from the family of a former Topps Employee and includes many items that are rare by any measure, in addition to many condition rarities. SportsCards Plus President David Kohler says, "To discover many of these items in any condition would be significant, but the uncirculated quality of the collection makes this all the more remarkable." The condition element is most apparent in this fabulous group of cards from the immensely popular, yet seldom seen, 1971 Topps Greatest Moments issue.
Kohler states, "It is truly something special to hold a factory fresh brick of these cards in your hand. It is such an elusive and condition sensitive issue that many collectors could wait a lifetime to assemble a high-grade set. This offering will help a few patient collectors get a little closer." A number of the cards have already been graded by PSA, resulting in many being deemed as the finest graded examples according to the Population Report. Among them are #15 Pete Rose PSA 9 Mint, #51 Luis Aparicio PSA 9 Mint, (2) #40 Carl Yastrzemski PSA 8 Nm/Mt (first two), (2) #52 Willie McCovey PSA 8 Nm/Mt (first two), and (2) #50 Sam McDowell PSA 9 Mint (first two).
The most dramatic overhaul to the Pop Report involved the grading of the 1968 Topps Test Basketball complete set as well as some singles. The rarity of this issue is such that a complete graded set has never been known to exist and many advanced hobbyists have never actually laid eyes on even a single card from this issue. Prior to the find only 21 total cards had ever been graded by PSA with only a handful grading 7 or better. The submission, which nearly tripled the entire PSA population, yielded almost entirely PSA 7's and 8's highlighted by #1 Wilt Chamberlain PSA 8, #4 Bill Russell PSA 8, #5 John Havlicek PSA 8, # 7 Willis Reed PSA 8, and #18 Elgin Baylor PSA 8.
On par with the Topps Test Basketball on the rarity scale is the 1967 Topps Test Stand-Ups. These cards are considered to be among the rarest and most desirable of all 1960's Topps Test issues. It has been estimated that fewer than 100 individual examples exist, none of which were publicly distributed. Adding to the intrigue that surrounds this issue is their unusual size (3 1/8"x5 ¼"), thick cardboard stock, and die-cut design. SportsCards Plus will offer a near set (21 of 24) as well as singles of several Hall of Famers.
Among the other exciting treasures included in this great discovery are mint sets such as 1969 Topps Supers, 1974 Topps Deckle Edge, 1968 Topps "Batter-Up" Game (in box), 1969 Topps 4-in1 Stickers, and more.
SportsCards Plus can be contacted by phone at 800-350-2273, or online at www.sportscardsplus.com.