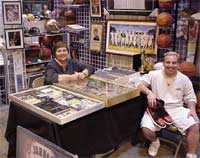 Most sports card and memorabilia shows are filled with product from the four major sports: Baseball, Basketball, Football and Hockey. All are major sports that fathers and sons from all around the universe can share, day in and day out. A father and son tradition that has been going on for close to a century now, where they capture the moments and turn them into memories. Well, it's a little bit different in Manhattan Beach, California, where sports memorabilia dealer Carol Murphy is part of a business made up of male athletes. She has successfully been buying, selling and trading her sports memorabilia for almost a dozen years now. "I started in 1986 when I went to the local baseball card shop to look for a gift for my son. They explained to me that there were 3 major card companies, Topps, Fleer and Donruss. I bought some cards for my kid and he never kept them organized or cared much for them. He'd rather be skateboarding or surfing. So I started going to shows for myself and realized it wasn't a kid's hobby. Then I started collecting autographs and began selling some items, then started buying and trading again and again and before you knew it, I was a sports memorabilia dealer setting up at conventions. And it's a way for the whole family to share. My husband Francis -- an employee for Sony Studios -- and my sons -- Francis Jr., 15, Michael, 17 and John, 26 -- visit me at the shows from time to time," says Murphy.
Murphy sets up at close to 125 shows a year, including her regular spot every Wednesday night and Saturday afternoon at Frank and Son's in Pomona, California. She also sets up at the Tri-Star shows in San Francisco, Naxcom shows at Hollywood Park, and The National Sports Collector's Convention. "Can't forget the National Card Collectors Convention no matter where it's at," says Murphy.
Today's sports card and memorabilia market is a $2 billion a year business that's rising each year. Murphy states, "Although 9/11 had an impact on the spending habits of collectors, the card market is slowly coming back now and sports memorabilia is getting stronger than ever thanks to the interaction of the FBI and their goal to weed out the fake product." Murphy also explains that "value is also in the authentication of the product, where a letter of authenticity originates from and who stands behind it, not just the paper it's written on. I deal with companies like Upper Deck Authenticated, PSA/DNA, MastroNet, Inc., Steiner Sports, Tri-Star, Scoreboard and Sportico. Or from the individual players' companies such as Barry Bonds, Willie Mays or Joe Montana. If you have a color 8x10 signed by Mark McGwire with any ordinary Letter Of Authenticity (LOA), then it's saleable at $50. If it's accompanied by a PSA/DNA certificate then you're looking at around $150-$200, but you know what you're getting."
What Murphy likes best about the card shows is meeting new faces and making sure they're buying authentic memorabilia. She mostly enjoys trading. Her newest prize possession is a Game Used Barry Bonds 551st Home Run jersey, which she acquired recently in a trade at the San Francisco Tri-Star show. "How can you replace that? A 2001 jersey from his Single Season Home Run Record that also happened to be his 551st Home Run. Then add to that the fact that he's closing in on passing the All-Time Home Run Records of Baseball Hall Of Famers Harmon Killebrew (573) and Frank Robinson (586), not to mention future Baseball Hall Of Famer Mark McGwire (583)."
When asked what Murphy thinks about the Internet and what the hobby holds for the future, she replied, "After seeing people spend a lot of time on the Internet, they realize that it's not the same. They want to physically be there, in the moment holding that card or piece of sports memorabilia. Even sometimes smelling the item, like a scorecard from 1919 with Ty Cobb on it or a baseball signed by Lou Gehrig and Babe Ruth. Just bringing back the long lost memories. It gets really old sitting at the computer and it's nice to get out there and interact with people. Attendance at shows is definitely back up and it will continue to rise because collectors will always find a way to buy their prized possession!"
Murphy would like to see more women enter the hobby, not just as buyers, but dealers as well. One of her best times recently was running into a woman who was Jason Giambi's cousin. "It's nice to deal with the family or a relative of a baseball player and buy direct, not to mention it was nice to deal with a woman for once."
If you have any questions for Carol Murphy on your sports memorabilia needs, you can reach her at [email protected]. She'll be glad to help and at the same time, make new friends from all over the collecting world.