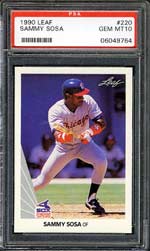 Of course it's no surprise, but high-dollar sportscards (at least generally) are suffering a bit in the market. It really wasn't immediate but, shortly after September 11th, the prices for these types of cards started to fall. In a down economy, many collectors are tentative when it comes to writing a check for a large amount.
That doesn't mean collectors are not collecting.
What has been very interesting to watch is the surge of interest in semi-stars, commons, team cards, etc. over the last few months as the PSA Set Registry continues to grow. The competition is getting fierce and, with more and more collectors being exposed to this feature, the participation will only increase.
After interviewing several collectors about the Set Registry, there seemed to be a very common feeling. The aspect about this feature that stood out for all of them was the fact that you can continue to participate and work toward a collecting goal without spending all your cash in one place. For instance, you can constantly add commons to your 1966 Topps set without severely denting your wallet, even if you might not be able to afford a Pete Rose or a Mickey Mantle every week. In addition, many collectors get just as much joy from acquiring a tough common as they do finding a Mint 9 star card.
Of course, the collectors also felt that the competitive aspect to the Registry was fun and the ability to share their collections with others (as well as having the opportunity to view other collections) was enjoyable as well.
Dealers, across the country, acknowledged the influence of the Registry as many of them cited strong sales for commons in a variety of areas. We have touched on this subject before but there really does seem to be an increased interest in set building and the dealers feel very confident that this is no short term trend. The appeal is very clear to many collectors and the dealer sales confirm that interest, without question.
We will keep a close eye on the Set Registry and how the increased participation affects pricing over the next 6 months. In the meantime, good luck adding to your prized sets!
Taking My Hacks -- No Big Mac, Sammy's the Man
I will be the first one to admit it. When Sammy Sosa blasted 66 homers in 1998, I thought it was a bit of a fluke. I thoroughly convinced myself that Sosa would slowly fall back to reality as a solid but not spectacular player over the next couple of years. In fact, the very next year, Sosa came into spring training a bit on the chubby side and I thought my prediction was about to be realized.
Boy was I wrong!
While the majority of the attention has gone to Big Mac over the last 4-5 years, in reality, Sosa has been the constant. His numbers are just astounding over the last 4 years. Home run totals of 66, 63, 50 and 64. RBI totals of 158, 141, 138 and 160. He also had slugging averages ranging between .634 and .737 and batting averages reaching as high as .328 in 2001. This guy is ridiculous!
Now, with Big Mac officially gone from the scene after constant battles with injuries, Sosa should enjoy even more attention as long as he continues to put up great numbers. While it's true that Mr. Bonds is now the single season record holder for homers with his unthinkable 73 jacks blasted in 2001, Sosa is a real fan favorite and the Chicago faithful worship the smiling, ever-hustling slugger.
Sosa may have had a slow rise to stardom after four fairly unproductive seasons to start his career and he may be helped in part by a very homer-friendly ballpark in Wrigley Field, but, at this point, it is of no consequence. Collectors love this guy and for good reason. While other players have seen their sportscards and related memorabilia plummet in recent times, whether it's due to poor performance or lack of popularity, Sosa items have held strong through the good times and the bad.
Sosa's key rookie card, the 1990 Leaf #220, has always been a favorite among collectors. Sosa'a autograph, a highly forged signature since his great campaign of 1998, can be obtained with reputable authentication but it comes with a fairly strong price tag. It's hard to find an authentic single signed baseball for less than $100 but, in comparison to other signatures in the marketplace, the number seems more than fair.
In addition to authentic autographs available in the marketplace, Sosa, through members of his own family (a fairly recent venture), has provided authentic game-used equipment to the hobby. Of course, completely legitimate game-used equipment can be obtained without the Sosa family LOA, but it something to make note of. Sosa bats are a very hot commodity considering that is the weapon that made Sammy famous. As a virtual shoe-in for the 500 Home Run Club, the interest should remain strong long after Sosa hangs up the cleats.
Again, I will tip my hat to Sosa. He rose up from virtual obscurity to become the most lethal slugger in the National League. He didn't start with a bang like Big Mac (McGwire slugged 49 homers in his first full season -- a ML record) and he hasn't been part of a perennial winner like Derek Jeter, but Sosa's numbers and charisma place him in a class by himself. It took a while, but Sammy Sosa may be the modern baseball favorite of the hobby.
The collectors have spoken.