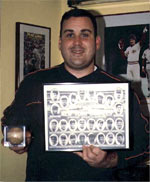 Many collectors can recall a pivotal moment in which they decided to collect a specific sport, team or player. For Neal Kane of Wilmington, Delaware, that moment came on August 10, 1981, at Philadelphia's Veterans Stadium as the Philadelphia Phillies were playing the St. Louis Cardinals. In the eighth inning, Card's pitcher Mark Littell rifled a pitch towards the plate. Crouched in the batter's box, anticipating that incoming horsehide, was Pete Rose. "Charlie Hustle" took a mighty swing for much more than a base hit. By connecting with that pitch he also broke Stan Musial's National League hitting record and sealed Neal Kane's fate as a die-hard Pete Rose collector.
DL: When did you start collecting?
NK: I first started collecting Pete Rose cards in 1980 when the Philadelphia Phillies won the World Series, and then really got into collecting Pete Rose memorabilia the following year when he broke Musial's record. During my college years I put my collection on hold, and only got back into collecting about three years ago.
DL: What inspired you to start collecting again?
NK: Two things. The first was having an income. The second had a lot to do with PSA. When I first heard about card grading I was a bit confused. I had been out of collecting for over nine years so I was still accustomed to putting cards in those nine card plastic sheets. The concept of grading and sealing cards was new to me. I submitted a few of my Rose cards to PSA and was hooked. Besides the protection, having the card graded by a professional is very important to me.
DL: Why the fascination with Pete Rose?
NK: I remember listening to the radio in 1979 and hearing that the Phillies had signed him. By the following year he had become my favorite player. I would imitate his stance when I played ball and then I got his autograph at a game. I became a member of his fan club and have been a big fan ever since. I sincerely hope that he will someday be reinstated to baseball.
DL: What types of items do you collect besides cards?
NK: Anything relating to Rose -- autographs, odd items, you name it. My favorite piece is a limited edition print that was made available the night he broke Musial's record. I was at that game and years later I got that print signed by both Pete and Stan. I have it framed along with the ticket stub.
However, although I'm a huge Pete Rose fan, my most prized possession has nothing to do with him. My greatest treasure is a homerun ball that my great grandfather caught at a game in 1932. Catching a game ball is always a thrill, but this one was far more thrilling because of who hit it... Babe Ruth. My "Pop Pop" later got the Babe to sign the ball along with other Yankee greats such as Lou Gehrig. In 1981 I got that ball as a gift.
DL: Back to cards, what do you hope to be able to add to your collection?
NK: I currently own every Pete Rose card from all the major issues. I would however love to have them all in PSA 9 or higher, but that's not an easy goal to achieve for a guy who collects on a budget. I would also like to compile a complete Hall of Fame set. I'm about half way there now. I would like to complete a 1933 Goudey set and I'm also currently negotiating to buy a mid-grade 1952 Topps Mickey Mantle.
DL: What is most important to you when you purchase a card?
NK: High-end cards are great, but I'm just an average guy on a budget, so I can find enjoyment in PSA 3's and 4's. I really don't mind that they look worn and that they're not perfect. I like knowing that someone had kept them in a shoebox and maybe even flipped them. I have a 1933 Goudey Lou Gehrig in PSA 4 and I just love that card.
DL: What do you enjoy most about collecting?
NK: I love going to card shows. The PSA people are great to talk to and I love actually seeing cards that I can only hope to someday own. My girlfriend, Michele, is great. She goes with me and is very supportive and helpful. I'm a sales rep for a national company so I get the opportunity to visit card shops in many parts of the country. Practically every card I own has a story behind it. I can tell you when, where, why and how I came into possession of almost every card I own. That's very satisfying for me and someday I'll hopefully hand my collection down to my children, which will be as enjoyable as putting it together -- well, almost.