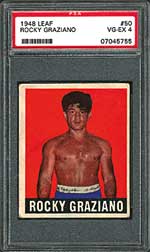 Between his work in television production and his passion in perfecting his game on the links, Darrin Silverman of Las Vegas, Nevada has amassed an impressive collection of sports cards that are rather overlooked in the hobby.
Boxing cards have never generated the interest that baseball, football or basketball cards have, which means if they do ever get hot, those who have had the foresight to collect them may be sitting on a purse that rivals the winnings of a heavyweight champ.
SMR: When did you start collecting?
DS: When I moved to Las Vegas in the early 1990s, I attended a card show at the Tropicana Hotel and came upon a man who was selling older boxing cards. Although I didn't know anything about these cards, I was intrigued by them and thought they were extremely reasonable for cards of their age and rarity. The first card I bought was a 1951 Topps Ringside Rocky Marciano for around $50. Today that card can range in value from $150 in EX 5 to over $3,500 in MT 9.
SMR: How did your collection progress from that first card?
DS: Well, I always liked collecting unusual sports items. When I moved to Las Vegas, where there are no professional sports teams, I started shifting my collecting focus to boxing. I actually had no idea what I was doing when I bought my first few cards. I also had no idea if these cards had any real value because unlike baseball or football cards, the price guides for boxing cards are far less extensive. As time went by I started doing some research. My collection really started to improve when I found a book called "Sixsport" that listed boxing cards going back over 100 years. I learned that many of the older boxing cards came from England before World War II. Very few of those cards have survived and it would be extremely rare to find one in Excellent or Near Mint condition.
SMR: What are some of your favorite cards?
DS: My very favorite card is a # 32 Joe Louis card that was produced by Sporting Celebrities in 1935 and has a PSA VG-EX 4 grading. The one I own is the only one I have ever seen. It is much rarer than the larger Louis card that was put out by Sporting Events and Stars. I am also partial to a 1991 Mike Tyson card that was put out by Ringlords. That card has a bit of a notorious history. It was never a part of any regular set and rumor has it that Don King, who is pictured in the card, had them all pulled before the distribution. I will admit that I may be partial to the Tyson card because I think he's the best fighter in the world.
SMR: What other cards do you have in your collection?
DS: I have a rather unique card that was put out in 1932 by Bulgaria Sport -- Photo that is a NM 7 and shows Max Schmelling and Babe Ruth together. I also have a few complete sets dating back over the past eight decades. I especially like a set that was put out in 1938 by Cartledge Razor that is really great. I have a complete Mint set of 1947 Cummings cards which include the rookie cards of Sugar Ray Robinson and Rocky Graziano. One of the coolest sets in my collection is a complete 1956 Topps Adventure set. I also just recently sold an interesting piece. It was a set of 1948 Leaf Boxing cards on an uncut sheet. It was a 7x7 but it didn't include the #50 Rocky Graziano that is one of the rarest cards to find.
SMR: What are the future goals for your collection?
DS: Well, right at the moment I'm negotiating to buy a 1971 Muhammad Ali (Cassius Clay) rookie card that was produced by Goldflake. Buying and selling boxing cards is not as easy as other sports cards because prices are all over the place. I have seen Mint 9 Ali rookie cards going for $2,000 and ungraded versions of the same card going for around $200. I think boxing cards need a kick-start and the recently released Ali film starring Will Smith may be the spark. Otherwise, like any collector, I'm always on the lookout for rare and unique finds. The one card that I am always on the lookout for is that elusive 1948 Graziano card by Leaf. As I said, I'm also fascinated by the rare and unique sports item whether it's boxing related or not. I recently found a very cool piece -- an original oil painting of the Honus Wagner card that was done by Angelo Marino.