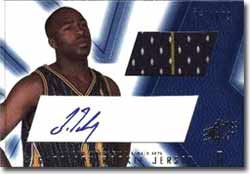 Basketball:
Jamaal Tinsley
2001 SPX Autographed Rookie Jersey
Ungraded; Sold on eBay for $84.34

Tinsley is easily eligible for NBA Rookie of the Year honors this season, and if he keeps playing the way he has through the half-way mark of the season, he will win the coveted award hands down. Tinsley is among the leaders in many of the top statistical NBA categories; Tinsley ranks in the top ten -- or close to it -- in most of them. He ranks fourth in Assists Per Game (8.8), twelfth in the NBA in Steals Per Game (1.78), third in the NBA in Assists (396.0), sixth in the NBA in Steals (80.0), and fourth in the NBA in triple-doubles (1.0). He also ranks second in the NBA in Assists Per 48 Minutes (13.7), and sixth in the NBA in Steals Per 48 Minutes (2.77). Can you say Rookie of the Year Jamaal Tinsley?
Baseball:
Mark Teixeira
2001 SPX Autographed Rookie
Sequentially numbered 0619/1500
Graded PSA 10; Sold on eBay for $426.90

Teixeira is said to be the hottest young phenom in Baseball today. A 6-2 power hitting third baseman, Teixeira was selected 5th overall in last year's MLB June draft by the Texas Rangers. He has reached agreement with the Rangers on a four-year, $9.5 million deal and is expected to be challenging for the starting third-base job come spring training this year. In 2001, Teixeira was a first team pre-season All-American by Baseball America. He homered in back-to-back games against nationally-ranked Rice and Nebraska in the season-opening visit to Houston for Rice Invitational. Teixeira has just begun to show up in trading card products by the major manufacturers. Look for him to be the next Baseball superstar.
Football:
Drew Brees
2001 Pros and Prospects Rookie Card
Sequentially numbered out of 1000
Graded PSA 10; Sold on eBay for $122.49

Potential. That is the word surrounding Drew Brees in San Diego, California, these days. Brees showed plenty of just that in the 2001 season and rumors are circulating that Brees and starter Doug Flutie may be battling for that starting position come the 2002 season. A three-year starter at Purdue and a Heisman Trophy finalist in 2000, Brees shattered virtually every school passing record. He ranks fourth in the NCAA record books for total offense, completions and attempts.

Brees is a big-game player, who as a senior, led his team to its first Rose Bowl since 1967. He is the only player in conference history to throw for more than 500 yards in a game twice in his career. Don't be surprised if Brees reaches the headlines sooner than later.
Hockey:
Alex Tanguay
1997-98 Zenith Rookie Card
Ungraded; Sold on eBay for $45.00

Hockey fans, it should come as no surprise that our pick to keep an eye on for future growth is none other than the Avs Alex Tanguay, who helped lead his team to the Stanley Cup last season and is one of the rising stars in the NHL.