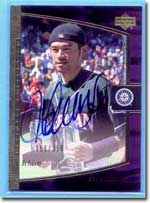 Ichiro. Ichiro. Ichiro. That's the name on everyone's lips in the baseball world, and in the baseball card-collecting world too. Nobody can get enough of the hottest name to come out of the 2001 baseball season. Now, another product has hit the shelves with the ultimate in Ichiro cards. Ultimate Collection Baseball, produced by Upper Deck, snuck onto the shelves in early January as the last of the 2001 products. It includes a rookie card of Ichiro and many other top-notch cards featuring the 2001 Rookie of the Year. Unfortunately, the price tag is high at $100 per four-card pack, with four packs in each box. But each box contains an Ultimate Ichiro memorabilia card. Additionally, those boxes contain an Ultimate Signature autograph card, Ultimate Game-Worn and/or Ultimate Magic Numbers Game-Worn Jersey card, and an average of two numbered rookie cards. That's a total of six highly collectible cards per four-pack box!
The regular set in 2001 Ultimate Collection Baseball is made up of 120 cards -- 90 regular cards and 30 Ultimate Rookie Collection cards. Rookie cards have three tiers; the first two will be numbered serially to 1,000 and 750, with a third, autographed tier being numbered to 250. Mark Prior, Mark Texeira and Ichiro all have signed Ultimate Rookie cards.
The Ultimate Ichiro insert set will be made up of the most collectible and elegant Ichiro cards ever produced. There are a total of six different Ichiro memorabilia cards within the set: game-used bat (five versions), game-used jersey (five versions), game-used base (five versions), game-used ball (five versions), game-used cap (two versions) and game-used batting glove (two versions). The various tiers create multiple levels of authenticity.
The bat and jersey cards will have two regular cards numbered to 1,500, a silver version numbered to 250, a gold numbered version to 200, and a signed card numbered to just 50. The base and ball cards are numbered to 750, 150, 50 and 25. Each have a signed version numbered to 25 as well. Finally, the cap and batting glove cards are numbered to 25 and 75. Ultimate Ichiro cards will be inserted 1:4 packs.
Ultimate Collection Baseball boasts three additional insert sets that feature the top players in the game. Game Jersey collection, Magic Numbers and Ultimate Signatures will be inserted at a rate of 1:2 packs. The 30-card Magic Numbers set provides collectors with a unique jersey card design featuring the jersey die-cut in the shape of the player's jersey number. Both of these inserts will have four tiers.
The Ultimate Signatures checklist is equally impressive, with a list of the top players in the game such as Barry Bonds, Ken Griffey Jr., and Sammy Sosa, who all have contributed to this autograph insert set.
The following is a complete list of the inserts.
Ultimate ICHIRO (combined ratio 1:4)

Ichiro Game-Used Bat Cards: silver version numbered to 250, gold version numbered to 200, AUTOGRAPHED VERSION numbered to 50
Ichiro Game-Used Jersey Cards: silver version numbered to 250, gold version numbered to 200, AUTOGRAPHED VERSION numbered to 50
Ichiro Game-Used Base Cards: copper version numbered to 150, silver version numbered to 50, gold version numbered to 25, AUTOGRAPHED VERSION numbered to 25
Ichiro Game-Used Ball Cards: copper version numbered to 150, silver version numbered to 50, gold version numbered to 25, AUTOGRAPHED VERSION numbered to 25
Ichiro Game-Worn Cap Cards: numbered to 75, gold version numbered to 25
Ichiro Game-Used Batting Glove Cards: numbered to 75, gold version numbered to 25

Ultimate Game Jerseys (1:2)

Ultimate Game-Worn Jersey Collection: numbered to 150, copper version numbered to 24, silver version numbered to 20, gold version numbered to 15
Ultimate MAGIC Numbers Game-Worn Jersey Collection: This unique memorabilia set features jersey swatches cut in the shape of each player's jersey number (numbered to 150, copper version numbered to 24, silver version numbered to 20, gold version numbered to 15)