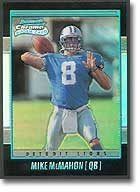 Topps recently issued its 2001 Bowman Chrome Football set. The main features of this product are:
There are 145 Rookie Cards in this product. Topps has selected a number of rookies who have made it big this year like Anthony Thomas and Brian Urlacher, but their experts also went deep into the rookie crops to select players like Jamie Winbron, Onome Ojo, Morlon Greenwood, and a number of other rookies in the NFL. The reason for bringing this up is that these rookies could be tomorrow's future stars. And at such a low cost per box, there's a chance for a possible benefit with some rookies.
The cost per box on the secondary market is currently in the $45-$50 range. And the rookies are coming out about 8 per box. Many of the obscure names are already selling in the $2.00 to as high as $11.00 range per card.
For a $2.99 per pack product, the rookies are also sequentially numbered to 1,999. Add to that the fact that there are refractor and xfractor versions of these rookies as well, albeit those are tougher to come by.
The design of the cards features a partial black border and condition could play a factor when grading some of these cards.
Below is a listing of some of the rookies and their card numbers:
David Terrell - #142. Chicago Bears wide receiver. Many have said he is the next Keyshawn Johnson.
Rod Gardner - # 146. Washington Redskins wide receiver who will only get better.
Richard Seymour - #147. New England Patriots defensive star and we all know how well the Patriots are performing this year.
Koren Robinson - #148. Seattle Seahawks wide receiver.
Marques Tuiasosopo - #150. Backup quarterback for Oakland Raiders.
Anthony Thomas - #151. Possible Rookie of the Year!
Quincy Carter - # 157. Starting quarterback for the Dallas Cowboys. We'll see…
Morlon Greenwood - #158. Linebacker for the Miami Dolphins.
Andre Carter - #166. Defensive end for the San Francisco 49ers. Led in sacks in 2001 and is being hailed to be the next Charles Haley.
Deuce McAllister - #167. New Orleans Saints running back and kick returner. He has the size to get better.
Todd Heap - #169. Baltimore Ravens tight end who has stepped into starting role.
Marvin Minnis - #170. Kansas City Chiefs wide receiver.
Freddie Mitchell - #172. Phiadelphia Eagles wide receiver. Former UCLA standout with exceptional talent.
Kevan Barlow - #174. San Francisco 49ers running back.
Jamie Winbron - #175. Linebacker for 49ers who has played in almost every game in 2001.
Michael Vick - #180. Backup QB for Atlanta Falcons. Soon to be starter??
Mike McMahon - #182. New starting QB for Detroit Lions.
LaDainian Tomlinson - #190. Running back for San Diego Chargers. Also candidate for Rookie of the Year.
To view much more of the checklist of rookies, click here.