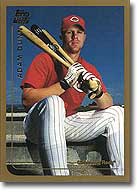 Baseball:
Adam Dunn
Key Rookie Card: 1999 Topps Traded #T50. Price: $10.00 (ungraded)

In his first season in the major leagues with the Cincinnati Reds, Dunn stroked 19 homers and drove in 43 RBIs in only 66 games played. Dunn is a linebacker-sized outfielder at 6-6, 240 pounds and showed his size in a collision at the plate late in the season. Many experts say that Dunn is the next big slugger in the major leagues. Some other impressive stats of Dunn's are that in only 244 at bats, Dunn stroked 64 hits, and walked 38 times. In 2001 Dunn was overshadowed by the incredible seasons that Ichiro and Pujols had, and rightly so. In 2002 Dunn will be the rookie under the spotlight and if he performs like he did in the short period in 2001, he'll be the Ichiro of 2002.
Football:
Anthony Thomas
Key Rookie Cards:
2001 SP Authentic Card # 109. Price: $123.50 ungraded
2001 Pros and Prospects #108. Price: $185 (PSA 10)
2001 SPX Autograph Sequentially numbered out of 550. Price: $130 ungraded.

There were certainly a number "high profile" rookies in the NFL in the 2001 season. Brian Urlacher. Freddie Mitchell. Michael Vick. And a few others. But Anthony Thomas, the starting running back for the Chicago Bears, is certainly in a leading role on a "cinderella" team, in a high profile position as running back. And he performed…up to the last game of the regular season; Thomas rushed for over 1,000 yards on only 245 attempts. The Bears, who have a rich history at the running back position, have another one possibly in the making in Thomas.
Basketball:
Wizards center Brendan Haywood and Grizzlies forward Shane Battier won league honors as December's top rookies, but NBA.com feels the best of the best was Grizzlies forward Pau Gasol.

Shane Battier
Key Rookie Card:
2001 Hardcourt Card #115. Price: $100+ graded

Battier was the second leading rookie scorer (behind his teammate, Pau Gasol) with 15.1 ppg. For December, he averaged 15.8 points and 5.0 rebounds, scoring in double figures every game but three. He scored 19 points on three occasions, adding an eight-rebound effort on December 18 against the Bucks. Battier also scored 21 points twice, with nine rebounds and three assists in a win over the Knicks on December 20.

Pau Gasol
Key Rookie Card:
2001 Sweet Shot Jersey Rookie Card. Price: $50+ ungraded

Gasol continues to lead rookies in points (15.4) and rebounds per game (8.3). For the month of December, he upped his scoring average to 16.0 ppg and his boards to 10.5 per game.