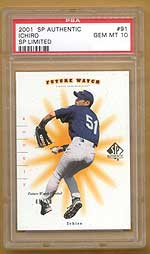 Ichiro Suzuki. Michael Jordan. Patrick Roy. Tom Brady. Tom Brady? That's right, Tom Brady, the New England Patriots quarterback who replaced the injured Drew Bledsoe as the starter in the 2001 season and led the team to the AFC East title. Brady is one of the hottest players, if not the hottest player in the NFL -- and in the trading card market - today. Brady came off the sidelines to join the popularity ranks of Ichiro in Baseball, Jordan in Basketball, and Roy in hockey.
Two veterans and two newcomers, all four who have lit up the scoreboards on their respective fields of play, and whose cards are lighting up the trading card marketplace. While Brady, Ichiro and Jordan have certainly put up big numbers, collectors have been shelling out big numbers for their trading cards. All four have seen some exciting action in recent weeks and we're here to report it to you.
In each edition of the PSA Insider we'll take a look at some of the hottest players in sports and how their cards are performing on eBay. Also check out the latest issue of the Sports Market Report for "What's Hot in the Industry?"
Ichiro Suzuki
2001 SP Limited #91: PSA 10. Sold for $1,527.36: This parallel version of Ichiro Rookie card is factory numbered 45/50! Ungraded this card books for $800. This card being the only PSA 10 ever will make this card very desirable. The regular version of this card numbered to 1,250 is selling for $300-$350.

2001 Bowman Chrome Ichiro Suzuki #351: PSA 10. Sold for $232.51. This was the refractor version of this card and only available through redemption from Topps.

2001 Ovation Ichiro Suzuki #76: PSA 10. Sold for $203.01. This card is sequentially numbered out of 2000 and was issued early in 2001. The value of this card at a PSA 10 versus the Bowman Chrome above is due to the popularity of the Ovation brand earlier in the year.

2001 Sweet Spot #62: PSA 10. Sold for $177.50. This card is factory numbered out of 1000 and came in a pack that carried a price tag of $9.99 per pack and higher. Hot product!

2001 Fleer EX #105. PSA 9. Sold for $200.00. Nice looking card of Ichiro that was snatched up quickly off eBay.

2001 Victory #564. PSA 10. Sold for $42.50. Not bad for a card that you could pull out of a $0.99 cents pack of cards. And this card was not limited.

2001 Sweet Spot Jersey Card #J-IS. PSA 9. Sold for $174.99. This was one of the first jersey cards on the market of Ichiro.
Michael Jordan
1986 Fleer Michael Jordan #57 (PSA 10). Sold for $10,000. Still, arguably, the most popular modern card in any condition. PSA 9 version sold for $1,305 and a PSA 8 version sold for $649. Even a PSA 5 version of this card sold for $265.

1985 Nike Michael Jordan: PSA 10. Sold for $1,424. This was a promotional card of Jordan issued in his early years in the NBA.
Tom Brady
2000 SP Authentic RC #118: PSA 10. Sold for $455.00. This card is numbered out of 1250. The PSA 9 version has sold for $251 on eBay in recent weeks. SP Authentic is the brand for rookies over the years and this will be the rookie card to have if Brady sustains his success and popularity on the field. This card came out around October of the year 2000.

2000 SPX RC #130: PSA 10. Sold for $212.50. This card is factory numbered out of 1350.

2000 Pros and Prospects RC #124. PSA 10. Sold for $171.50. This card is also factory numbered and came out in April of 2000.
Patrick Roy
1986 OPC Patrick Roy: PSA 10. Sold for $1,075.00. An OPC version and a PSA 10 of the greatest goalie of all time.