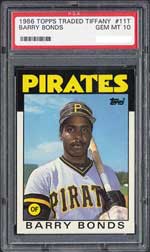 When sports writer Carrie Muskat once asked former Pittsburgh Pirates manager Jim Leyland for his thoughts on San Francisco Giants power hitter Barry Bonds, Leyland ran his fingers over his neatly trimmed gray mustache and shook his head.
"Most (athletes) who talk about what they're going to do usually set themselves up to get humbled," said Leyland. "But Barry Bonds was like Joe Namath or Muhammad Ali. He could make a statement and go out and back it up. Not a lot of guys can do that. In fact, managers usually cringe when guys make statements about what they're going to do. In Barry's case, I liked it. I think he did it on purpose to motivate himself. I think he needs a little controversy around him."
Acquainting Barry Bonds to other sports immortals is nothing new. In fact, it can almost be traced back to July 24, 1964, the day Barry was born to baseball great Bobby Bonds. The cousin of Reggie Jackson and the godson of Willie Mays; baseball greatness was taken for granted with Barry.
Growing up in the shadow of such legends, Barry knew it would be difficult, if not impossible, to live up to the expectations. Despite the overwhelming pressure, he was always able to keep the "potential" factor in check, largely due to the guidance of his famous father.
"I know exactly what my son's gone through, because I went through the same thing," Bobby Bonds has said. "They said I was supposed to be the next Willie Mays. When they said that it was an honor (because) you're talking about the guy I consider the greatest player to ever wear shoes. I probably had more success than anyone they ever put the Mays label on, but all the sports writers kept talking about was my potential. "He hasn't reached his potential," they would say. Well, unless (writers) win a Pulitzer Prize they haven't reached their potential either. Barry knows I've been there. There's no situation that comes up for Barry that I haven't gone through myself."
The beginning of the story of Barry Bonds can be found in Riverside, CA where, as a young boy, Barry proved he could hit even a Whiffle Ball so hard it could shatter glass. Shattering glass became Barry's trademark in the neighborhood. So much so that his mother, Pat, has said she was on a first name basis with the employees at the local glass store.
If expectations were high for Barry prior to high school, they doubled when he began his freshman year at Serra High School in Mateo, CA. Serra's athletic alumni included such stars as Gregg Jefferies, Lynn Swann and Jim Fregosi. Barry lived up to the expectations and finished his senior year with an outstanding .467 batting average. Meeting expectations was also a part of Barry's college career at Arizona State University where he was named to the Sporting News All-America Team.
In June of 1985, Bonds was drafted by the Pittsburgh Pirates in the first round and went on to again meet and exceed expectations. Six years into his professional career, Barry was granted free agency status and signed on with the San Francisco Giants with a lucrative $43.75 million seven-year contract. That contract is up at the end of this season and Bonds has dropped hints that he may not choose to renew with the Giants.
If in fact this is Barry's last year as a Giant, he's sure going out in a "gigantic" way. In hot pursuit of Mark McGwire's 1998 major league record of 70 home runs all season, Barry's focus changed from simply breaking the record to helping those who had been impacted by the horrific terrorist September 11th attacks on America. The week following the attacks, after hitting number 64, Bonds announced he would donate $10,000 for every home run he hit to the United Way's disaster relief fund.
Following the attacks, Bonds, who is currently twelfth on the all-time home run list, said he had great belief in America and President Bush. "We're a strong nation and we don't give up," said Bonds. "And we're going to stay strong and say, 'Hey, you're not going to keep us down.'"
Another thing that surely won't be kept down is the gigantic desire for collectibles pertaining to Barry Bonds. His sportscards, autographs, and game-used equipment have soared in price since the All-Star break. When it comes to his sportscards, Barry's 1986 Topps Traded Tiffany, regular Topps Traded, 1986 Donruss Rookies, 1986 Fleer Update, and 1987 Fleer examples have led the way. Each issue is tough due to very inconsistent centering and potential chipping along the edges. Gem mint examples are few and far between. The 1987 Fleer Glossy Bonds card, while more rare than his regular version, is actually more plentiful in top grades.
One modern rarity, the 1987 Donruss Opening Day Barry Bonds/Johnny Ray error card, is another desirable sportscard, but you will have serious trouble locating it. The variation featuring Ray instead of Bonds was subject to very limited production. Go back through your collections; it may be hiding somewhere in your closet!
As recently as one year ago, you could purchase a Barry Bonds game-used bat for around $750, but today that number has multiplied after his home run surge. His bats sell for $1,500 plus routinely and examples from this year sell for $2,500 and up. One thing to take notice of is the fact that Bonds was very loyal to Louisville Slugger bats for years. In the late 1990s, he began to experiment with Sam bats, a new bat company that uses maplewood instead of white ash. Barry's new favorite is now Sam.
Barry is known for using varying degrees of pine tar on his bats and, in recent years, he has started to tape many of his gamers for grip. One other interesting note to mention is that Bonds actually hits with the label facing down. The result is that the contact marks will appear on the side of the barrel usually reserved for right-handed batters. In order to prevent cracking and to ensure contact with the sweet spot, most hitters align the label in the upright position before they get into the box to hit. Barry does the exact opposite.
Barry's game-used jerseys have also seen a price burst in recent months. Some gamers have reached $5,000 and beyond at both the retail and auction levels. Early Pirates jerseys have climbed to $7,500 at times. His autograph values have probably been the most surprising. A year ago, you could acquire a Bonds signed baseball for about $40-$50. Now, after his surge, these baseballs are retailing at $100 and up consistently. Remember that Barry Bonds provides his own memorabilia to the public and each item comes with a hologram affixed for authentication. This service started a few years ago.
If you are considering buying Bonds items from recent years, especially autographs or game-used items, it is recommended that you pay the premium for the authenticated examples. One thing to keep in mind is that his memorabilia business has only been around for a few years so his earlier items will not have the benefit of any hologram system direct from Barry. Early Bonds memorabilia is harder to acquire than the recent items that have infiltrated the market so there are benefits to those items as well.
Barry has never really been a fan favorite but, this year, collectors have finally warmed up to the super slugger. When you consider his place among the all-time best, his sportscards and memorabilia should enjoy great demand over the long haul. When it is all said and done, his numbers will be staggering to say the least. A certain Hall of Famer, truly one of the very best the game has ever seen, Bonds has made his mark on the game and the hobby.
Whether talking about his intentions on the baseball field or his willingness to help a cause on the bigger playing field of America, Barry Bonds has lived up to his expectations and has truly proven that his word is his bond.