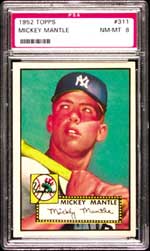 The 1952 Topps set is one of the most desirable sets in the entire hobby. From Mantle to Mays, Pafko to Robinson, a ton of legendary cards fill the set. Imagine completing, not one, but two of these sets! That is exactly what longtime collector Bob Moynihan has done. They may not be the sharpest or the best-centered sets in the world but they are complete, a monstrous task in any grade. Bob was very eager to share his collecting experiences with us.


JO:
When did you start collecting?
BM:

Of course, like most collectors, I started when I was a kid but then lost my cards along the way. I began to take collecting up again in 1979. My son was born that year and I figured that this would be something special that we could share together.

JO:
What sparked you to collect the types of cards you have today?
BM:

By the time my son was old enough to start building his own collection, I started to focus on cards for myself as well. Right around 1987 or 1988, my son and I traveled to Cooperstown, New York to visit The National Baseball Hall of Fame. We walked around the place in awe of all the history the museum had to offer and, from that point on; I made it a goal to collect a card from all the Hall of Famers. I didn't necessarily need a rookie card of each member, just one card, any card, of each guy.

I started learning about the T205, T206 and Goudey sets from the pre-war era. I also bought a few books about baseball history to help guide me. While I was spending a small fortune on 1987 wax packs for my son, I was trying to buy Mantle cards at the same time (laughs). I am still short in quest for the HOF run. For example, I still need a Grover Cleveland Alexander card. There are many Negro League players who don't even have a card, but I am trying to get to my goal all the time.

As my son continued to build modern sets from 1987 forward, I started going in reverse. I started with 1986 and went backwards to 1970. I bought a 1970 Topps set because my daughter was born in 1970 and I wanted her to have something special to remember me by when I passed away. I then started to jump further in my quest for vintage sets. I started building two 1953 Bowman sets, I just loved the cards and, when I sold the lower grade set, it helped me finance my next goal, the 1952 Topps set.

As my son kept building sets, we would travel to card shops and conventions to buy more cards. We would always try to buy at least one card from each place so we could remember the trip.

JO:
What are some of your favorite cards or sets?
BM:

I would have to say that my 1953 Bowman Color set is my favorite issue. The cards are just so pure. There's no signature, no team name or writing on the front of the card. You really have to know your stuff in order to recognize all the players on the front because there are few clues. I also really enjoy the 1957 Topps cards but number two would have to go to the 1952 Topps set.

JO:
How has grading changed your life as a collector?
BM:

The bottom line is that PSA enables me to buy with confidence. I met PSA President Steve Rocchi about 5 years ago at the Hollywood Park show. I submitted four cards from the 1952 Topps set, Mantle, Mays, Mathews, and Pafko. The cards came back low-to-mid grade but I decided that I wanted to grade my whole set. My set ranges from PSA 1's to PSA 7's. Honestly, if it were not for PSA, I am not sure if I ever would have continued to collect and build my 1952 Topps set. It was just too risky at the time.

JO:
How has the PSA Set Registry helped you as a collector?
BM:

I love the concept. It really does benefit me quite a bit. If I list a card on the Internet, I can simply place a link to the registry so any potential buyers can check out my cards. There's no more guesswork, you can verify the cards right there. It really is an effective sales tool for me.

JO:
What are your collecting goals from here?
BM:

I will probably market one of the two 1952 Topps sets; I am still not sure which one. I might keep the higher grade or lower grade set; it depends what I want to do next. I have always wanted a nice PSA 6 or 7 Mantle to fill my higher grade set. If I stick with the lower grade set, I will probably start building a 1957 Topps or 1953 Topps set. My son wants me to try to complete those sets.