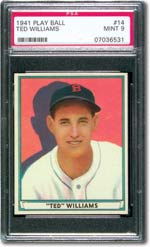 As an American, I often take my freedom and quality of life for granted. It's not that I don't appreciate my country, I do. It's that I don't think I can ever appreciate my country enough. The price of freedom isn't readily apparent to all of us on a daily basis, but it was no more apparent than on the morning of the 11th when 1,000's of innocent people were killed simply because a group of people despise that for which what we stand.
After this terrible tragedy, with horrific images filling my head again and again, perspective comes into play. It's sad that it often takes a major event to give rise to true perspective, but that is the reality in our lives. It's hard to place life in perspective when things are going well and, while no one has a perfect life, many Americans have a reason or two to be happy no matter what daily challenges face us.
One of the escapes Americans have always been drawn to is collecting. Now, don't get me wrong. In the overall scheme of things and in light of the devastation, the topic of collecting is trivial and wholeheartedly unimportant. The escape, however, is not to be underestimated as we all search for ways to remove the pain and imagery from our broken souls.
Collecting is attractive to many people for a variety of reasons. Some of us collect to recapture a time long gone; it almost allows you to travel back in time as you can relive carefree moments of your youth or the ones shared with family or friends at the ballpark. Others collect items related to those who inspire us with their ability and character; those athletes remain powerful figures throughout our lives.
Are sports trivial? Yes. Is collecting trivial? Of course. It's the effect that cannot be labeled as trivial because, for whatever reason, and there are plenty, collecting has served as therapy to a lot of people who look for an occasional escape or a place that they can call their own and share with the people they meet along the way. We all have our reasons and motivating factors. What's yours?
Sports are as powerful a force in our society as just about anything that comes to mind. It's really amazing when you think about it. During World War II, our enemies would occasionally chant, "To hell with America, to hell with Babe Ruth!" They didn't use political figures when condemning the United States; they used our most beloved sports figure because they knew that, in a certain social context, Ruth meant more to us than the President.
Sports are so deeply embedded in our culture that they really help define our history as a nation. Sports are often reflective of our society, a microcosm if you will. Jackie Robinson and baseball integration, Hank Aaron's assault on Ruth's home run mark, Mark McGwire and Sammy Sosa chasing Roger Maris and each other in 1998 and even Ichiro Suzuki's incredible popularity in Seattle this year helps define our legacy as a country. Different events in sports history reveal how we have changed, diversified, and become stronger as a country.
Some events in sports history will forever be linked to patriotism. Can anyone forget Rick Monday grabbing the U.S. flag away from the teenagers who ran out onto the field and tried to burn it? Can anyone, born after World War II, fully appreciate the fact that players like Ted Williams, Joe DiMaggio and a very young Yogi Berra fought for our country? Ted Williams was considered one of the best pilots the military has ever seen and he was even shot down from his fighter plane during one of the military's missions!
These weren't just any players either. The biggest stars of the day left the comfort of the ballpark to fight for us. They exchanged bats for guns and risked their lives so we could enjoy our freedom and enjoy our sports. Could you ever imagine players like Ken Griffey Jr. or Cal Ripken Jr. being sent overseas to fight in a war? It boggles the mind but, once again, sports history helps us understand the evolution of our society.
To all the collectors out there who have been shedding tears throughout the week and feeling guilty about enjoying your life when so much pain has been inflicted, remember that you are an American and free. It's our freedom that made us a target, but it's also our freedom that makes our lives so very sweet.
It will be hard for many of us to feel comfortable once again and hard for many of us to go back to enjoying the privileges associated with being a part of the greatest country on the planet. While it will be a struggle, don't let the bad guys get what they want. They want to disrupt our way of life and our happiness and, for a time, they did just that in a fit of violence and jealousy.
What the terrorists failed to realize is how resilient we are as a country. This tragedy, as saddening as it is, will not break our spirit. It has only proved to bring us closer as a nation and make each and every American appreciate what they have. Collectors, just like everyone else in society, will be back enjoying the fruits of America that others have paid for with their lives. It might take longer for some than others, but collecting sportscards and memorabilia is one of those fruits that millions of Americans choose to enjoy.
Our hobby is here for everyone to enjoy, for anyone who needs an escape. It won't be easy at first but, if collecting is a part of your life, don't allow the terrorists the satisfaction of taking it away from you. Collecting is one pleasure, along with a host of others, which we are afforded as residents of the United States. It's one of many escapes we could all use right now.