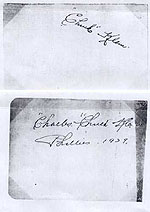 On October 7, 1904 in Indianapolis, Indiana Charles "Chuck" Klein was born the son of a steel worker. His brief minor league professional career began in 1927 and, by June of 1928, he became an instant success as the starting left-handed hitting slugger for the lowly Philadelphia Phillies. A conscientious worker and hustler, the regular right fielder compiled a lifetime batting average of .320, hit exactly 300 home runs and managed to get 2076 hits in 17 seasons. Amazingly these impressive numbers came from a 6 foot 185 pound man whose final 5 seasons in the majors were disastrous, hitting only a single home run as a part-time player. Career highlights included a monstrous 1933 National League Triple crown season, a 1932 National League MVP award, and a 4-home run game in 1936.
Klein hit lefty, threw and signed autographs right handed. His early death at the age of 53 on March 28, 1958 makes him a very uncommon and desirable signature. A posthumous election into the National Baseball Hall of Fame in 1980 created a substantial demand amongst autograph collectors. Klein played on non-championship teams for the Phillies, Cubs, and Pirates thus suppressing the quantities of autographs requested during his career. Brief careers as a player/coach from 1942 to 1944, and his solo year in 1945, were basically attributed to the player/personnel shortage during World War II.
Unlike the retired Hall of Famers of today who enjoy lucrative endorsement deals and regular celebrity golf outings, Klein ran a saloon after baseball unceremoniously ended for him. Heavy drinking in Northeast Philadelphia caused financial, domestic and medical problems, which resulted in a mid-life downhill spiral. After a paralyzing stroke sent him back to his native Indianapolis, he became ravaged by cancer and died with little public notice.
Like many debilitated and elderly Hall of Famers, Klein's family accommodated mail requests for his autograph. His brother, F.E. Klein, authored letters in an attempt to save what little dignity that remained in sibling Chuck. He did a fair job in simulating his brother's style but lacked the spontaneity and flamboyance.
Chuck Klein began his given name with an ornate "C" followed by a signature break and a high ascender forming the large "h." The "uck" were often downsized to round out his nickname which was encapsulated by quotation marks. On certain occasions he would either add his proper name Charles or abbreviate with a simple "C" to expedite an "on the run" request. The formation of his double strokes "K" varied in degrees of flair but typically intertwined with the balance of letters that began with the "l" that hooked upward.
Overall, Klein's signature was light in pressure, legible, and he would inscribe on occasions. More often than not, expect to find Klein's signature on a team baseball ($800+) or album page ($400+) amongst his teammates. Single-signed baseballs are extremely rare and autographed bats are virtually unknown. Obviously, he never enjoyed any living years as a Hall of Famer; therefore, plaques and Perez Steele cards are out of the question. A nephew of Klein, from the Philadelphia area, informed me that the family had disposed of a quantity of his personal checks just a few years before our hobby became interested. Signed letters in any form, to the best of my knowledge, have never surfaced nor any other forms of documents other than a couple of questionnaires. Most collectors would be surprised of the difficulty in acquiring his autograph.