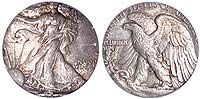 The 2001 ANA Convention is history, and the positive reviews are flowing in from across the country. The ratings for the show have ranged from "okay" to "the best ever" depending on the source, but no one appears to have had a show that was anything less than a total success.
I ran into Thad Olson of Spectrum Numismatics in Irvine, California, as he was bringing his new purchases to PCGS. It was only a few weeks ago that Mr. Olson rated the most recent Long Beach show as the all-time best, but he has a new favorite. "I thought maybe that I overstated the case when I assessed the last Long Beach show as the greatest ever," he said, "but there's no doubt that the ANA was the best ever and it is the new number one best in history for me."
Fred Weinberg of Encino, California, is another frequent contributor to this column, and he couldn't agree more. "Any dealer with a good following had to have a great show in Atlanta," Weinberg said. "Whether you are a specialist in modern issues or the classics of numismatics, there was a great deal of business to be done with enthusiastic collectors and dealers alike."
1944 Half Dollar Mint Error brings record price.
One of the major news events of the show was the Bowers & Merena Galleries "Rarities Sale" and some of the record prices that were realized. "The price of the 1944 half dollar error was absolutely amazing," Weinberg continued. "When I saw the coin in the sale, I thought it would bring $10,000 to $12,000. Instead, it realized $23,000, which is a record for any half dollar Mint Error from any era." The Walking Liberty error in the B&M sale was struck on a quarter planchet and certified by the Professional Coin Grading Service (PCGS) as MS65.
PCGS coins sparkle in Heritage ANA Signature Sale.
Auctions are always a focal point of the ANA, and Heritage Numismatic Auctions of Dallas, Texas, proved to be a record-setter in its own right with some memorable prices. Here are a few of the highlights:


| | | |
| --- | --- | --- |
| Item | Grade | Price Realized |
| New England Shilling | PCGS VF20 | $34,500 |
| Lord Baltimore Sixpence | PCGS XF45 | $12,650 |
| 1793 Half Cent | PCGS AU55 | $15,525 |
| 1856 Flying Eagle Cent | PCGS Proof 66 | $42,550 |
| 1932-D Washington Quarter | PCGS MS66 | $89,125 |
| 1796 Half Dollar | PCGS AU55 | $50,600 |
| 1795 Flowing Hair Dollar | PCGS MS62 | $51,750 |
| 1851 Liberty Seated Dollar | PCGS MS64 | $51,175 |
| 1875 $3 Gold Piece | PCGS Proof 65 | $117,875 |
| 1909-S $5 Indian | PCGS MS65 | $32,200 |
| MCMVII High Relief $20 | PCGS MS67 | $65,550 |
| 1792 Half Disme | PCGS XF45 | $40,250 |
Kingswood "Enfield Sale" is RIGHT NOW!
The Kingswood Coin Auctions "Enfield Sale" closes on August 16, 2001. That, of course, is immediately, so to check out the lots or enter those last minute bids on your personal favorites, click here.
"This is our busiest auction ever," says Raeleen Endo, Kingswood Auction Representative. "I know that I say that with every auction, but the popularity of these sales continues to grow, and the collector enthusiasm has been terrific."
Next week we'll bring you some of the highlights of the prices realized from this outstanding sale.