Earle "The Kentucky Colonel" Combs was born on May 14, 1899 in Pebworth, KY. He stood 6 feet tall and weighed 185 pounds. Combs batted left-handed, however, threw and wrote with his right hand. He received his teaching certificate in Tennessee while he served as player /manager for a local semi-pro team prior to a two year minor league stint in Louisville that began in 1922. By 1924, he finished the season with the New York Yankees where he would remain their starting "ball hawk" centerfielder and leadoff hitter until 1935.
In July of 1934, while chasing a fly ball hit by Harland Clift in Sportsman's Park in St. Louis, Combs crashed into the wall and smashed his head and broke his shoulder. His abilities were never the same, which caused an early retirement in 1935. He remained on the Yankees coaching staff until 1944, then had brief stints instructing for the Browns in 1947, the Red Sox from 1948-52, and finally with the Phillies in 1954. Combs retired from baseball and spent the remaining years farming. His death on July 21, 1976 in Richmond, VA came at the age of 77.
Combs was the greatest leadoff hitter before Ricky Henderson came onto the scene. His .325 batting average was complimented by the fact that he scored (1,186) almost half the time he reached base safely.
Combs signed generously in person, as well as through the mail, like most players from his era. The requests at that time were not overwhelming unlike the demands of the hobby today. His induction into The National Baseball Hall of Fame in 1970 boosted his popularity beyond his affiliation as a member of the elite 1927 Murderer's Row Team.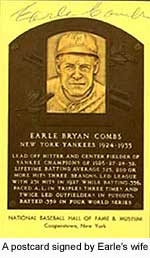 For three years after his enshrinement, he dutifully responded to SASE (self-addressed stamped envelope) requests, however failing health in the final three years of his life initiated his wife to accommodate autograph seekers. Her "ghost" signature simulated his version although her inability to recreate the ornate "E" was what exposed this non-malicious accommodating practice. Most collections of gold Hall of Fame plaque postcards that I have examined have had the worthless Mrs. Combs example. Combs, like most post-1970 Hall of Famers, attended the Cooperstown annual Induction ceremonies and stayed at the grand Otesaga Hotel.
On some occasions, Combs' signature during his playing career was "clubhouse-signed" on team signed baseballs, often with the omission of the final "e" in his first name. This would generally occur when Combs was not readily available in the clubhouse and the duties were relegated to longtime attendant Pete Sheehy or a trusty batboy.
Combs would always sign on the side panel of a team baseball leaving the hallowed sweet spot for the Bambino or, later, for Gehrig autographs. Certainly, the two capital letters in his signature were the most distinguished letters in his signature. The "E" would overpower the balance of the letters often being four times their size. Even the large stemmed lower case letters; "l" and "b" were dwarflike in comparison. During his playing career his "C" was coiled and rounded eventually evolving into a more numerical 6.
Combs is one of those signatures that is somewhat undervalued because many collectors are unaware that the signature they covet is that of his wife. If all of the people were to realize this problem, then upgrading their collections would cause a demand for Combs' actual signature and prices would rise 50%.
As it stands now, 3x5 index cards are priced at $85, government postcards about $135, gold Hall of Fame plaque postcards and cancelled checks around $200. In addition, 8X10 black and white photographs (usually a bust shot in a New York Yankee uniform signed in felt tip marker) fetch $350 and single signed baseballs start at $2000. Handwritten letters are uncommon but expect to pay a minimum of $400. Forget about running down a single-signed bat, jersey, or a post-mortem Perez-Steele postcard of any kind; it will simply lead to trouble.