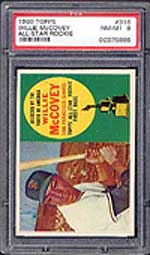 Name: Willie Lee McCovey
Date of Birth: January 10, 1938
Position: First Base and left field
Teams: San Francisco Giants (1959-1973), San Diego Padres (1974-1976) and Oakland Athletics 1976
Years Played: 22
Elected to the Baseball Hall of Fame: 1986
Exclusive Clubs: 500 Home Runs
The Player
Willie McCovey was a nightmare for opposing pitchers. The 6'4, broad shouldered monster would stride to the plate with a confidence that worked like a charm on easily frightened pitchers. He was just as menacing with a 0-2 count as he was with the count 2-0; he knew it only took one swing. McCovey wore number 44 in honor of his idol Hank Aaron. McCovey's 521 home runs, though not as many as his idol, made him a legendary power hitter in his own right. McCovey's career, much like Mickey Mantle's, was plagued by injury and questions of what might have been.
Despite terrible pain, McCovey had accomplished quite a bit. Along with his 521 career home runs, McCovey won the ROY in 1959, the MVP in 1969, and the Comeback Player of the Year in 1977. McCovey also holds National League records for home runs by a first baseman (438), home runs by a left-handed hitter (521), seasons played by a first baseman (21), grand slam home runs (18), and most consecutive games receiving an intentional walk (11).
McCovey, who's nickname was "Stretch" because of his ability to catch everything at first base, combined with Hall of Fame sluggers Willie Mays and Orlando Cepeda to form one of the scariest threesomes in history. Unfortunately, Mays and Cepeda overshadowed McCovey for much of his career. Mays was a very flashy player and Cepeda was a fan favorite because of his outgoing personality. The combination of these star players and the fact that McCovey was a quiet, business-like performer, led to little fame for the powerful slugger.
The respect and widespread admiration from other players was another story. When opposing players and teammates talk about McCovey, it's like they're talking about a god. Many players claim that McCovey hit the ball as hard as anyone of his era. In fact, along with Mantle, many thought that McCovey was a prime candidate to break the single season home run record of 61 held by Roger Maris. He had that kind of raw power.
Towards the end of his career, McCovey bounced around a few different teams and struggled to find consistency but much of that was due to constant injury. As soon as McCovey came onto the scene, the expectations of greatness followed him wherever he went. Even though McCovey ranks among the best power hitters of all-time, he was a victim of unrealistic expectations and has always been underrated.
Perhaps, if injury-free, McCovey would be at the very top of baseball's power list, but knee, wrist, foot and shoulder problems prevented McCovey from realizing his potential. The fact that he battled through those injuries tells us that he was a survivor. Most players would have been forced into retirement early if subject to the pain McCovey endured, but he kept going for 22 years and, 521 home runs later, McCovey solidified himself as a power legend.
The Cards
McCovey's cards, like his career, are underrated. He finds himself on several key cards in important 1960s sets. When analyzing a career checklist of McCovey's cards, you will be astonished at the affordability of some of the examples. This makes it great for collectors looking for affordable alternatives for their collections. Much like Eddie Mathews, McCovey was simply overshadowed by other stars on his team. Mathews had Aaron and McCovey had Mays. Cepeda didn't help McCovey's cause either! Collectors will be pleased to hear that there are McCovey cards that anyone can afford, and I mean anyone! Let's take a look at McCovey's checklist.
1960 Topps #316
1960 Topps All-Star #554
1961 Topps #517
1962 Topps #544 SP
1963 Topps #49
1964 Topps #41 Friendly Foes
1964 Topps #350
1964 Topps Stand-Up SP
1965 Topps #176
1966 Topps #550 SP
1967 Topps #480
1968 Topps #290
1969 Topps #440
1969 Topps #440 (White Letter variation)
1969 Topps All-Star #416
1969 Topps Supers #66
1970 Topps #250
1970 Topps All-Star #450
1971 Topps #50
1972 Topps #280
1973 Topps #410
1974 Topps #250
1974 Topps #250 (Washington variation)
1975 Topps #450
1975 Topps #450 (mini)
1976 Topps #520
Remember that this is an abbreviated list and does not include some of the really inexpensive McCovey cards. There are some key single prints and rare variations on which McCovey's image appears. For the most part, McCovey's cards are very inexpensive considering his track record of dropping bombs on National League pitching. Let's take a look at the individual standouts.
McCovey's rookie card appears in the 1960 Topps set and is very reasonable compared to other 500 home run club members of his era. The horizontal-style rookie card is subject to major print defects unfortunately. This is also true of another great rookie card in the set, Carl Yastzremski. Also, because of the small borders, finding this one centered can be a chore. The set is also very collectible because of the unique designs and great colors. All in all, this is a great rookie card of a great slugger. McCovey also appears in the All-Star series even though it is his first year. McCovey had an immediate impact.
The following year, McCovey appeared in the Topps set, which pictures McCovey posing on one knee. While not a particularly difficult card, this card has nice eye appeal and is part of a very popular set. McCovey's next card is one of his most difficult ones. The 1962 Topps set as a whole is difficult because of the easily chipped brown borders and commonly found print defects. To make things even tougher, the McCovey card is a single print from the high-number series. This card is very challenging in high-grade as you might imagine.
The 1963 Topps McCovey, while not as tough as the 1962 version, is also a tough card in high-grade. The blue bottom border is very hard to find without some amount of chipping or wear. The surface is also subject to black print dots that appear fairly regularly on many 1963 Topps cards.
McCovey has two cards for 1964, which include the regular Topps version and a Topps Stand-Up. The regular issue Topps card is a very reasonably priced card and doesn't get a lot of attention so it offers a chance for collectors to pick up a mid-60s card of a great home run hitter at a low cost. It's not like the card is very easy to obtain in high grade; it just doesn't get much attention. The Stand-Up version is another story. While not very expensive, it is a short print and very tough with the colored borders that frame the card. The Stand-Up set is probably one of the most undervalued sets in the hobby.
The 1965 Topps McCovey card is once again another example of a card that gets very little attention from collectors. The 1965's are very appealing and, considering the price, the McCovey is a great bargain. The 1966 Topps McCovey is another short print that is a key for 1966 set collectors as it resides in the tough high-number series. This is one of McCovey's nicest looking cards, especially when you find an extra bright example.
The next few cards, the 1967 and 1968 Topps McCoveys, are affordable examples much like the 1965 Topps card. The bottom line is that these cards are underrated and represent great opportunities for collectors to acquire a great slugger's cards. The 1967 is subject to print problems because of the white borders and light-colored background while the 1968 Topps has print problems and colored borders to complicate things.
McCovey has a few cards to choose from in 1969. You have the regular issue Topps card which, much like a few of his other 1960's cards, is grossly undervalued. That same card is featured as a white letter variation in the 1969 set. This card will cost you somewhat more than the regular issue, but its rarity justifies the premium without a doubt. The 1969 Super McCovey is also one of McCovey's more expensive cards. This beautiful set is not very hard to find in high-grade, but finding the set is another story. The cards had very limited production for the time.
For the next few years, McCovey appears on many other regular issue cards and these cards are so cheap it's almost unbelievable. The last variation on the McCovey checklist appears in the 1974 set which has the Washington name printed on the card instead of San Diego. The team was originally slated to move to Washington but instead ended up in sunny San Diego. Some of these cards were printed with Washington on the front and this card is scarcer than the San Diego version.
This card is a fairly popular variation and commands a premium. From this set on out, you can pick up McCovey cards consistently for under $15 in NM-MT condition with several much cheaper. It really does seem ridiculous but, again, it gives collectors a nice buying opportunity without severely denting their wallets.
There you have it. Willie McCovey is enshrined in the Hall and a power-hitting legend. While he was overshadowed, he continued to pile up impressive numbers and that is what future generations will notice. A young collector in the new millennium won't mind that McCovey was a bit shy with the media or that he had to take a back seat to Mays in popularity. All the new collector will see are statistics and accomplishments; McCovey's resume ranks among the best of all-time. It will be his membership in baseball's exclusive club that will keep McCovey on the minds of sportscard hobbyists forever.