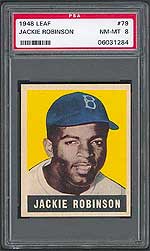 Despite following of a few other major auctions earlier in the month, Superior Sports showed the collecting public that they are indeed a force to be reckoned with as another quality offering attracted intense bidding. Several price records were reached during the sale including a final bid of $15,525 for a PSA NM-MT 8 1948 Leaf Jackie Robinson. That very same card had been selling in the $7,500-$10,000 range for quite some time, but this was the first time the card exceeded $15,000 in the respective grade. Here's a quick look at some of the highlights:
| | | |
| --- | --- | --- |
| Card | PSA Grade | Price Realized |
| 1934 Batter Up Jimmie Foxx #28 | 8 | $2,645 |
| 1938 Goudey Joe DiMaggio #274 | 8 | $19,550 |
| 1952 Bowman Stan Musial #196 | 9 | $6,900 |
| 1954 Johnston Cookies Hank Aaron #5 | 8 | $2,070 |
| 1958 Topps Rival Fence Busters #436 | 9 | $8,510 |
| 1958 Topps Ted Williams All-Star #485 | 9 | $7,475 |
| 1958 Topps Willie Mays All-Star #486 | 9 | $8,050 |
| 1961 Topps Mickey Mantle #300 | 9 | $7,187 |
| 1962 Topps Whitey Ford #310 | 9 | $2,415 |
| 1962 Topps Hank Aaron #320 | 9 | $7,187 |
| 1964 Topps Willie Mays #150 | 9 | $3,832 |
| 1965 Topps Sandy Koufax #300 | 9 | $2,710 |
| 1971 Greatest Moments Willie Mays #41 | 8 | $1,006 |
| 1971 Greatest Moments Reggie Jackson #47 | 8 | $1,210 |
| 1972 Topps Roberto Clemente #309 | 10 | $4,025 |
Superior is currently looking for quality consignments for the their next auction and can be reached by clicking here.
Andy Madec's Auction #13 Proves to be a Lucky Number
With an assortment of sportscards up for sale, from the pre-war era to modern times, Andy Madec's latest PSA auction proved to have the right ingredients. The sale included a very elusive 1932 U.S. Caramel Bobby Jones card, graded PSA NM-MT 8, which captured a final bid of $11,297. Here's a brief look at some of the highlights:
| | | |
| --- | --- | --- |
| Card | PSA Grade | Price Realized |
| 1948 Bowman Stan Musial #36 | 8 | $4,054 |
| 1950 Bowman Phil Rizzuto #11 | 9 | $3,300 |
| 1953 Topps Yogi Berra #104 | 8 | $1,089 |
| 1953 Topps Bobby Shantz #225 | 9 | $1,728 |
| 1954 Topps Ernie Banks #94 | 8 | $3,190 |
| 1956 Topps Ted Williams #5 | 8 | $2,122 |
| 1964 Topps Eddie Mathews #35 | 9 | $2,130 |
| 1957 Topps Ted Williams #1 | 8 | $2,357 |
| 1959 Topps Willie Mays #50 | 9 | $7,795 |
| 1963 Topps Roberto Clemente #540 | 9 | $5,361 |
| 1965 Topps Roberto Clemente #160 | 9 | $3,540 |
| 1965 Topps Joe Namath #122 | 8 | $4,287 |
An Issue of Credibility
One topic, that continues to wreak its ugly face, is the credibility or lack thereof of pricing information disseminated to the collecting public. The collector is presented with many choices, but only a few major names rise to the top. Of those top names, which ones can truly claim to have the expertise, knowledge, or provide the accuracy needed in a market that routinely reports purchases in the five-figure range?
It's an interesting topic for sure. The collector looks to the endless amount of printed numbers for guidance and, in many cases, the guide itself may be placed in the position of the dealmaker or the deal breaker. The dealer needs to make sure he or she is up to date on the market in order to price inventory, otherwise, price tags are used as bait in order to catch that one poor soul who buys with emotion instead of sense.
The guides are not meant to be exact; they are just there to help keep some order in an ever-changing market and provide a base number from which to work. What happens when that order is lost? Here are some examples from around the hobby:
One leading hobby guide still has a Mark McGwire signed baseball priced at $200. You can't buy forgeries for that much! The result? A collector sees that price and is more likely, now, to buy a forgery than ever before because the $800-$1,500 price tags that the collector sees will now seem ludicrous to him (even though that is the current market range for an authentic McGwire ball). You have a guide that lists Babe Ruth signed baseballs around $5,000 and another that prices Ruth game-used bats under $10,000. Both numbers represent a mere fraction of the true market value.
With such megastar prices at stake, how can this happen? We are talking about guides that, in some cases, have been around for decades. Mistakes, in regards to pricing, happen to all of us. We are all human and, with so many names and numbers to keep track of, especially the more obscure ones, mistakes happen. You would think, however, that a repeated problem would be fixed in time, but the problem with pricing, in my opinion, runs much deeper than that.
Here are the top 3 reasons why some price guides have started to become irrelevant:
1) No real expertise in house - Like anything else, name recognition gets some publications "in the door" so to speak, but very few hobby publications are composed by those who have actually handled high-end material or by those who are true authorities on the subjects in question. They may be writers, but they are not experts. In fact, one dealer recently told me that every time one top columnist stops by his table, a blank stare just covers the columnist's face because he has no idea what he is looking at.
2) A serious refusal to evolve as the hobby changes - There are some publications out there that cover the market like they are trapped in the year 1973. The market has, and continues to go through, major changes. With the advent of major catalogue auctions and authentication in general, the hobby is reaching new levels but, unfortunately, some publications would rather keep hobbyists caged in Jurassic Park instead of welcoming Pac Bell Park.
3) A blatant disregard for the truth - This one sounds harsh and, believe me, it was intentional. How can certain price guides lump all grading services into one big pile as if they were all equal? Not only is this ridiculous, but it is extremely harmful to the collectors as well. One cannot, in good conscience, claim that the value of a card graded by one company is automatically equivalent to that of another. It would be like claiming that my critique of a movie holds the same weight as one rendered by Roger Ebert (no, I wasn't the guy that said The Animal was great).
Each company, and critic, has a different level of respect and credibility within the field. In fact, some grading services don't even receive certain cards for grading so how can a price guide establish a price for that item in any grade? The market is the market and the buyer determines the price but, unfortunately, some guides are trying to create one that simply isn't there.
The reality is that we are all human and capable of making mistakes. Even I will admit, as the Editor of Sports Market Report, we have experienced our growing pains over the last year or so. We had a glitch in the boxing autograph section that was recently corrected and we constantly battle to provide collectors with the best market information we can. The real problem occurs when a guide reflects a lack of expertise or market knowledge without the intent to change. The advanced collector is the final judge and I want to thank all of you for constantly keeping me on my toes.
Bonds Getting More Respect but Gonzalez Still Struggling for Collector Appreciation
Barry Bonds may finally gain acceptance in the collecting community, but Luis "Gonzo" Gonzalez has yet to reach the mainstream. Both sluggers are currently on pace to challenge the 70 home run mark set by Mark McGwire in 1998, but acceptance hasn't come easy.
With Bonds, the problem with collector acceptance is a bit more puzzling because he has accomplished so much throughout his career. From the three MVP's to his overwhelming numbers, Bonds should be a first ballot Hall of Famer regardless of this year's outcome. The perception of his attitude, according to most, is what prevents his cards and memorabilia from reaching the levels of McGwire and Griffey. On other hand, Bonds items have picked up tremendously and it will be interesting to see the price tags at this year's National Sports Convention. It's about time!
With Gonzalez, it may be too little too late in the eyes of collectors. While he has enjoyed a very solid career, Gonzo just doesn't have enough time to accomplish what is needed for Hall of Fame consideration and collectors are focused on the Hall more than ever these days. It wouldn't matter if Gonzo blasted 80 homers this season. At his age, he would need to do a lot of damage in his 30's to be given a chance.
Whatever the result, it will be fun to see how this drama plays out in the second half of the baseball season.
Off to the National!